Wolves at the door: Club supports community's recovery
The invaluable work of football club foundations continues 365 days a year behind the scenes at clubs the length and breadth of the UK. But what happens when lockdown strikes and the people who have come to depend on those services, need the foundation more than ever? Paul Berry investigates on behalf of ConnectSport.
There's been FIFA tournaments on Xbox; club heroes telephoning elderly and vulnerable supporters; 'check and chat' sessions to monitor mental wellbeing; activity packs for children of keyworkers who are attending school.
There's been fundraising which has realised more than £50,000 for the city's main hospital; co-ordinating the delivery of PPE equipment to the local NHS Trust; giving over the club's arena at Aldersley for the local council to prepare and distribute food parcels.
In many ways, Wolverhampton Wanderers Foundation has mirrored the charitable arms of many other football clubs this past few months. Theirs is a firm and enthusiastic commitment to encouraging people to become more healthy and active, alongside an overall ambition to develop safe, strong and active communities.
COMMITMENT
But when looking back, it is important to take stock of what actually happened when the Covid-19 pandemic suddenly and terrifyingly took hold, and lockdown quickly ensued. For a flourishing club like Wolves – flying high in the Premier League and in European competition – eyes turned quickly to that part of the club which acts as its umbilical cord to the city. Even the club's mega-rich owners, the Chinese conglomerate Fosun International, know the immense value of the Foundation.
Which is why the charity, with its core activities grinding to a halt, had to quickly adapt, and find new ways to engage and carry on with its commitment to improving the lives of those in the local community.
The quickly-pieced-together new approach included all of those initiatives mentioned previously – essentially a healthy mixture of virtual and practical support. But as the weeks have passed, new ways of working haved evolved and emerged.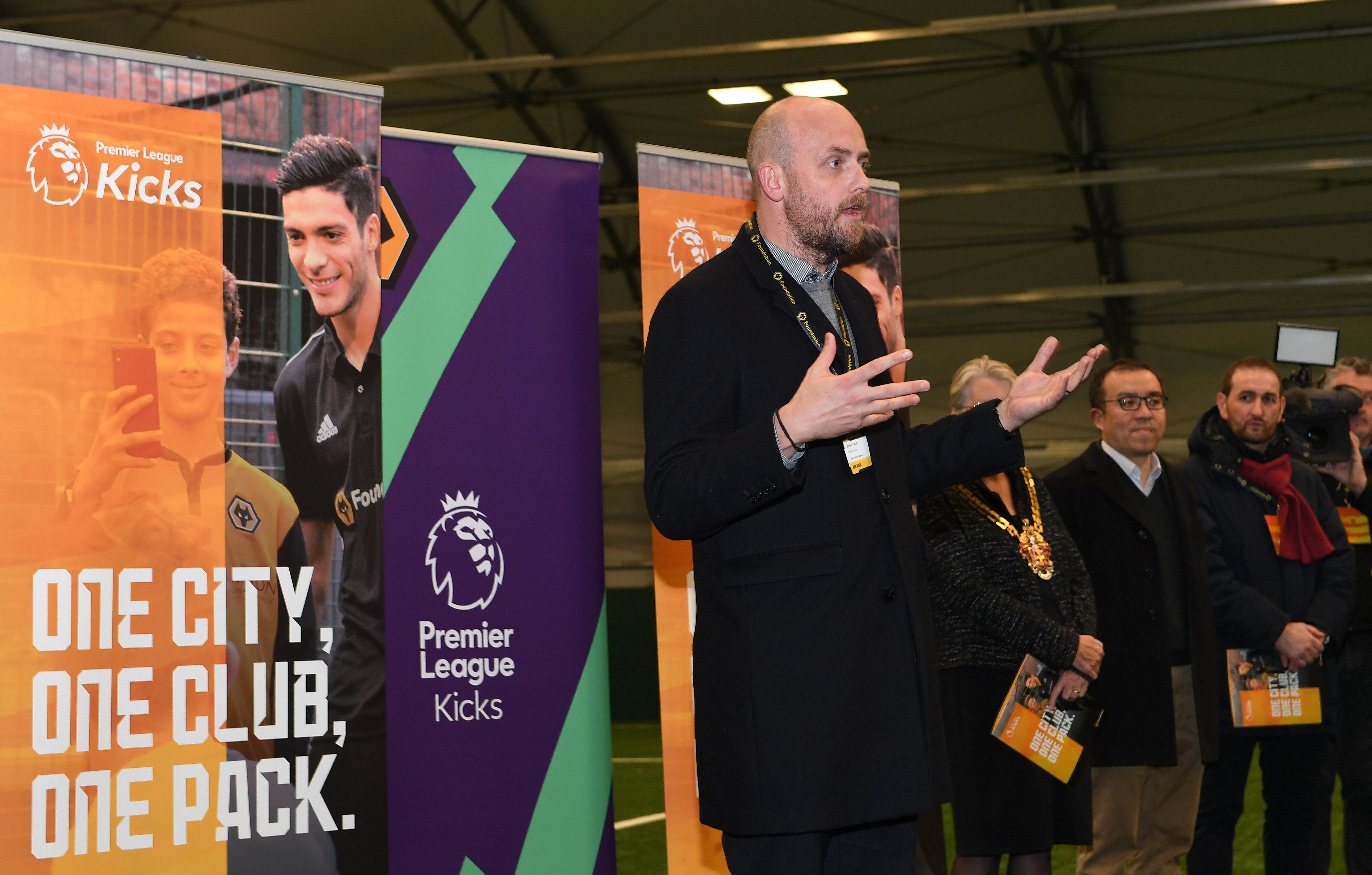 "Like every football club and indeed every business, the Wolves Foundation has been very much affected by the Covid-19 pandemic, and it was just not possible or safe to continue to deliver our vast range of projects in the same way as before," says Will Clowes (pictured above), Head of the Foundation.
"Instead, with the support of the club, our funders and partners, we have adapted with the aim of making sure we are helping the community in different ways, both by keeping in contact with supporters on the telephone and also providing engaging digital content to keep children and adults active in their homes.
"Wolves chairman Jeff Shi and Fosun have been fantastic in their support, not just with their care and concern for all of the club's staff, but also with their donation of vital equipment to help those working for the NHS and in social care roles on the front-line in Wolverhampton to help fight the disease."
CONNECTIONS
Will, who has worked for the charity for 18 years, told ConnectSport: "As a club, and a Foundation, we take our role within the local community very seriously, and I am very proud of our staff's response in changing our approach and trying to help people as much as possible during such a deeply concerning time.
"Our commitment to our local communities has not altered during this health crisis and we are determined to continue to create a positive difference, through digital delivery and personal connections."
The most recent figures available show that the Foundation delivered 213,792 contact hours during the 2018/19 football season, engaging with almost 22,000 participants as well as with over 100 schools.
Some of those projects, particularly those involving young people and others around mental health, have been prioritised as needing to be sustained in whatever form during the pandemic.
The Head 4 Health project (above) was set up last year, aimed specifically at improving the physical and mental wellbeing of men who have, traditionally, found it difficult to talk about, or open up on their problems.
The six-week programme offers a mixture of physical activities, workshops and drop-in sessions where men can meet and talk in a relaxed and informal environment, and has actually received Royal approval!
CONVERSATIONS
Back in February, Head 4 Health participant Dean travelled to London and met HRH The Duke of Cambridge who was spearheading two 'Heads Up' weekends to help football unite and create conversations around mental health.
Furthermore, considering there may have been previous participants on the programme who could have been finding isolation difficult during lockdown, the Foundation have set up an online cohort where people can 'check in and chat', and talk about any problems they have, or share coping strategies.
"I've recently joined the online cohort as unfortunately the face-to-face sessions can't be delivered at the moment," says John, one of those who has benefitted from Head 4 Health.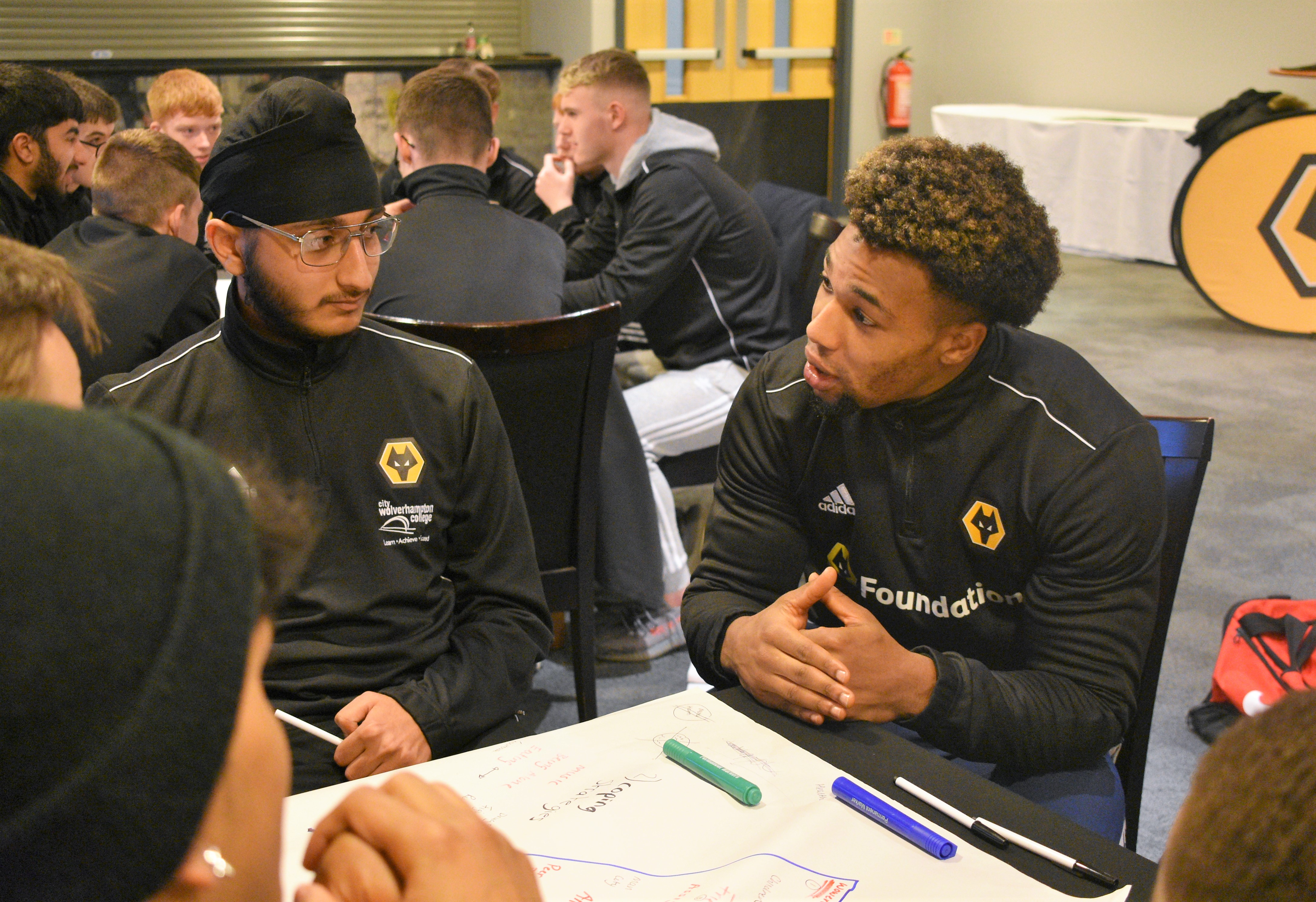 "I'm so glad they have provided an online option to help bridge the gap and allow me to chat with others who are in a similar situation."
Another project of which the Foundation is extremely proud is the Premier League Kicks programme, a partnership with West Midlands Police which offers young people in the area a safe place to go and play football and undertake educational workshops.
The programme, which started at Wolves back in 2010, was relaunched at the back end of last year due to substantial new investment from the Premier League, enabling opportunities and pathways for young people to achieve their full potential and, in turn, creating stronger, safer and more inclusive communities.
DEDICATION
Keeping those young people engaged has been a key priority during the pandemic. Hence the FIFA tournaments, and calls from Foundation ambassador and top grime artist Producer S-X (pictured below, who just happens to be a Wolves fan too) to help Kicks participants produce some 'lockdown lyrics' set to audio from Darren, a participant at both the Foundation's Head 4 Health project and Friday night football sessions.
"As a Foundation ambassador, I am delighted to be collaborating with the Foundation to support creativity in an area so close to my heart," says S-X, who has worked with the likes of Lily Allen, Childish Gambino and YouTube sensation KSI.
"As a fellow Wolves supporter who has been fortunate to be able to follow my ambitions, I want to use my platform to show the younger generation that through hard work and dedication you can achieve anything.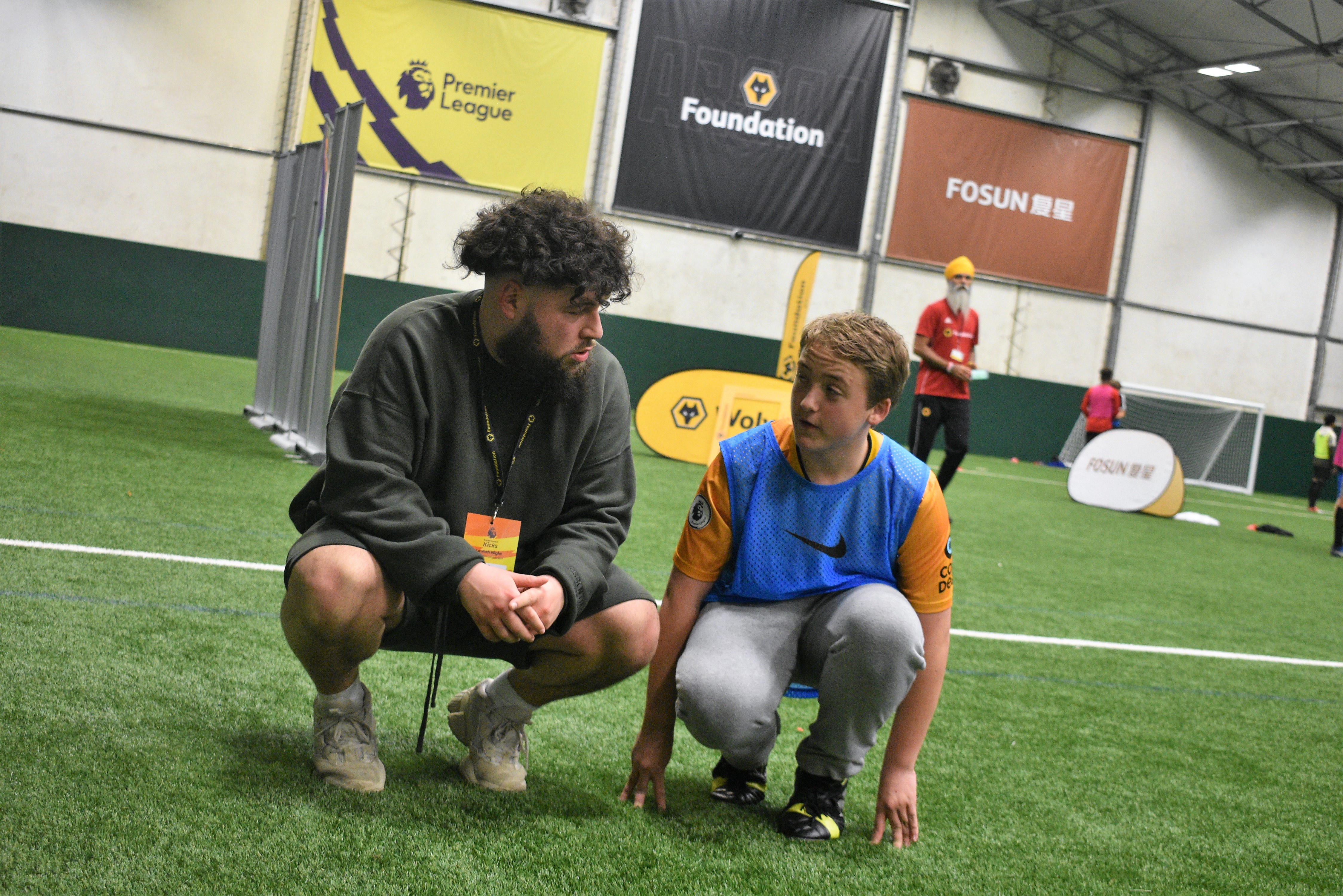 "This exciting opportunity really is one of a kind, and I am pleased to be a part of it."
Another of the Foundation's ambassadors – former promotion-winning Wolves captain Karl Henry – has also been playing his part.
It was Henry who galvanised the former players and staff, and indeed Wolves supporters, to raise over £50,000 to help New Cross Hospital – where he was born and treated for asthma as a child – to increase their capacity to treat patients with coronavirus.
Will explains: "We were delighted that the Wolves Foundation were able to help Karl, and played a part in a real Wolves team effort to support the NHS staff who are serving our community with great courage and determination."
COLLABORATION
Fundraising for the Foundation itself is also something that will be key over the coming months. Whilst inextricably linked with the club as its official charitable arm, and very much supported by Wolves, the Foundation is still a charity in its own right and reliant on external funding whether that's via donations, events, supporter participation or a donor patron scheme which works with businesses in and around Wolverhampton.
This commitment to the city brings investment to the community, delivering 31 different projects and programmes working in collaboration with partners such as the Premier League and City of Wolverhampton Council.
With the help of external funding, the Foundation are able to support local initiatives and national campaigns to create opportunities and change lives, although like all charities, they are suffering at the moment from a lack of fundraising opportunities due to the pandemic.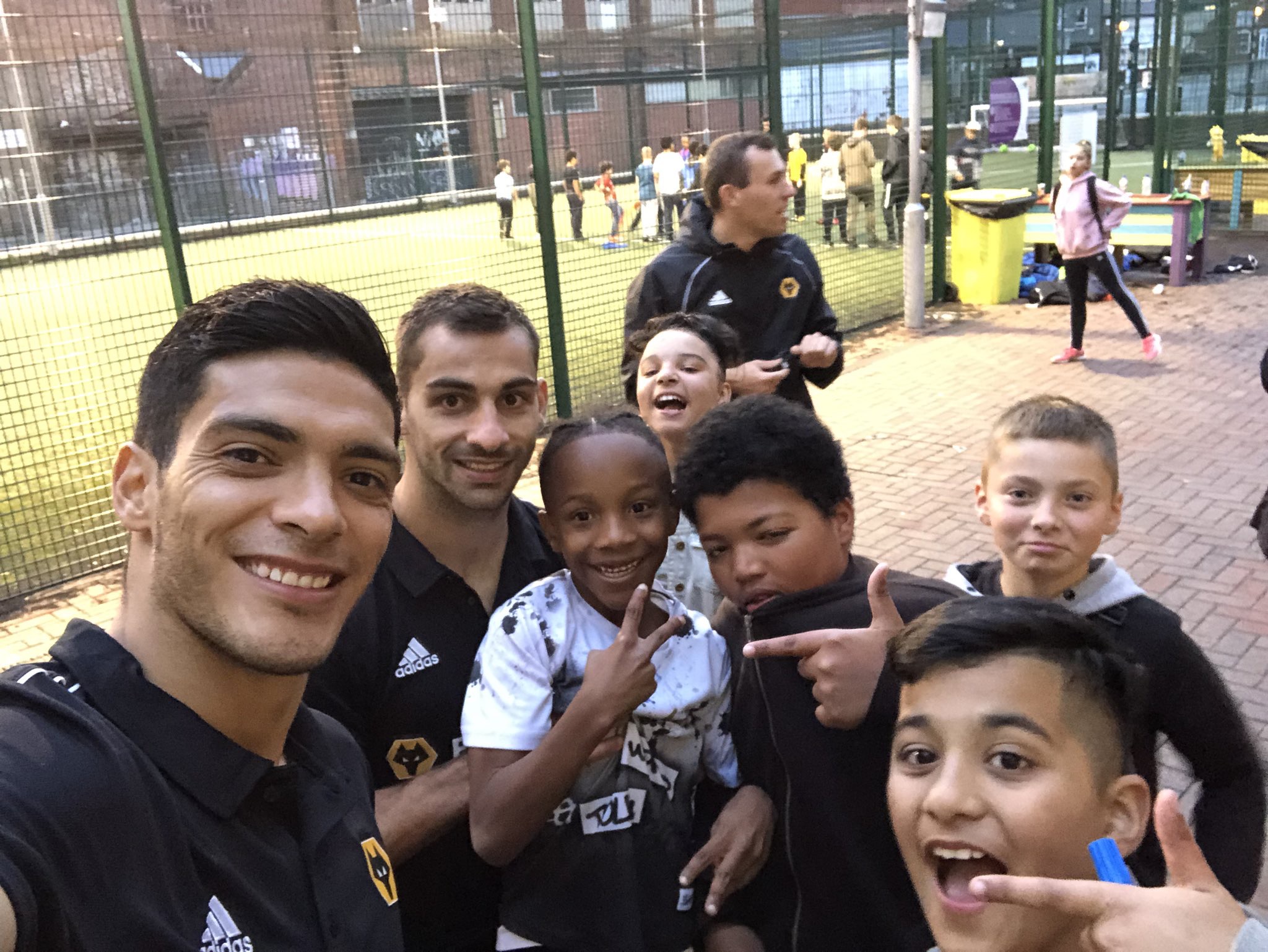 Donations of matchworn shirts and boots from first=team players have been auctioned off via eBay, offering unique prizes for fans to bid for whilst supporting the Foundation at the same time, and that continued fundraising will be crucial for the foreseeable future.
"The Wolves Foundation is continuing to grow year upon year, and that association with the Wolves badge gives us such a positive route into engaging with people and helping the community," says Will.
"And as the club continues to enjoy so much success on the pitch, we are offered even more opportunities to extend our influence both here in Wolverhampton and further afield.
IMPACT
"We are here to work with everyone, whether they are Wolves fans or not, and are focused on hopefully increasing our profile not only to showcase the range of what we do but also make more people aware that there may be ways we can help them.
"We know we are all living in very difficult times at the moment, and we want the Foundation to play a key part in an all-round community effort in Wolverhampton, and then hopefully, when we come through this, we will be able to pick up where we left off and continue to grow and build on the diverse and extensive impact we enjoy across the city."
To find out more about the WWFC Foundation, visit its page on the ConnectSport directory. To add your organisation for free, email hello@connectsport.co.uk.
28 May 2020