Why Cobblers are walking back to happiness
As Covid-19 restrictions are relaxed, Walking Football is making a welcome return to action. It is being re-introduced safely by clubs, community groups and charities so ConnectSport reporter Louie Barrett spoke to Simon Barfoot, Chair of Northampton Town FC's walking football team, about the benefits of this format and the contribution it can make to the recovery from the pandemic.
The recent relaxation in restrictions, and most people aged over 50 having been vaccinated, means one 'younger' form of physical activity is slowly being welcomed back across the country.
Walking Football is said to have first been played 10 years ago. Driven by the needs and demands of older people wanting to carry on playing the game and remain physically active, it has flourished since.
ACTION
It is a variation of football played on a much smaller pitch than usual (21 metres by 42m) and involves six players on each team. Games have two 20-minute halves and no-one is allowed to run or jog with or without the ball. There are no rules that state you have to be of a certain age to play walking football; however, in order to enter competitions and tournaments, the players involved usually have to be over 50.
Considering the high incidence of Covid infections amongst older people, many players could be forgiven for being sceptical about returning to action.
However Simon Barfoot, Chair of Northampton Town's walking football team, disagrees with the idea that people may have been put off playing because of the pandemic.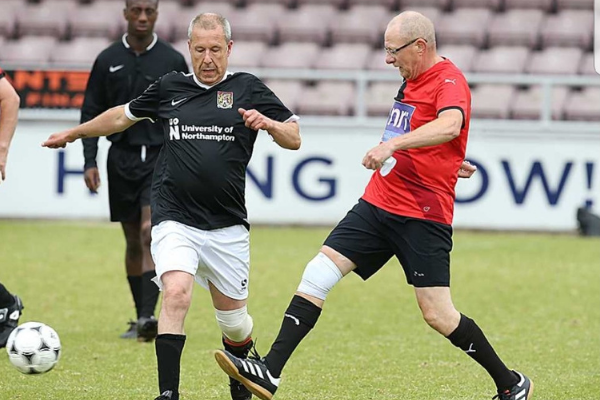 "Everybody is absolutely still up for doing it," he tells ConnectSport. "When we came out of the first lockdown, we had people constantly asking about when we could play again.
"We have a committee, and we went out and bought large-sized sanitisers and other PPE along with a thorough health and safety briefing to ensure maximum safety.
"Now that the majority of us have been vaccinated, people are even more eager to get back playing. Everyone is fully up for it."
COMMUNITY
It was the football club's Community Trust that decided to set up its own walking football team in 2016.
Simon explains: "The team has been going for around five years now after it seemed to develop out of nothing. It's been one of those things that started, developed and then rippled out all over the country.
"Northampton's Community Trust started up a walking football session on a Saturday morning which got some numbers and then it started growing rapidly. After about 18 months of us setting up, we had 15 to 20 hardcore players all of mixed abilities and, of course, all over 50."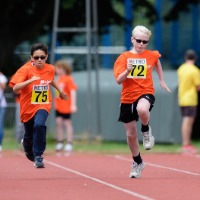 The mental and physical benefits of staying active in later life immediately spring to mind when considering why the Trust set up the team.
However Simon says: "The whole reasoning behind setting the team up was to allow people of a certain age the chance to play football on a level playing field again.
"With that comes many other benefits; you're getting outside again, you're playing football again, you're getting oxygen in your lungs and ultimately, you're getting the whole physical and mental benefits from getting outside and playing a competitive sport again."
PROUD
Simon is proud to report that a fast-growing women's team has evolved over the last two years.
"In recent times, the ladies side has been constantly growing and seems to only be growing in popularity as time goes on. We have a group of ladies who are all of the age of 45 and above who at school didn't have the opportunity to play football because of the generation they lived in.
"Now we have a whole group of older ladies coming down, wanting to play walking football. It's brilliant because they're outside, they're getting exercise and they're loving it."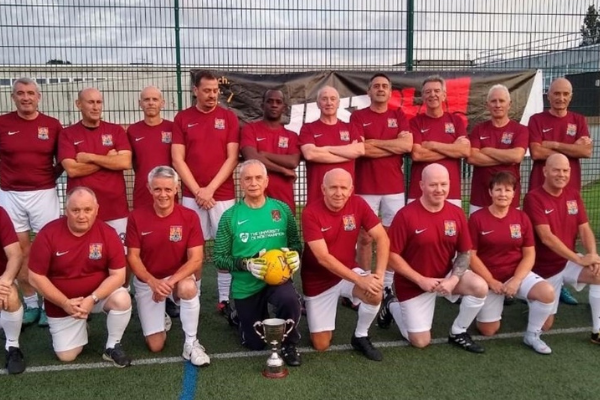 Making sure football is accessible to all has been one of the English Football Association's key messages in recent years and the creation of more women's walking football teams is another step in the right direction.
As this format of 'the beautiful game' continues to grow, and the number of people who are able to play increases, Simon believes walking football has become much more than just a sport to many. It's about health, happiness and staying connected, he says.
"We've all been together for so long now, we're like a bit of a family."
Visit the Northampton Town Community Trust page on the ConnectSport directory. To add your organisation for free, contact hello@connectsport.co.uk.
15 April 2021