Tackling perceptions: Darren breaks down barriers in Welsh rugby
Darren Carew is disability rugby co-ordinator for the Welsh Rugby Union (WRU) and has been helping to drive the WRU's agenda around increasing inclusion and opening up the sport to more people. ConnectSport reporter Emily Salley talks to Darren about his own journey and his determination to change perceptions around disabled sport.
In 2008, Darren Carew was serving as a commander in the army in Afghanistan when his vehicle was blown up, leaving him and two of his team injured. After five years of constant pain and countless operations on his left leg, Darren decided to have his limb amputated.
Thirteen years later he is the WRU's disability rugby co-ordinator implementing their disability strategy to make the Welsh rugby landscape more inclusive.
RESPONSIVE
The strategy was put in place from 2017 to 2020 to ensure community rugby across every region in Wales was welcoming to disabled people, as well as reflective and responsive to their needs.
And that's exactly what it has done. With a regional disability rugby hub structure, the WRU has provided various formats which are available in every region.
There are mixed ability rugby teams made up of disabled and non-disabled players, where the level of contact is adapted to suit the player.
Darren himself coaches wheelchair rugby, probably the most well-known of the disability rugby formats. Cardiff Blues are the only regional hub not to have a wheelchair team, with its launch pushed back by the pandemic.
Then there is deaf rugby and visually-impaired (VI) rugby, along with a disability schools programme and sessions for those with special educational needs (SEN) or additional learning needs (ALN).
"We've gone from having sporadic formats or provisions of the game to now having the ability to engage children as young as six to adults that are 60-plus with a wide range of disabilities across all of our regions in Wales," Darren explains.
FUNDAMENTAL
"That for me is the key to success and everything we have put in place is sustainable."
Darren's job doesn't stop with disability rugby. He also wants to make rugby more inclusive, and introduced a bib system to the women's rugby hubs for not only players with disabilities but also players returning from injury and players who aren't contact confident.
Inclusion is the fundamental message of the strategy and Darren's work.
"We really need to be reflective of our society in Wales, regardless of race, gender, sexual orientation, religious beliefs, ability. If you can be truly reflective it's nothing but a win for the organisation."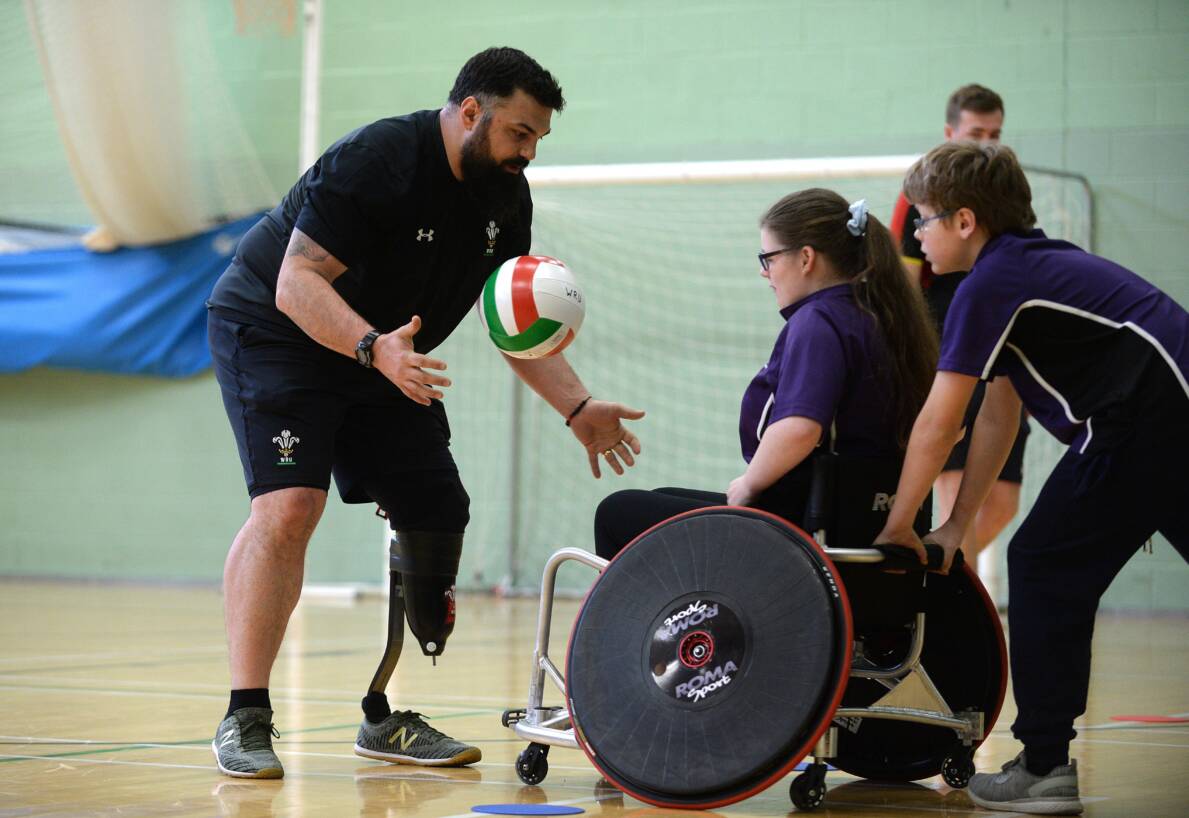 Darren says: "I want more people like me. I want to see more coaches with disabilities, I want to see more players in the system playing the sport. We want to try and break down these barriers.
"Rugby is just the vehicle, we're about empowerment, about growth," he adds.
Talking about the barriers which prevent disabled people from entering sport, Darren mentions the 'triangle of perception' he noticed when he first started coaching rugby to disabled children.
PERCEPTION
"You would have the parent (saying) 'Oh my son, my daughter couldn't play rugby. It's big blokes bumping into each other getting injured'.
"If you are operating in a school, it would be the same sort of thing from the teacher; 'Oh my kids wouldn't be able to do that.'"
The children found themselves at the apex of this 'triangle of perception' and Darren has been working to break down these pre-conceived ideas. He did this gradually over a series of sessions, building confidence and self-belief.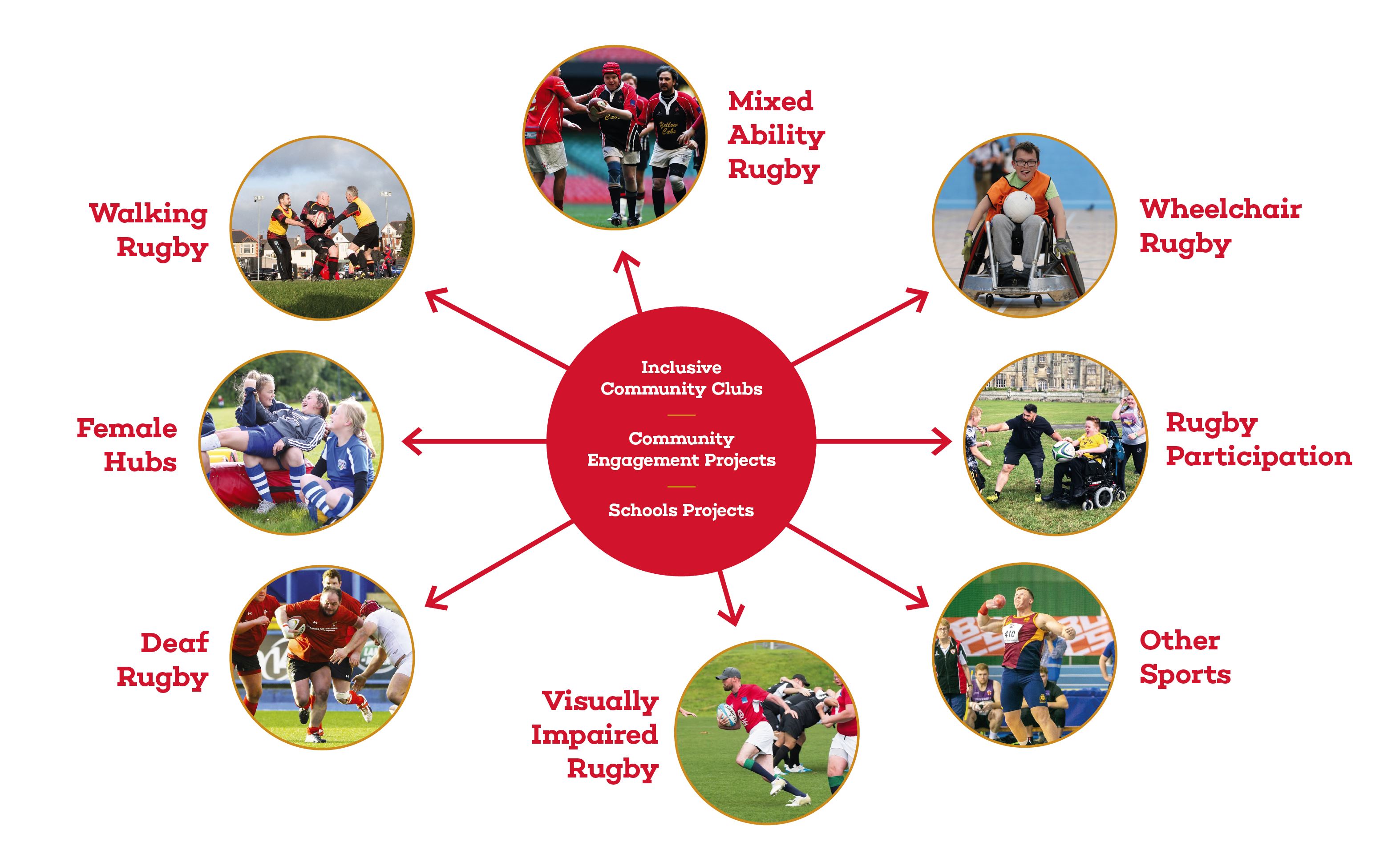 Usually, these coaching weeks culminated in a mini-rugby festival and Darren talks about how appreciative teachers and parents became when they saw their children playing in a way they didn't think was possible due to their disability.
"People became quite emotional. Parents came along to watch and they would think I'm some sort of wizard but actually, the kids were always capable of doing this. It was just the perception.
"It doesn't take much to adapt the game to make it suitable for all but not take it too far away from the rugby itself.
BACKING
"There's so many different formats out there. There's an option for everyone."
Changing people's opinions isn't always easy but Darren is pleased to have the backing of the Welsh Rugby Union in his crusade to improve inclusion.
"One of the things I really like about working for the Welsh Rugby Union is that we do have brand power and can create interest."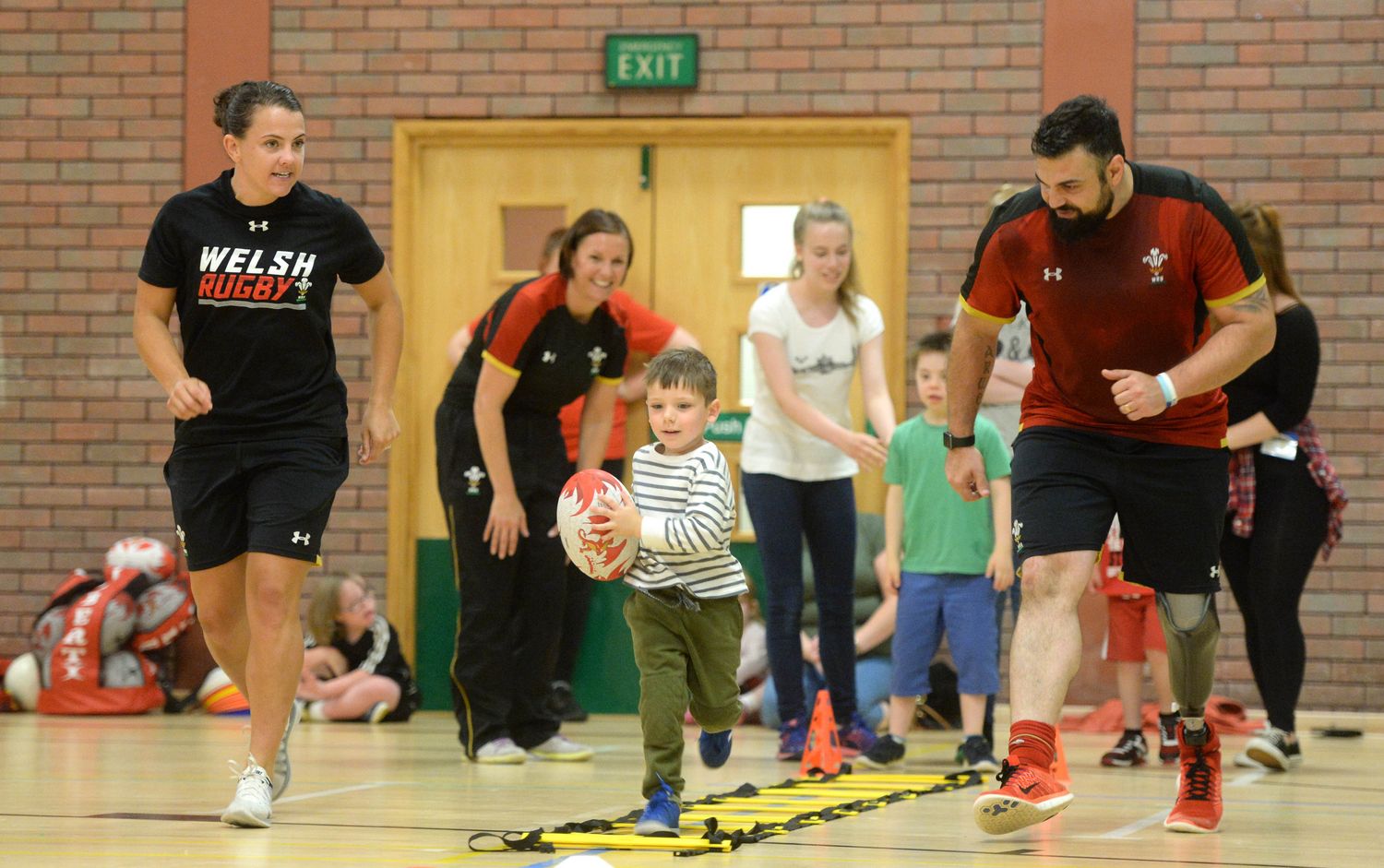 "People take notice," he says. "We've got the ability to shine a light on things and change perceptions."
Darren's work with the WRU has focused on coach education so that they are better equipped to deliver sessions which are best suited to different types of disability, whether it's a physical impairment or for people with special educational needs.
"It's about giving more tools to coaches so they can provide a more positive experience because the last thing we want to have is any player with any sort of disability turned away or have a poor experience," he explains.
LIMITED
"The more tools we can provide our coaches, the more rounded they can be."
Like most sports, disability rugby in Wales was brought to a standstill over a year ago due to the Covid-19 pandemic.
Darren feels the absence of sport has had a bigger impact on disabled participants: "A lot of the people within these formats have very limited opportunities.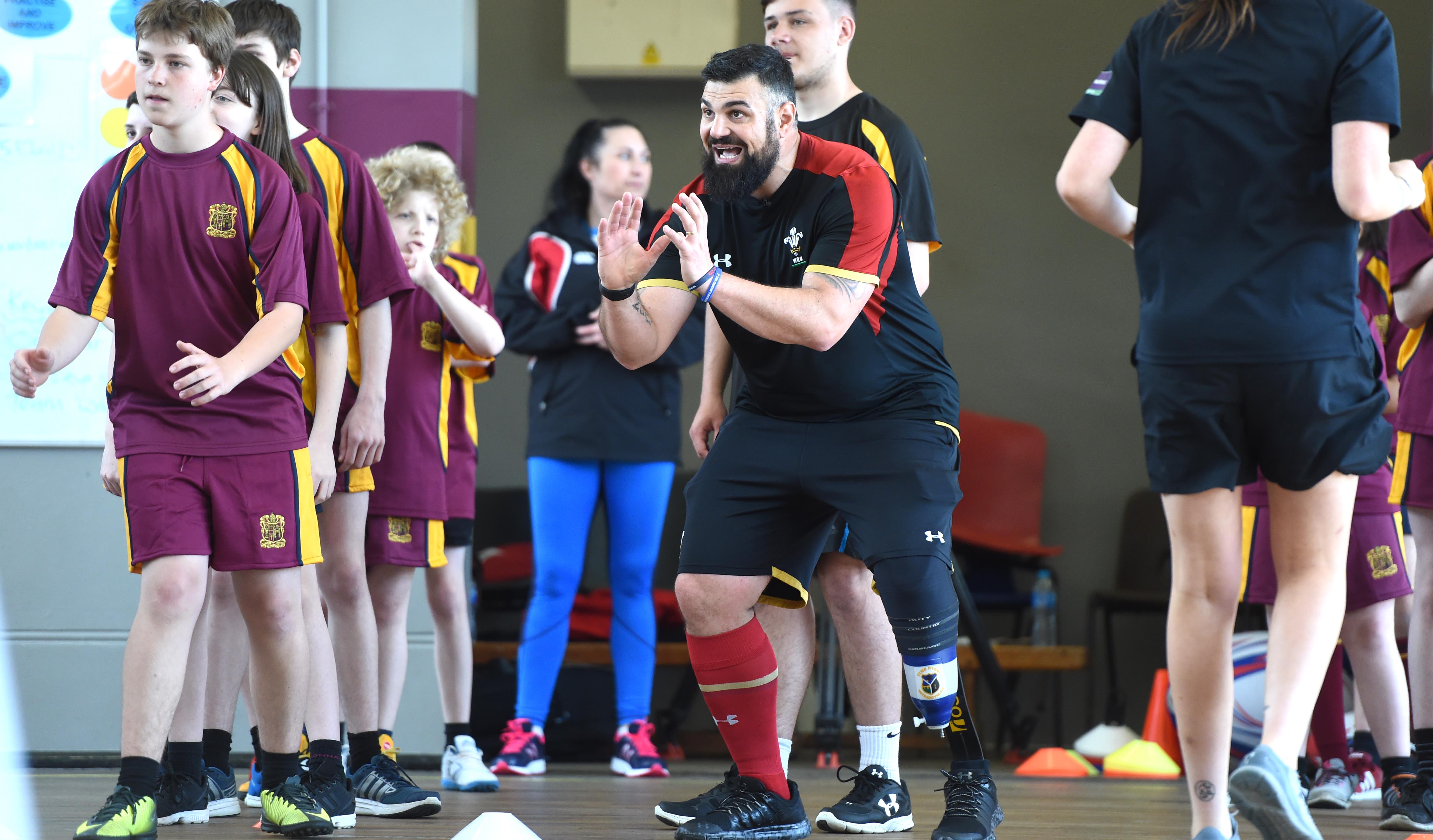 "So they have gone through school or they might still be in school and they have never really been engaged in sport, never really been part of the team.
"It's had even more of an effect on them because it could be that their only social group is their mixed ability team or their VI team or little kids going into their inclusive community club."
And it isn't just the players who are missing the rugby action, the coaches are too.
"People, when they work in the inclusion environment, the term that is rolled out is that it is really rewarding.
IMPORTANT
"But when you work with children, teens and adults who have had very little opportunity and then you give them those opportunities and see how much they grow as a person, and the smiles on their faces. There's no better motivator."
The people who make use of the WRU's various disability rugby formats have really missed their weekly rugby sessions and Darren stresses the importance of resuming them as soon as it is safe to do so.
It's hoped these face-to-face sessions will begin again soon, as Darren knows how important rugby is to the people of Wales. The WRU plan to continue enhancing and expanding the inclusive 'jersey for all' culture that Darren has worked so hard to achieve over the past few years.
Follow Darren on Twitter at @DisRugbyDC.
Pic credit: Welsh Rugby Union.
15 April 2021