Richmond FC: Rugby club steps up to the plate
Sports clubs are often considered to be a bedrock of the local community. For Richmond FC, founded in 1861 and one of the founding members of the Rugby Football Union (RFU), aiming to be one of the best community clubs in the UK is a central tenet of their ethos. Their efforts throughout the Coronavirus pandemic have exemplified how seriously they take that vision, writes Alex Bidwell.
Throughout the course of the pandemic, Richmond - like many other sports clubs across the country - have provided essential support services to those in need. Although playing rugby has been severely restricted over the last eight months, the community outreach efforts at the club have gone above and beyond to meet the challenges presented by the pandemic.
Dom Palacio, head of the Community Department at Richmond, has been the mastermind behind the efforts to feed local children through the holidays and contribute to the local community as much as possible over the last eight months.
COMMUNITY
The Community Department was formed in 2017 when Richmond partnered with Community Group, a community engagement specialist business created by Matt Price, a former professional rugby union player. It was initially tailored towards getting more children playing rugby locally, in response to Richmond losing some age groups past under-16 level.
Due to the demographic of members at the club, many of the local children would move to private schools between the ages of 11 and 13 and not be allowed to play rugby for both their school and club at the weekend. The imbalance between state and private schoolchildren (around 30:70) playing at Richmond meant that in the worst cases, the club could not even field teams above under-16 level.
But as Dom explains: "Richmond were acutely aware that there was a plethora of state schools on their doorstep which they were having some kids from, but not as many as they would like."
That ratio of state to private schoolchildren has now evened out to 50:50 and, in a normal year, the Community Department engages with 500 children in 14 local primary and six local secondary schools.
All of this work is funded through a combination of contracts with schools, grants, summer rugby camps and parent-pay provision. The Department is now self-sufficient, much to the delight of Richmond's finance director.
The Department also delivered a programme in Feltham Young Offenders Institution called 'Rugby Changes Lives', for 15 to 18-year-olds. It is funded by London Sport and Sport England, and aims to demonstrate the value of community and sport in helping offenders adapt to life post-prison and stop them re-offending.
VULNERABLE
Sadly though, once Covid-19 hit these initiatives were stopped in their tracks.
Nonetheless Richmond decided not to furlough their Community Department throughout the first lockdown with the aim of helping the community through the pandemic. Funders quickly came to the fore.
During the first lockdown Richmond, in partnership with the Dons Local Action Group, started by operating a foodbank collection on a Saturday where local people would visit and donate food. However when schools closed, a problem arose regarding feeding the most vulnerable children, with 2,500 children in Richmond Borough entitled to a free school meal every day.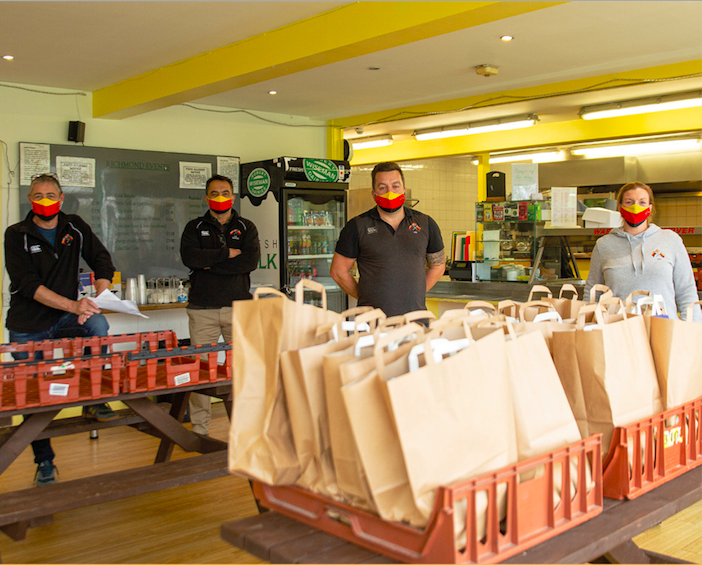 The Community Department secured a £10,000 grant from the London Emergency Support Fund, recruited volunteers and their usual caterers, and delivered food across the school summer holidays to youth centres for families to collect and to families' homes. Throughout the summer holidays, Richmond fed 50 children every day – which is no small feat considering the different demographics being supported.
Dom said: "We were creating 50 meals a day and packaging them up for kids to collect from youth centres, you can't just put it in plastic. Everything was put into paper bags to reduce plastic waste.
"We had Muslim families so all the meat we bought came from a halal butcher; we had to consider food allergies, so had to make sure there was no nuts in any of the food we were producing."
EFFORTS
The project's success over the summer meant Richmond could support Marcus Rashford's nationwide appeal later in the year.
Funding was dwindling though, and but for a call to the local community for donations, the project may not have been delivered a second time around. Over the course of one weekend £4,000 was donated through the club's website, Carluccio's offered to provide a supplementary free, hot, nutritious meal to the children, and a local baker in Sheen offered to supply free cookies. It meant Richmond could step up to the plate once more.
This time Richmond doubled their efforts and worked with more schools to feed 100 children through the half-term holidays. Their work was acknowledged by Marcus Rashford and the club is now in a position they can roll out the scheme through the winter holidays too, if required.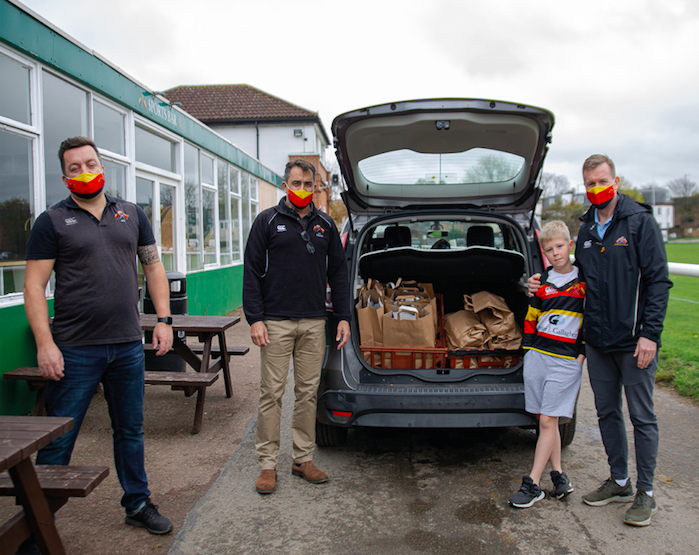 Alongside these efforts, the Community Department has worked with volunteers to offer virtual fitness sessions via Instagram Live, picked up prescriptions for vulnerable people in the community and delivered meals to children in self-isolation.
The Department had a grant confirmed in September which will be put towards opening their clubhouse up throughout the week for children in the area who need a safe space after school. Activities will be put on, and English and Maths tutors will be on hand.
On the pitch, the Department have just had funding awarded to provide walking rugby to over-55s and have recently launched their pre-school rugby programme.
Richmond are highly regarded amongst the upper echelons of rugby. The essential and uplifting work that the club's Community Department has done throughout the pandemic, while rugby was stopped in its tracks, will undoubtedly add to its status and, most importantly, demonstrates the importance of sports clubs as catalysts within our communities.
Images courtesy of Richmond Rugby and Dante Kim Photography.
03 December 2020