GG3x3: Connecting communities through basketball
As the nation seeks to recover from the Covid-19 pandemic, simple sporting formats which can pop up in communities and help local people to get active are more important than ever. Dami Adewale reports for ConnectSport on the success of the GG3x3 platform which uses three-on-three basketball to get young people active and helps to bring communities together.
GG3x3 is a not-for-profit basketball platform which uses a thrilling three-on-three format to bring young people into the sport, engage with local communities and raise funds for charities.
OPPORTUNITY
In the four years since it was founded in a local school in North London, it has coached more than 200 young people and raised over £16,000 through annual tournaments – predominantly for cancer causes in memory of George Goldstone, which it is named after. George was a close friend of the project's founder, Martin Dyan (pictured right).
Basketball is one of the most popularly played sports in the UK because of its accessibility, and the three-on-three format is due to make its debut at the Tokyo Olympics. It will also be played at the Commonwealth Games in 2022.
But perhaps most importantly when considering sport's social impact, in 2019 a Sport England survey revealed that basketball had seen a 15% increase in participation amongst young people.
"First and foremost, we are giving people an opportunity to get active again, something generally we have been lacking due to lockdown," says Martin.
COMMUNITIES
"Basketball is well-known to support connection and cohesion amongst players and communities. Above all, it is a fun sport to play and some life, laughter and energy is the best way to help us as we move out of the pandemic."
In particular the three-on-three format is "a very welcoming game that is simple to understand but incredibly fun at the same time," Martin adds. And the tournament, which usually takes place each July, "like a mini festival - and that is why they're so much fun".
"It's really about everyone enjoying themselves," he says. "We've got a ridiculously good DJ that comes and plays tunes throughout the whole day. It really is a real community vibe event."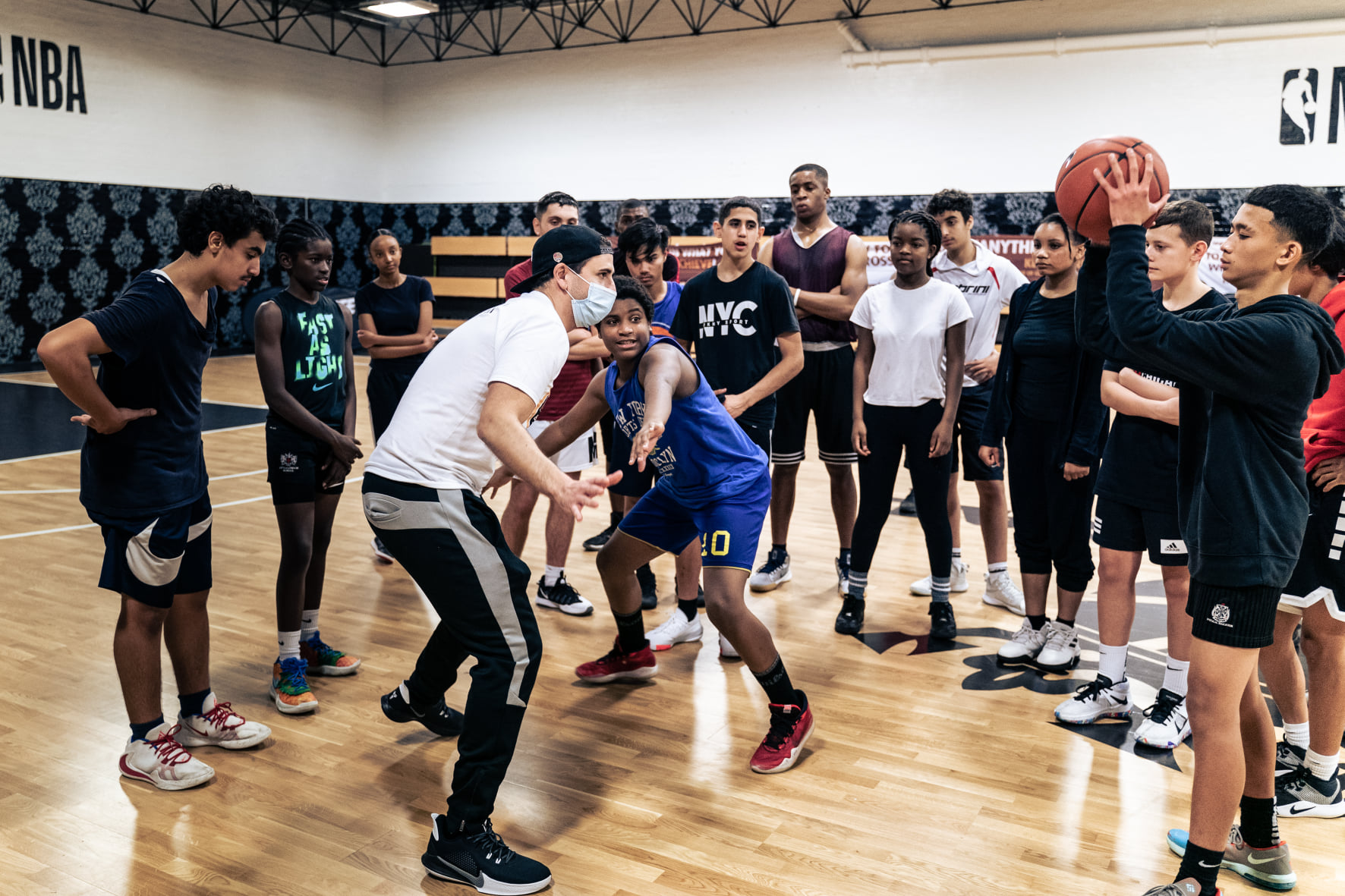 As well as the tournament, event organisers run a number of projects across communities throughout each year. Projects such as clinics for children during half-term, which the GG3x3 team put on whenever they have the opportunity. The flexibility of the format means these are relatively simple to arrange at short notice, and able to attract some famous faces.
Martin explains: "Last year we had a clinic with 35 kids, we ran it for half a day, we had a mini dunk contest, we had awards and we had prizes. The point guard of Team GB, Teddy Okereafor, came along and handed out the medals."
INEQUALITIES
Covid-19 has added to the workload because of testing, additional risk assessments and extra PPE gear - but the GG3x3 team have been up for the challenge and, as restrictions have relaxed, recently launched the #Ball4Life Community Project with support from Basketball England in conjunction with Sport England's Tackling Inequalities fund.
"It's a cross-borough initiative across London to run clinics between mid-April through to June," says Martin. "It's for people with learning difficulties and from lower socio-economic group (LSEG) backgrounds."
It's not the first time that GG3x3 has collaborated with Basketball England. Last year, between July and October, the team participated in the governing body's 'Project Swish' programme. Their #NothingButNetLDN challenge involved 14 volunteers driving to all areas of London to put up 76 basketball nets on 'naked' hoops around the capital.
BESPOKE
Martin recalls some of the volunteers visiting Paddington Recreational Ground where local young people playing were suspicious of GG3x3's arrival.
"It was amazing because as soon as we put up these nets, the kids were like 'I'm the first to shoot! No, I want to be the first to shoot!' They arranged themselves to play a shooting game, out of respect that a new net had gone up, and I was just blown away."
Further evidence of the GG3x3's community involvement is their collaboration with Writtle University College in Essex. The partnership will see the UK's first bespoke three-on-three basketball courts created. The university is looking to attract students from a diverse base to help integrate basketball on a grassroots level.
REACH
Martin's aim for the future of GG3x3 is to extend its reach outside of London by having tournaments in other locations. Despite being based solely in the capital at the moment, the tournament has had international contributions with players participating from the US and Paris.
The details of this year's tournament will be announced soon, with wheelchair basketball being included for the first time. Here's hoping Martin and the GG3x3 team can continue to break down barriers and bring communities together through basketball.
20 May 2021