Fleet of Foot: Walking Football keeps older generation active
'Fleet of Foot' is a thriving Walking Football Club based in Hampshire. In this article, Ken Gaunt speaks to senior club member John Palmer about his lifelong passion for football, and how this format of the game is bringing physical and mental benefits to the older generation.
John Palmer turned 80 in November but his love for football shows no sign of abating. Not just watching the beautiful game and supporting his local non-league club in Hampshire, Hartley Wintney, but playing it as well as he has done the past 70 years.
John (pictured above left) is the senior member at the Fleet of Foot Walking Football Club which recently featured on local ITV news. Filmed before current Covid-19 pandemic restrictions came into effect, the coverage helped to highlight the physical and mental benefits of keeping active in later life.
"For me, Walking Football is nothing like the real thing but it is a great way to get enjoyment and pleasure from the game at an older age," says John.
WELLBEING
"It is important to keep up physical activity. I find I need something I really enjoy to make this happen and Walking Football does just that for me. Also the banter with the other guys is something that is good for your mental wellbeing."
Fleet of Foot is affiliated to the Hampshire FA and, prior to the pandemic, was participating in tournaments involving other clubs. It runs Walking Football training sessions and matches for women - pictured below after a game against Portsmouth FC's team - and men, with its youngest male member aged 55 and several in their early 80s!
John describes it as a "well-organised and well-supported" club.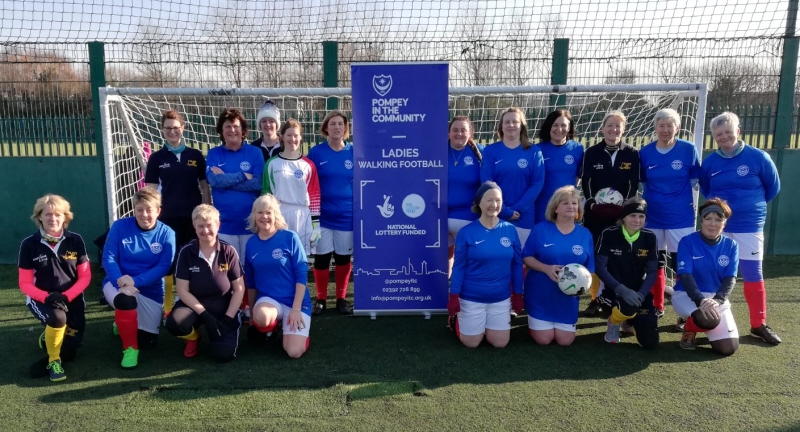 "That is why I chose to join," he says. "The pitches are excellent as is the equipment provided by Hart Leisure Centre. If anyone fancies having a go at Walking Football then Fleet of Foot is definitely a club to try - they make you very welcome.
"The only down side for me at my age is that there are no age groups as such so anyone over 50 up to whenever can play together.
"This means I could be playing against a guy 30 years younger than me, which is a challenge, but it is something you have to take into account when you join a Walking Football group.
COMPETITIVE
"However the rules are a great leveller and provided you are sensible it is not an issue. Also it is a great feeling when you get one over a younger guy! It helps you to keep your competitive spirit.
"I would recommend it to all former players and anyone who would like to have a go."
Incredibly, John has been playing football in various formats for almost 70 years.
He says: "I started serious football very young and was school captain around 10 or 11 years of age.
"I grew up in a hotbed of top amateur football and was surrounded by Wimbledon, Tooting and Mitcham, Sutton United and Carshalton Athletic, so it was the ambition of all the local lads to play for one of these teams.
"I joined Tooting and Mitcham Boys when I was still at school and it all started from there. In those days all the blokes from these teams played with their mates on Sundays.
COMPANY
"So the local Sunday League was first class and we all played in that. The highest level I played in was what we now call non-league - but to us it was amateur football.
"My favourite position was centre half because I was two-footed and my strength was reading the game. Also being over six feet tall helped in that position!"
While Covid-19 restrictions have inevitably impacted participation, John is looking forward to the world regaining some sense of normality in 2021, and to many more hours being spent on the pitch.
He adds: "I would like to thank all the players at Fleet of Foot for being good sports and good company, and for making no allowances whatsoever for me at my tender age of 80!"
Find out more about Fleet of Foot Walking Club.
Article by freelance sports writer Ken Gaunt. Ken is an experienced football and golf writer providing copy for regional and national newspapers and websites.
26 December 2020