Building Brighter Futures: The Harlequins Foundation
The Harlequins Foundation is the charitable arm of leading rugby union club, Harlequins FC. In this two-part article, our reporter Tadhg Creedon provides an overview of the Foundation's core aims, and speaks to Marc Leckie, Head of Foundation, and Matt Williams, Schools and Inclusion Manager.
At the core of the Harlequins Foundation, which was established in 2015, is the belief that sport can be used to help transform people's lives. It focuses on inspirational, sustainable and transformative solutions that tackle inequality, poor health, and the challenges facing the most vulnerable in society using education, skills development and entrepreneurship.
The first full-time Head of Foundation arrived in October 2017 when Marc Leckie, who had previously led the award-winning Charlton Athletic Community Trust, was appointed. Just over three years later, Marc tells ConnectSport how proud and impressed he has been with what has been achieved by the Foundation already.
SKILLS FOR LIFE
The three main delivery pillars of the Foundation, as specified in its strategic document 'Building Brighter Futures 2019-2023' are developing skills, promoting wellbeing and championing inclusion. Delivery is concentrated in the 'Harlequins heartlands' which include the boroughs surrounding the club's home, The Stoop, namely Twickenham, Richmond, Hounslow and Kingston.
According to Marc, the most important of these pillars is the development of skills.
"We have a partnership with an organisation called Skills Builder," he says. "Our framework is developing the eight essential skills of life: listening, speaking, problem-solving, creativity, staying positive, aiming high, leadership and teamwork.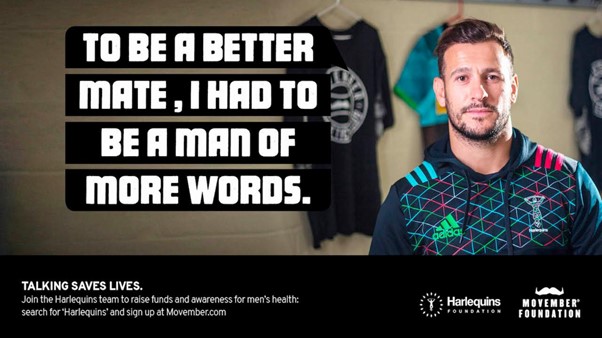 Harlequins and England international Danny Care, an ambassador for the Harlequins Foundation and Movember Foundation (Source: Steve Barden/Getty Images for Harlequins).
"The more likely you are to develop these skills, then the more likely you are to succeed in life."
Similar to the way elite sport has evolved, many coaches now want to know who the person is behind the player, and when they are on the pitch and presented with a problem, can they solve it themselves? Can they work together using the skills listed above?
WELLBEING AND MENTAL HEALTH
Another key premise of the Foundation is that good health is central to a person's happiness and wellbeing. This is especially poignant in the local area, with almost one third of young people aged 16 to 19 in Richmond having some form of mental health issue. Marc and his colleagues do not claim to be trained mental-health professionals but are acutely aware of the role they can play in supporting good mental health, especially amongst young people.
"We try to give these kids skills like breathing techniques," says Marc. "For instance, when they are starting to feel anxious, they can slow down their breathing with early-stage mindfulness."
The Movember Foundation in association with Harlequins is a targeted programme set up to reduce self-harm and suicide among young athletes and young men. Globally, one man is lost every second to suicide, so Movember is working towards a strategic goal to halve the life expectancy gap between men and women by 2030, and reduce the rate of male suicide by 25%.
"It helps demystify the language around mental health and what the early signs of anxiety and depression are," Marc explains.
"We want people to think of mental health just like their physical health. If you had a flu, you would go and see the doctor so why do we not do that with mental health?"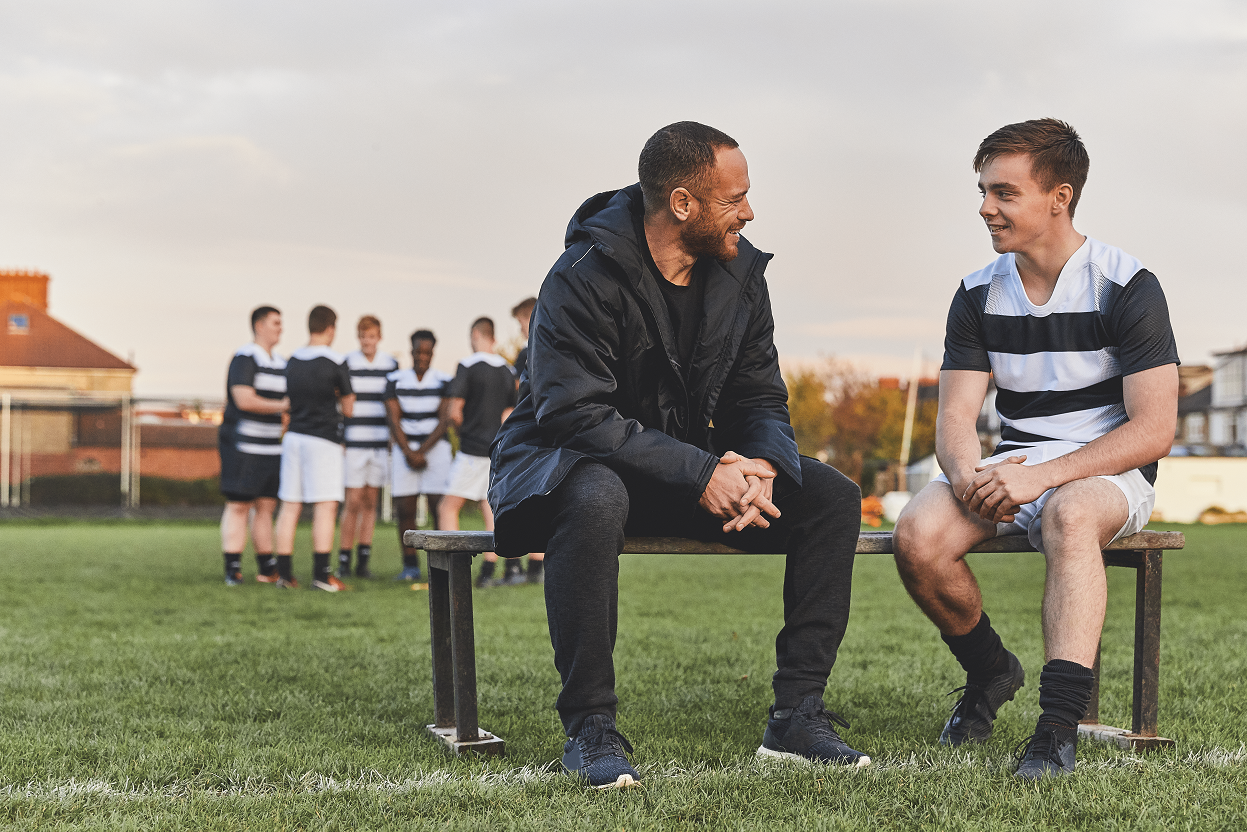 An Ahead of the Game session which is one of the Movember Foundation's most successful projects aimed at young men (Source: Harlequins Foundation).
When it comes to physical health, it is now estimated that 77% of middle-aged men are either overweight, inactive or drink too much. This is a key demographic for the Foundation, as health services have traditionally found middle-aged men difficult to reach and they make up the majority of those attending Harlequins rugby games.
Marc cites the example of Prostate Cancer UK visiting The Stoop.
"They did the PSA test which can determine whether you have prostate cancer," he says. "Fifty supporters took the test and it came back that four had prostate cancer.
"I said to myself 'we possibly saved four people's lives by letting that charity in' - and just think, if they tested any more.
"How do we raise awareness to get people to take the test if you're aged between this and that age?"
BUILDING BRIGHTER FUTURES
While the Foundation has been "punching above its weight" since being established, Marc says the last year has been difficult as his team has been forced to adapt to the challenges thrown up by the Coronavirus pandemic, and the subsequent restrictions imposed by Government.
"We moved to virtual events and fundraisers," he explains. "Some schools want us in and others want a blend of in-person and virtual activities.
"All we can do is control the controllables – like how ready we can be when things open up again, how we have diversified our offer and how we are engaging with our communities."
These communities, and those 'heartlands' from Kingston to Hounslow, are at the epicentre of everything the Foundation has achieved in recent years, and aims to do in the future. From championing inclusion and improved mental health to developing the eight essential skills of life, it is building brighter futures for those it ably represents.
To get involved in any of the programmes mentioned, to volunteer or donate, please contact foundation@quins.co.uk.
Visit the Harlequins Foundation page on the ConnectSport directory. To add your organisation for free, email hello@connectsport.co.uk.
29 December 2020