Behind the scenes with award winners Albion in the Community (Part One)
Albion in the Community (AITC), the official charity of Brighton & Hove Albion FC, was recently named 'Best Football Community Scheme' at the Football Business Awards in London – the fourth time in five years it has received the award.
This period may have coincided with the football club's return to the top flight of English football in 2017 after an absence of 34 years, but Albion in the Community has been operating as a registered charity since 2005 and the roots of its community activities can be traced back to the early 1990s.
So what is it about the club's work in the community that makes it stand out? In a two-part interview, ConnectSport spoke to AITC's Head of Community Programmes, Paul Williams.
BREADTH AND DEPTH
AITC currently runs more than 60 programmes tackling key societal issues including health, wellbeing, diversity, inclusion and education.
A recent social and economic study commissioned by the football club found that those programmes created social impact valued in excess of £28million from an investment of around £3m in the 2017/18 season, meaning that for every £1 the charity invested, it generated £8.84 of positive impact for local people.
Such impressive impact is in part due to the charity's wide-reaching approach and an acute understanding of the needs of local communities, according to its Head of Programmes, Paul Williams.
"The breadth and depth of our programmes is key," says Paul.
"We've been trying to lead the way in using sport for development and part of that is trying to know our local communities as best as possible.
"We're very clear about where we really can add value and support individuals and communities, while also knowing where others are better positioned than us."
THE PULL OF THE BADGE
Another key factor in the charity's success is its close relationship to the football club.
By using Brighton's position as a globally visible Premier League club, AITC is able to engage communities in ways other charitable organisations may find difficult, according to Paul.
"People have pride in the club," he says. "Even if they're not fans, there is a sense of belonging and association that many people in Sussex have with Brighton & Hove Albion, particularly the story and the journey the club has been on.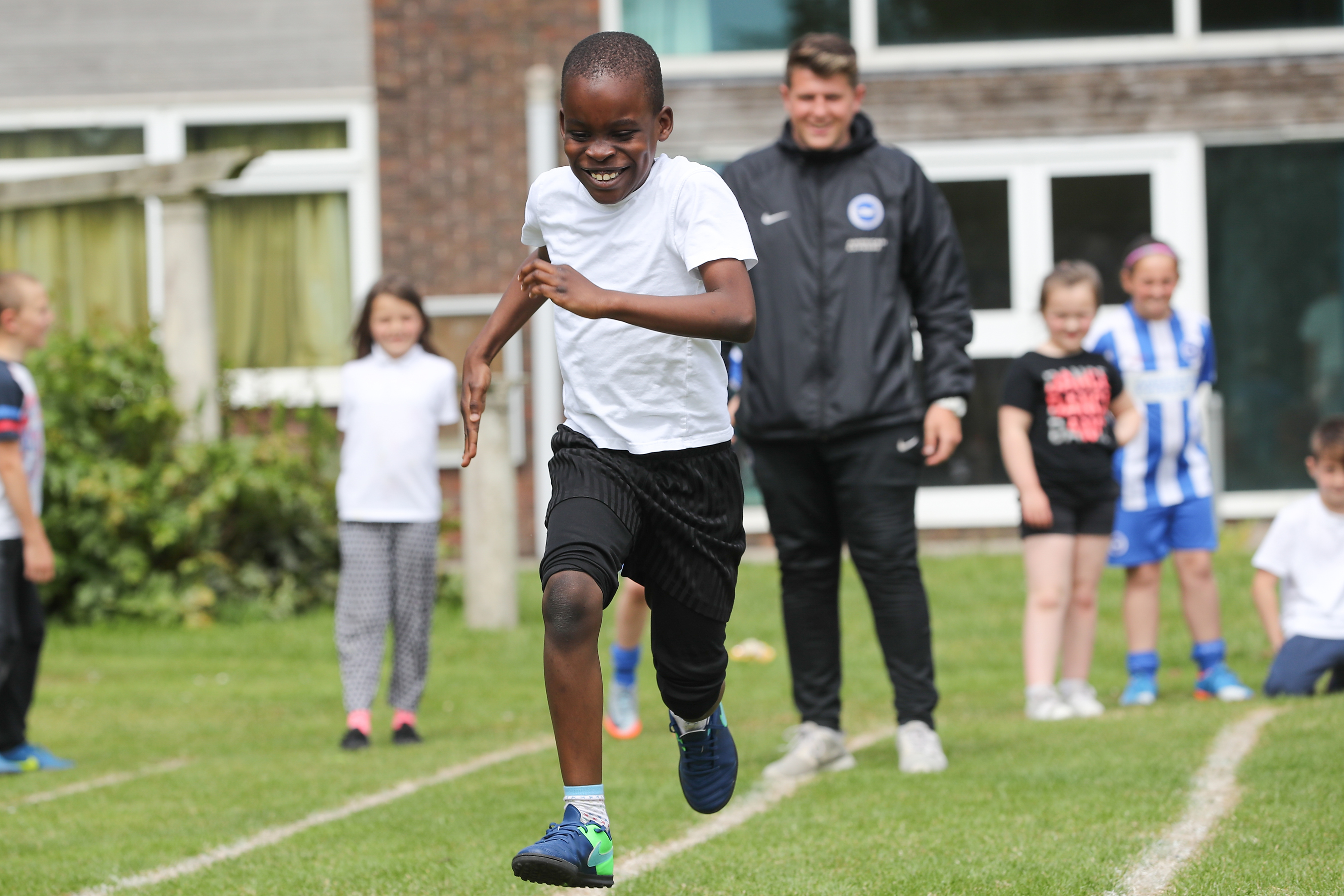 "We use that as a conversation starter and an engagement tool. The club helps us build rapport and in time, trust. We'll be at community events and people will ask 'What is the football club doing here? What is Albion in the Community doing here?'
"That creates conversations and we are then able to use that sense of belonging to build trust and rapport quite quickly. Other agencies, particularly statutory services, may struggle to have similar relationships."
COUNTY-WIDE
Those relationships stretch across the whole of Sussex, a county covering over 1400 square miles and with a population of around 1.6million people.
Despite the logistical challenges that such widespread coverage presents, Paul says the focus is on delivering impactful projects designed for specific communities.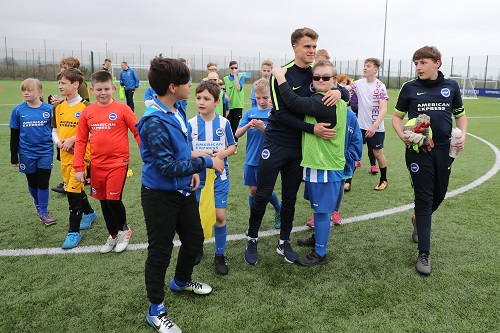 "We have a wide geographical space to work in. Operationally there are challenges to that but they're good challenges to have.
"Staff deliver sessions in Brighton, which is a key focus for us, but we also deliver sessions every week in Hastings, Chichester, Selsey and up into mid-Sussex.
"They're unique communities. Hastings is very different to Brighton, to Eastbourne, so we really need to understand that it's not just a 'one size fits all' and we can't just deliver one project in the same way across different areas."
INCLUSION
AITC provides 30 regular disability football sessions which attract more than 400 participants from across the county.
These sessions include inclusive, pan-disability activities at venues throughout the county and players wanting to play competitively are given the opportunity to represent one of the charity's teams that play in the Sussex County FA Disability Football League. Additionally, it runs disability-specific football sessions for wheelchair users, amputees and those with limb deficiencies, players with Down's syndrome, Cerebral Palsy, partial sightedness or blindness, Autism, deafness, learning disabilities and mental health conditions.
At a competitive level, AITC currently has four specific disability teams playing regionally and nationally: Brighton & Hove Albion Cerebral Palsy FC, Brighton & Hove Albion Amputee FC, Brighton & Hove Albion Deaf FC and Brighton & Hove Albion Powerchair FC.
This inclusive approach means AITC are reaching many groups previously classed as 'physically inactive', using football as "the Trojan horse" according to Paul. "It's what we do around football that is really important, rather than just football for football's sake," he adds.
EDUCATION
Through its relationships with over 160 schools in Sussex, the charity impacts young people both in and out of the classroom.
Alongside its provision of trained PE coaches to schools, AITC offers in-school programmes designed to engage pupils struggling with numeracy and literacy in innovative ways. These programmes typically last between six and 10 weeks and see pupils writing managerial team talks or taking part in mock press conferences to help those needing additional support to develop key life skills.
AITC also hosts a range of programmes at the Amex Stadium, including:
- Goal Difference: a five-week programme that supports struggling primary school pupils improve their numeracy skills and confidence.
- Tech Girls: a programme for secondary schools, which aims to increase the number of girls choosing Science, Technology, Engineering and Maths (STEM) subjects at school and as future careers.
- Sports Enterprise Day: an initiative that provides pupils aged nine to 11 with an insight into the business of Brighton & Hove Albion FC.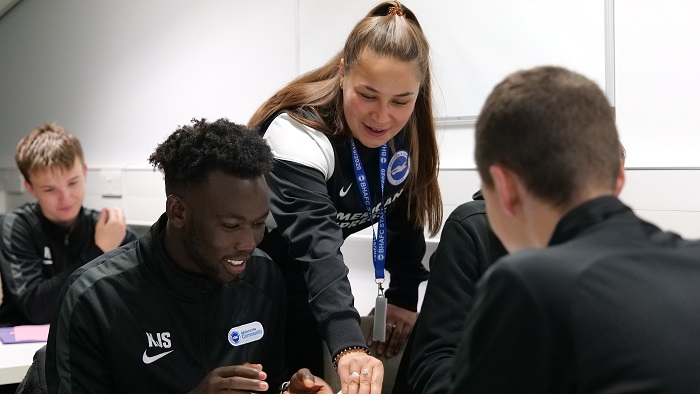 It is also currently delivering Premier League Primary Stars in more than 50 schools across the county which inspires pupils in everything from Maths and English to teamwork and sport. Similarly, Premier League Inspires sees full-time sports mentors based in two schools in Brighton with the aim of supporting pupils to live healthily, improve their behaviour and raise their aspirations.
Work in education is an area the charity has developed greatly over recent years, with a focus on diversity, inclusion and equality.
Commenting on AITC's work with schools, Paul says: "We've hugely grown our work in education. We deliver taster activities in assemblies, some of which are around opportunities to participate, but are equally about using our reach and influence to challenge discrimination.
"We've got some really good examples of children who have struggled in a school environment, particularly if they've got a disability and are in a mainstream school, that have come in and we've been able to support them and boost their confidence."
Click here to read the second part of this interview.
To find out more about Albion in the Community, visit its page on the ConnectSport directory. To add your organisation for free, contact hello@connectsport.co.uk.
26 December 2019