West Midlands Combined Authority
We are 18 local authorities and four Local Enterprise Partnerships (LEPs) working together to move powers from Whitehall to the West Midlands and its locally elected politicians, who know this region best. We work collaboratively on many projects to deliver our vision of a more prosperous West Midlands.
Alongside housing, productivity and skills and transport, one of our challenges is to create jobs, enhance skills, develop prosperity and drive economic growth through getting more from our public services. With 1 in 4 people in the West Midlands suffering mental ill health and one in three adults are inactive, we recognise that improving mental and physical wellbeing is key to delivering our vision of a healthier, happier, more prosperous and better connected West Midlands.
"Thrive West Midlands is always delighted to join up with other organisations promoting this kind of work, which increases the skills, training and confidence coaches and volunteers need to help support young people in their activity sessions. We have a target of training 5000 sports and activity coaches in mental health first aid before the start of the Birmingham 2022 Commonwealth Games." WMCA Wellbeing director Supt Sean Russell.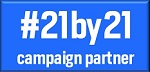 #21by21 is a national campaign bringing together sports organisations with business and policy-makers in a pledge to provide 21,000 community sport coaches and volunteers with mental health awareness training by 2021. Find out more about the campaign.
SIGN UP FOR THE CONNECTSPORT NEWSLETTER
Receive weekly news and get ConnectSport updates direct to your inbox