Sport Wales
We are the national organisation responsible for developing and promoting sport and physical activity in Wales. We are the main adviser on sporting matters to the Welsh Government and are responsible for distributing National Lottery funds to both elite and grassroots sport in Wales.
We fully subscribe to the Welsh Government's vision for a physically active and sporting nation, as outlined in their strategies Climbing Higher and Creating an Active Wales.
We aim to not only improve the level of sports particpation at grassroots level but also provide our aspiring athletes with the support required to compete successfully on the world stage.
Our vision of uniting a proud sporting nation means we work closely with our key partners to ensure that the delivery and development of sport at both a national and local level provides the people of Wales with every opportunity to excel at their sport of choice.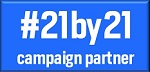 #21by21 is a national campaign bringing together sports organisations with business and policy-makers in a pledge to provide 21,000 community sport coaches and volunteers with mental health awareness training by 2021. Find out more about the campaign.
Sophia Gardens, Cardiff, CF11 9SW
SIGN UP FOR THE CONNECTSPORT NEWSLETTER
Receive weekly news and get ConnectSport updates direct to your inbox