Mind
For better mental health
At Mind, we use the power of sport to raise awareness, tackle mental health stigmas and support those of us with mental health problems to become more active. We also offer a range of free resources and engagement opportunities for sports organisations who wish to do more around mental health, including:
- Thriving at Work: A guide for the sport and physical activity sector
- Mental Health Charter for Sport and Recreation
- Support for people wanting to become more active
- Mental Health Awareness in Sport and Physical Activity training
- Support for coaches
For more go to www.mind.org.uk/sport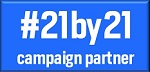 #21by21 is a national campaign bringing together sports organisations with business and policy-makers in a pledge to provide 21,000 community sport coaches and volunteers with mental health awareness training by 2021. Find out more about the campaign.
15-19 Broadway, Stratford, London E15 4BQ
SIGN UP FOR THE CONNECTSPORT NEWSLETTER
Receive weekly news and get ConnectSport updates direct to your inbox