govox
HELPING SPORTS CLUBS UNDERSTAND AND MEASURE THE HAPPINESS, MENTAL HEALTH AND WELLBEING OF THEIR MEMBERS AND ENABLING TIMELY SUPPORT TO BE ALLOCATED AS AN EARLY INTERVENTION
At govox, we have learned, through experience, that the simple 'Check in' is often all it takes to discover if people are happy, the issues they may be experiencing and how better to provide timely, adequate and appropriate support.
Sports & Social clubs aren't just about the sport they play, or the social activity they promote, they are about their membership and we often hear them referred to as 'their club family'. govox is designed to uniquely support that relationship; being a member of a club is a special thing and supporting your members' Wellbeing and Mental Health is a key priority.
govox was born from experiences at a local, grassroots, sports club. The ability to simply 'Check In' with the membership and ensure that members are supported, when they need it, is an invaluable service. From the more severe cases of suicide or attempted suicide, through the spectrum of Mental Health challenges and down to simply the 'Happiness' of your membership, the govox Wellbeing Check In will help you 'Prioritise the Conversations that Matter'.
We already support a plethora of sports clubs and major governing bodies such as the RFU and with over 80,000 Check Ins completed to date, we're not going to stop until we've achieved our vision of supporting every sports club in the country.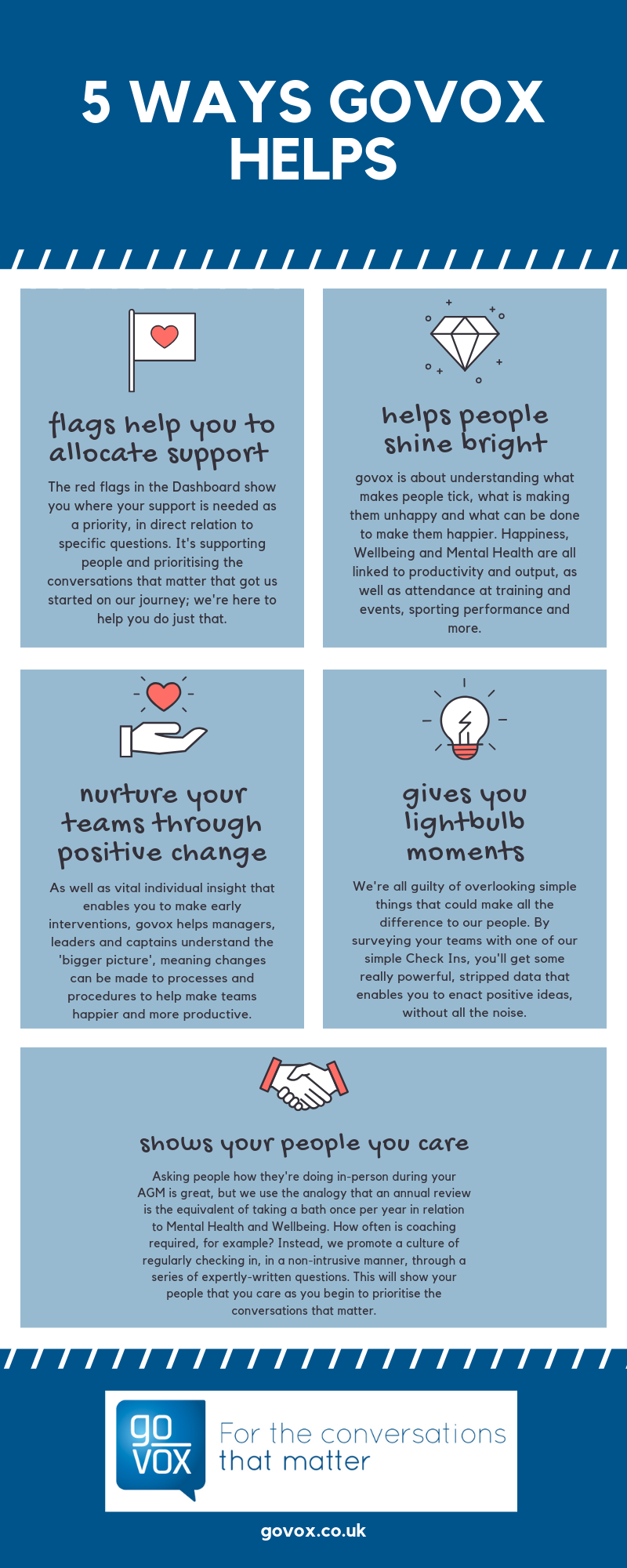 govox, registered as Feedback 360 Ltd, 20-22 Wenlock Road, London, N1 7GU
SIGN UP FOR THE CONNECTSPORT NEWSLETTER
Receive weekly news and get ConnectSport updates direct to your inbox