Evide
Demonstrate the impact and outcomes of your work
Impact Tracker is a SaaS (Software as a Service) data application designed to enable frontline organisations to manage project data in one platform, measure and report on outcomes, outputs & KPIs and demonstrate the impact of their work.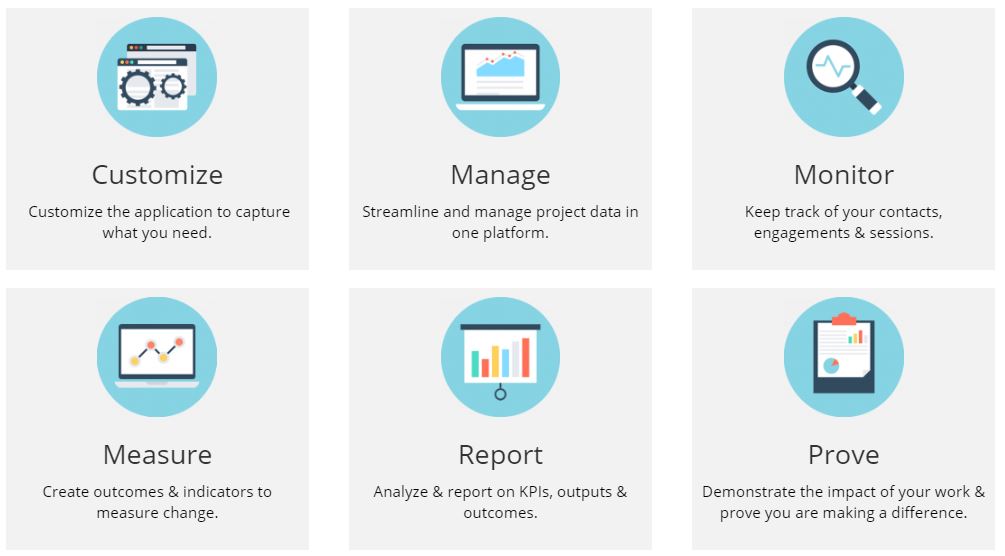 Evide Impact Tracker key features
- Streamline all project data in one platform
- Customise data fields to capture and report on participant information specific to your organisation or funders
- Create outcomes and indicators for your projects & programmes
- Real time performance tracking of your soft & hard outcomes
- Comprehensive outcomes reporting module with charts
- Easily monitor and report on beneficiaries' distance travelled on personal or activity level
- Fast and flexible outputs reporting module
- Record and report on project programmes, sessions, activities & events
- Store confidential case notes, client issues & referral details
- One to One case management
- Capture clients personal and registration information
- Monitor and report on participants' attendance/engagement
- Create evaluation and survey forms
- Upload documents
- Record correspondence and appointments with other professionals and collateral contacts
- Centralize documents and spread sheets
- Built in data validation checks
- Tiered access levels to the software, hosted on secure servers with RackSpace
- And Many More…
Book a demo to find out how effective Impact Tracker can be for you
Get a better understanding of Impact Tracker by booking a free demo. A member of our team will provide an onsite or online overview of the system.
The Creative Hub in Ebrington Square, Building 80/81, Ebrington, Derry-Londonderry, N.Ireland, BT47 6FA
SIGN UP FOR THE CONNECTSPORT NEWSLETTER
Receive weekly news and get ConnectSport updates direct to your inbox