Edge Hill University
"We are delighted that Edge Hill University has been invited to act as one of the evaluation partners for the 21by21 campaign on the basis of our research and mental health awareness training in community sport. The campaign aligns very closely with one of the key messages of our recent survey (with DOCIAsport) of mental health in the sport and physical activity workforce, namely, the need to further support the future development of the community sport coaching and volunteer workforce. Our involvement in the campaign will also benefit significantly our students who will contribute to our evaluation work and continue to work with key partners to promote mental health in our local communities and nationally." Professor Andy Smith, Edge Hill University.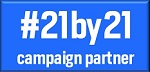 #21by21 is a national campaign bringing together sports organisations with business and policy-makers in a pledge to provide 21,000 community sport coaches and volunteers with mental health awareness training by 2021. Find out more about the campaign.
SIGN UP FOR THE CONNECTSPORT NEWSLETTER
Receive weekly news and get ConnectSport updates direct to your inbox