Dame Kelly Holmes Trust
Getting young lives back on track
Every year the Dame Kelly Holmes Trust gets thousands of young lives back on track. The charity achieves this by training and developing world class athletes to deliver personal, social and emotional development programmes for disadvantaged young people. Through transformational mentoring, young people become empowered them to realise the attitudes and behaviours needed to lead a positive life.
The Trust's programmes are proven to have a lasting impact on the lives of young people and enable them to become healthy, achieve in education, enjoy career success and take part in meaningful activities. Since 2012 their programmes have contributed £23million in social value to the UK economy.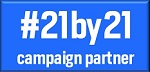 #21by21 is a national campaign bringing together sports organisations with business and policy-makers in a pledge to provide 21,000 community sport coaches and volunteers with mental health awareness training by 2021. Find out more about the campaign.
South Vaults, Green Park Station, 2-3 Westmoreland Station Road, Bath BA1 1JB
SIGN UP FOR THE CONNECTSPORT NEWSLETTER
Receive weekly news and get ConnectSport updates direct to your inbox