Twitter takeover is 'a great start'

The Sport for Development Coalition staged its first live Twitter takeover this week.
In keeping with its monthly themes and 'call for articles' from the sector, the first discussion focused on 'Employability through sport' on Monday evening.
It was hosted by @ConnectSport which is the official media partner of the Coalition.
To lead the discussion, Coalition manager Sarah Mortiboys was joined by Lindsey MacDonald, Director of Strategy and Impact at the leading sport for employability charity, Street League.
During the hour, 72 Twitter accounts responded directly to, or shared a series of questions (shown below), and the answers from Lindsey. These account had a cumulative audience of 576,369 followers. You can view the conversation by visiting the hashtag #ConnectSport or click on the Twitter Moments link below.
⚡️ "#SportforDevelopment Coalition stages first Twitter takeover"https://t.co/6mQLav2znA#ConnectSport

— ConnectSport (@ConnectSport) November 27, 2018
Sarah said: "We were very pleased to host our first live Twitter question and answer session - it was a great start - and are extremely grateful to Lindsey and Street League for their support on this important theme.
"The Coalition is keen to stimulate a national debate around some of the key subjects within Sport for Development, so we can share best practice and encourage innovation and collaboration across the regions."
Sarah explained how the Coalition has been working with ConnectSport to showcase key themes within Sport for Development.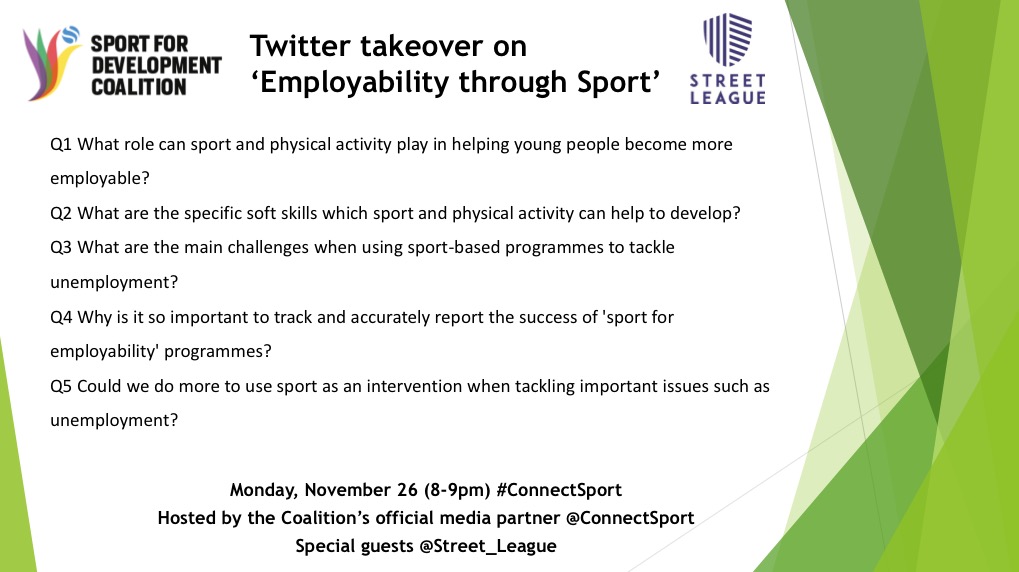 She said: "Throughout November we have been focusing on 'Employability through sport', with some excellent articles provided by leading organisations in the sector.
"In December we will be repeating the process, and the theme will be 'Sport's role in reducing crime'."
Monthly themes for January 2019 and beyond will be announced soon, with each Twitter takeover taking place on the last Monday of every month (unless otherwise stated). If you would like to contribute to the 'call for articles' during December, please email hello@connectsport.co.uk.
To find out more about the Sport for Development Coalition, click here.
27 November 2018