Trust reports increase in young people's wellbeing
The Dame Kelly Holmes Trust has reported a 7.5% increase in mental wellbeing for young people attending its programmes.
The Trust's new Impact Report covers the period from April 2019 to the end of March 2020 – so before lockdown came into effect – and describes how the charity worked with more than 750 young people aged between 11 and 25 across 85 different programmes in all four countries of the UK.
Ben Hilton, CEO of Dame Kelly Holmes Trust, said: "I'm delighted to see the impact the Trust has had on the lives of young people over the last year.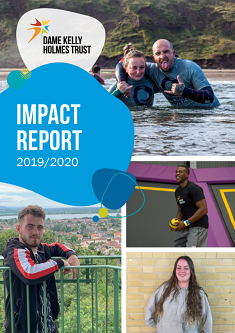 "It's particularly pleasing to see the increases in mental wellbeing across all programmes and the levels of physical activity rising in our Sport England-funded Get on Track programmes.
"We would like to thank the players of People's Postcode Lottery for their support in allowing us to develop our data and impact processes and also produce this Impact Report.
"We know the next few years are going to be a huge challenge for young people in this country and along with our athletes, partners and funders we are ready to support vulnerable young people and help them to thrive."
Commenting on the findings, the new Chair of the Trust believes that more recognition should be given to sport's role as a "catalyst for change" in society.
Ed Bracher says the "whole Sport for Development sector is massively undervalued in terms of the impact it has on society".
Ed, who became Chair of the charity last November, said: "Through health, justice, employment and community cohesion, sport is often the catalyst for change, yet it receives less funding and recognition than representative government departments."
The Trust work with a network of 50 current and former athletes and Olympians who act as mentors to young people across the UK.
Ed said: "The athletes we use as mentors on our programmes are incredible in their ability to motivate and inspire young people to make meaningful changes in their lives and we will continue to promote the unique ability athletes have to transform young lives and we will also support the wider Sport for Development sector."
He added: "The core of what the Trust continues to do is to unlock the confidence, self-esteem and resilience of young people facing disadvantage."
08 September 2020