Trust reports increase in mental wellbeing
Young people's mental wellbeing improved after attending programmes run by Dame Kelly Holmes Trust, results in the charity's new 2018/19 Impact Report show.
The Trust uses former athletes as mentors to work with young people aged 11 to 25 all over the UK, to help them increase their confidence, resilience and self-esteem as well as improve their physical and mental wellbeing.
Speaking about the results, Col. Dame Kelly Holmes said: "I'm really delighted to see the impact the Trust had over the last year on the mental wellbeing of young people we work with.
"All our programmes are led by ex-world class athletes and it's a testament to the skills, experience and attitudes these athletes bring, which enables these young people to thrive.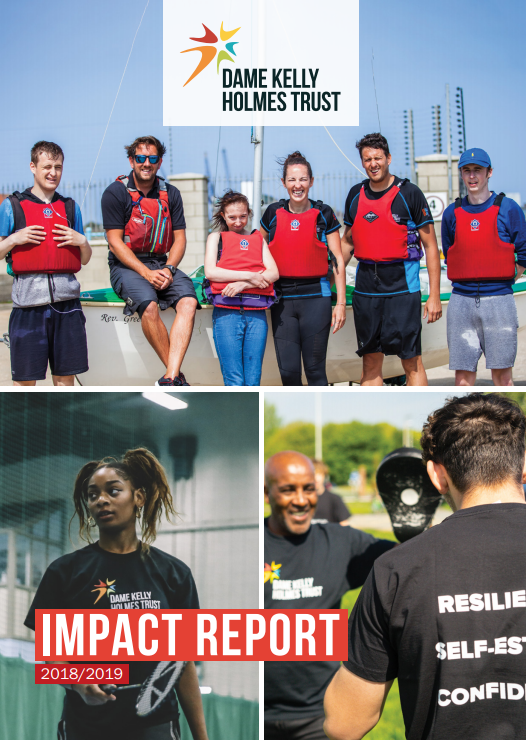 "Mental wellbeing is such a huge topic for young people these days and I'm proud my charity is at the forefront of this area, making a large and lasting impact on the wellbeing of young people."
The Trust uses the standardised (Short) Warwick-Edinburgh Mental Wellbeing Scale (S)WEMWBS across its programmes, allowing it to consistently report its impact in a standardised and comparable way. Results for the last year showed an average 2.1 point increase in mental wellbeing which demonstrates progression as the average length of a programme run by the Trust is six months.
Extending its monitoring and evaluation was made possible thanks to funds raised by players of People's Postcode Lottery. This funding allowed the Trust to research in greater detail the impact its programmes are having on the people it works with.
Stephanie Kerr, from People's Postcode Lottery, said: "We are pleased to see the impact the Trust's work with young people has had on their mental wellbeing over the last 12 months.
"Helping the Trust to strengthen their monitoring and evaluation team allows them to understand outcomes in more detail and therefore continuously refine and improve their programmes, which has a benefit to all the young people they work with."
The report also details the impact that the Trust's programmes have on areas such as employability, education, leadership and physical wellbeing.
At the end of its community based 'Get on Track' programme, 84% of young people felt ready to re-enter education, employment or training and 89% of students on the school-based 'On Track to Achieve' programme reported they were able to make good decisions.
Download the Impact Report here.
Related news: View highlights of the Sport for Development Coalition's recent Twitter takeover with the Dame Kelly Holmes Trust.
28 November 2019