Trust promotes 'Street violence ruins lives' campaign
Charlton Athletic Community Trust (CACT) will be promoting its innovative 'Street Violence Ruins Lives' (SVRL) campaign at the club's home game on Saturday.
Trust staff will be outside of The Valley stadium before the League One match against Accrington Stanley to promote the campaign after 250 young people were mentored throughout last year across Royal Greenwich, Bexley and Thanet.
The campaign aims to reduce street violence through diversionary activities and "empowering individuals on the periphery of crime to make better life choices", according to the Trust.
In November, the Mayor of London's Young Londoners Fund saw CACT receive a £150,000 grant to launch the delivery of the Connect project along with partners the Royal Borough of Greenwich, the London Borough of Bexley and Peabody Trust.
In December, as part of the Young Londoners Fund, CACT staff and partners received 'Need To Know' training around street and gang culture. Excelsior Safeguarding delivered the educational workshop which gave staff the opportunity to build strong skills in the early identification of youth-based violence and enabled them to improve the role they perform alongside other agencies and commissioned services.
On Saturday, trained mentors and youth workers who attended the training will be on hand ahead of the match to speak to supporters and advise on what support is available to young people who are at risk.
Fans will also be able to share views on how to tackle street violence and pick up printed copies of CACT's new SVRL strategy.
There will also be a reception attended by the Royal Borough of Greenwich's Leader Cllr Danny Thorpe and representatives from the London Borough of Bexley and Peabody Trust, other Connect project partners, and the Mayor of London's office.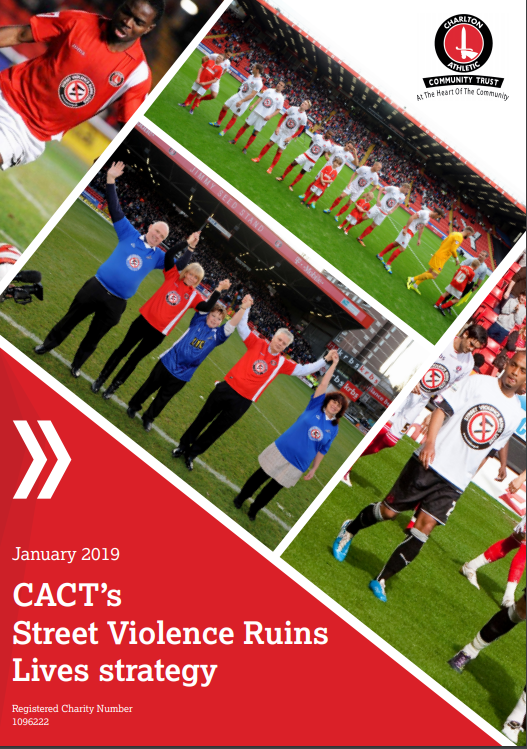 14 January 2019