Tangerines target community cohesion
Blackpool FC Community Trust has created a new 'Community Cohesion' strand within its portfolio of programmes so it can focus on tackling youth crime and anti-social behaviour.
The town has the highest rate of serious violent crime in Lancashire, with the significant deprivation seen in some areas acknowledged as a contributing factor.
In response the Trust has been growing its programmes in this field, for example with funding from the Youth Endowment Fund.
MECHANISM
Key partners of the Trust gathered at the club's Bloomfield Road stadium to launch the Community Cohesion strand, which will sit within the Trust's wider Community Programmes service.
Ashley Hackett, Chief Executive at Blackpool FC Community Trust, said: "We are really pleased to have launched this strand of work, which we have taken a great deal of time and consideration to develop.
"Youth crime and anti-social behaviour continue to be an ever-growing issue in Blackpool and being able to utilise our great football club as a mechanism to engage our targeted audiences is a unique and powerful way to inspire our next generation on to positive pathways."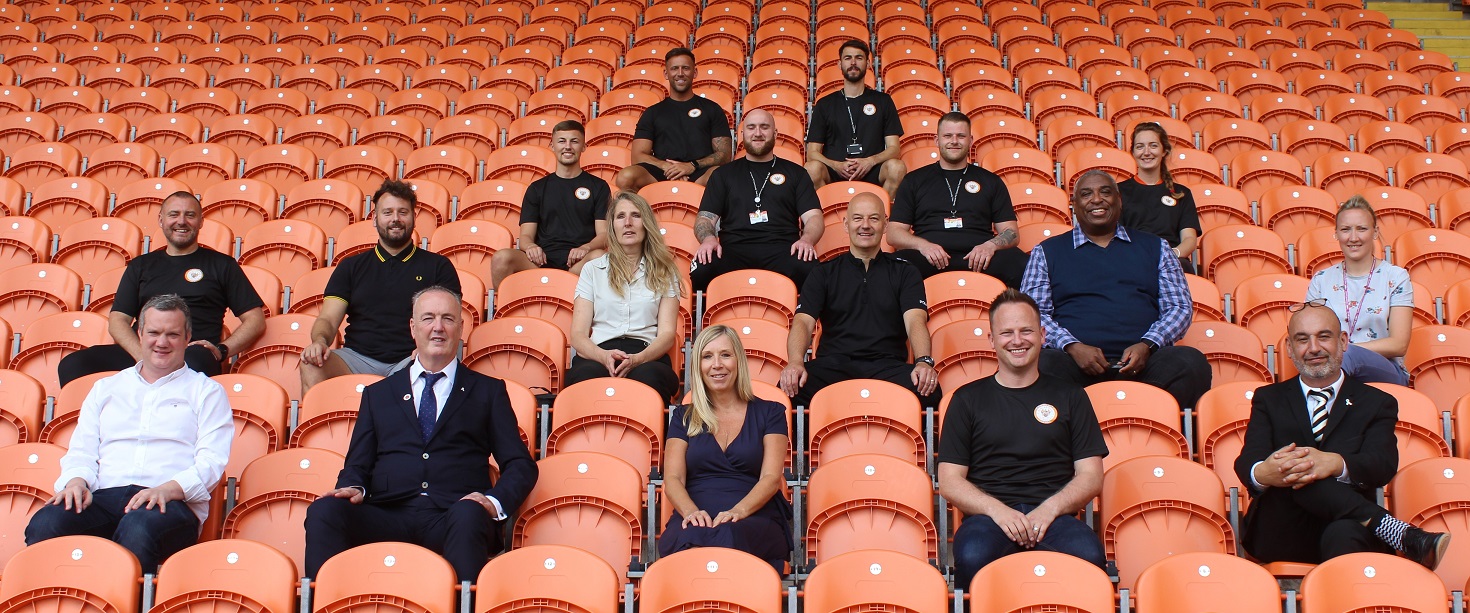 Jason White, Head of Community Programmes the Trust, added: "This is a great development for the Trust and town and we are immensely proud.
"Furthermore, while the focus is absolutely on making this provision the best it can be to achieve the desired outcomes, we are also looking to the future and have clear ideas on how this can be developed further."
The importance of this work was reinforced by Lancashire Police and Crime Commissioner Clive Grunshaw, who has provided support through his Reducing Re-offending Fund.
INITIATIVES
He said: "It was great to attend this fantastic launch. Their drive and dedication is clear to see. Policing alone cannot prevent people re-offending which is why I continue to support initiatives that break the cycle offenders all too often find themselves trapped in.
"By working in partnership with community organisations we can make a real difference at a local level and avoid offenders returning through the criminal justice system and make our communities safer."
Detective Chief Superintendent Sue Clarke, who heads up Lancashire Violence Reduction Network, commented: "This new community cohesion strand is an important part of helping young people to make good choices that divert them away from crime.
OPPORTUNITY
"We know the significant impact that role models can have on young people and by working in partnership in this way we know that we can make a real difference and effect positive change that keeps our young people safe."
Ben Mansford, Chief Executive at Blackpool Football Club, said: "It's so important that young people in Blackpool have the opportunity to positively engage with this great football club, and make them feel proud that this is their club and their town.
"My hope is that the work that the Trust are doing - which we are delighted to support - will achieve that, and hopefully we'll see more young people in Bloomfield Road backing the team this season."
Find out more about Blackpool FC Community Trust via its page the ConnectSport directory. To add your organisation for free, contact hello@connectsport.co.uk.
17 August 2020