Tackling isolation: Reds' service is 'incredibly important'
The daughter of a 91-year-old grandmother, who is registered blind and living in extra care sheltered accommodation, has told how a telephone service provided by Liverpool Football Club has proved "incredibly important and valuable" to her mother during lockdown.
The 'LFC Connect' service is a social isolation initiative aimed at contacting older and vulnerable neighbours in the north Liverpool and Kirkby communities to chat on the phone and have a virtual cuppa with them.
CONCERNED
With visitors unable to pop in, residents unable to meet and socialise, and her family unable to travel to see her in Croxteth due to Government restrictions, Colette had found herself feeling isolated and her daughter Ann became increasingly concerned.
"With everything happening at the moment, life can be so very difficult for those who are elderly and vulnerable," she said. "It's hard to imagine just how challenging it is for these people, and then for my mum, it is compounded by the added difficulties of being without sight. The feelings of isolation and missing company must be enormous."
Colette's failing eyesight meant she could no longer enjoy a good book or sit down to enjoy watching a TV programme.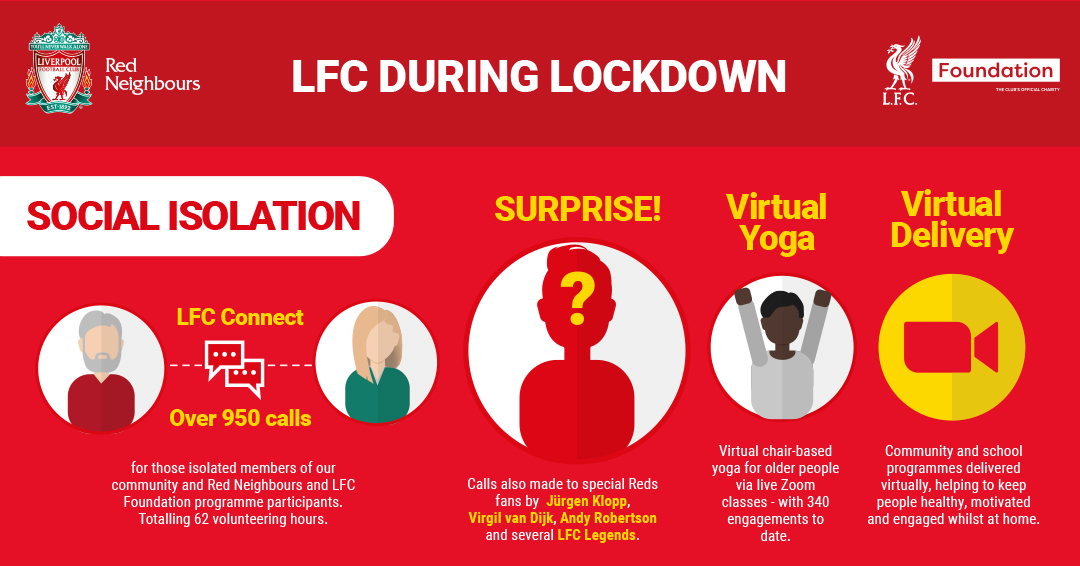 "How can you really pass the day when you have to stay inside, and your limited vision means you can't read a book or watch TV?," asked Ann, whose own daughter Carly was so concerned that she hired a cherry-picker so that she and her mum could be hoisted into the air to peer through Colette's first-floor window to say hello, have a chat and actually see her for the first time in many weeks. Colette unfortunately could not see her surprise outdoor visitors, but she knew they were there and was very glad to talk to them.
It was the Citizens Advice Bureau who referred Colette to the LFC Connect service.
Ann told liverpoolfc.com: "She told me that she had been receiving phone calls from LFC. At first, I was a little concerned but the club confirmed that they had indeed been calling mum on a regular basis as part of their Connect service, to check in on her and make sure she was getting those interesting chats she longed for so much!
SUPPORTED
"I think the service that LFC is offering is so incredibly important and valuable, it really goes a long way to helping those who are vulnerable and feeling isolated so they can stay connected and don't feel alone. What a wonderful way for LFC to support the community.
"My mum grew up with her father, my grandfather, being a huge Reds fan and a loyal season-ticket holder, I know that he would be incredibly proud and delighted to know what the club is doing for her and that she's being supported by the team he loved so much."
25 February 2021