Survey: 'Public misconceptions' limit opportunities for disabled people
The results of a survey published this week have demonstrated how non-disabled people's misconceptions are limiting opportunities for disabled people to get active.
The report, entitled 'Taking part with disabled people: Non-disabled people's perceptions', follows an online survey by the Activity Alliance with more than 2,000 non-disabled adults. It focused on the concept of inclusive activity, in which disabled and non-disabled people take part together.
The survey found that 67% of respondents had no prior knowledge of what was meant by 'inclusive sport' and that – despite disabled people making up one in five members of society – just 14% of non-disabled people were aware of having taken part in sport or physical activity with disabled people and only 48% said they knew a disabled person.
AWARENESS
Whilst acknowledging that not every disabled person wants to take part in a "mixed setting", Activity Alliance's Chief Executive Barry Horne, said: "Our insight shows most (disabled people) want to be active with their non-disabled friends and family.
"We can see the impact with our own programmes, like Get Out Get Active, that encourage providers to think wider than segregated sessions. We all need to improve the way we market activities and the wider messages we use. All this leads to more choice, which is surely good for everyone."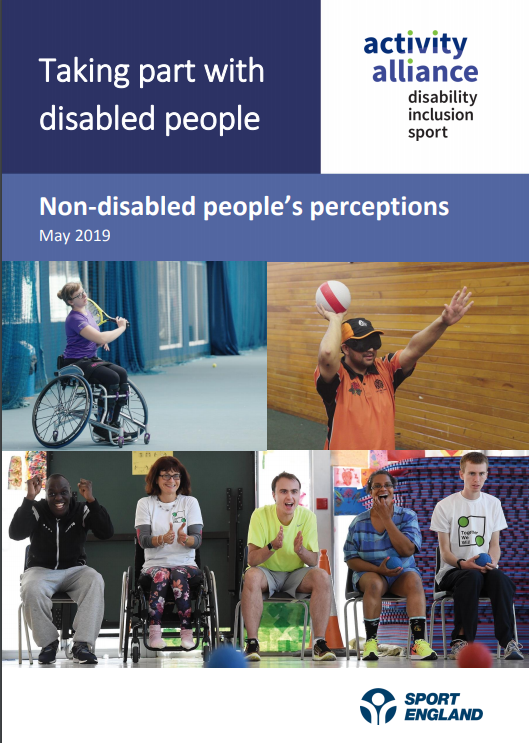 He added: "This report flags a number of public misconceptions about disabled people and how that can impact on activity. It can come from a lack of awareness and no open discussions with disabled people.
"In reality there is a high chance you are already taking part with disabled people, but it hasn't come up in conversation. Based on media coverage, the public can often have a stereotypical image of what an active disabled person looks like. But who says you have to be an elite disabled sports person or take part in a set way to be active?"
Activity Alliance say that although the results show welcome signs of improvement, ingrained perceptions are creating barriers in changing the reality of disability, inclusion and sport.
There is clearly an appetite for change, with 73% of survey respondents open to the idea of taking part in sport or active recreation with disabled people. There was also good recognition of how they could benefit from inclusive activity with 60% saying they would learn more about disabled people and 44% stating they would feel more comfortable around disabled people.
Activity Alliance say the survey respondents showed 'unfounded concern' for the negative impact that taking part together may have on the wellbeing of disabled people. Non-disabled people's top concerns were that they may patronise disabled people (53%), disabled people may get hurt (47%) and that non-disabled people may say something inappropriate (37%).
Respondents believed people with mental health problems, behavioural conditions, learning disabilities and physical impairments to be the groups experiencing the greatest prejudice in the UK today.
PERCEPTIONS
The report provides three recommendations and required actions for sport, leisure and other sectors which could help to ensure that non-disabled people feel able and willing to participate alongside disabled people.
1 Increase public awareness of disabled people, especially in relation to being active. This must aim to challenge perceptions and create a more accurate and diverse picture of active disabled people among their non-disabled peers.
2 Embed inclusivity in many more opportunities so disabled and non-disabled people can be active together.
3 Celebrate and share experiences of inclusive activity with representation for all impairment groups.
To find out more, visit the Activity Alliance page on the ConnectSport directory. To add your organisation to the directory, contact hello@connectsport.co.uk.
Pic credit: British Blind Sport.
24 May 2019