StreetGames supports 'Unsung Hero' award winner
A volunteer coach who is supported by the national charity StreetGames has been named winner of the 'Unsung Hero' award at BBC Sports Personality of the Year 2019.
Keiren Thompson, 31, runs the 'Helping Kids Achieve' project in Bulwell, one of the most deprived areas of Nottingham.
The project delivers multi-sport sessions four nights per week for local young people as well as a basketball team at the weekend, and encourages participants to volunteer and take up leadership roles, with some having won local awards.
MOTIVATED
Keiren, who set up the project with his own money, was motivated after being attacked and badly injured in 2006.
After receiving the award on stage in Aberdeen, he told the BBC: "First of all I want to say thank you to mum for believing in me.
"Secondly I want to thank my volunteers. I also want to thank all my young leaders, what they are doing is amazing. They are setting an example for the younger kids below them.
"I want to thank all the young people that come to my sessions, without them it wouldn't be anything.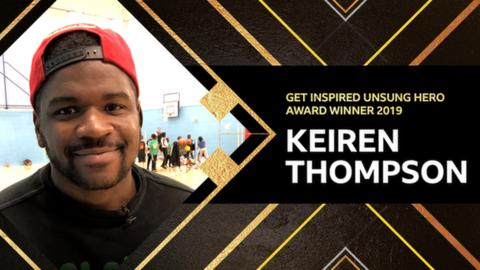 "Last but not least I want to thank all the parents that bring their young kids down to the sessions. What they do is amazing as well."
Keiren's project is supported by StreetGames, the national charity which is part of the Sport for Development Coalition. The Coalition is a movement of 58 charities, organisations and networks who are all dedicated to using sport to generate positive social outcomes.
It works in partnership with Made By Sport, a four-year campaign which aims to raise funds and generate awareness of the Sport for Development sector. Made By Sport was the official partner of this year's Unsung Hero award, which is co-ordinated by BBC Get Inspired.
DESERVED
Mark Lawrie, Chief Executive of StreetGames, said: "Everybody at StreetGames was so pleased to see Keiren win this award, it is thoroughly deserved.
"StreetGames has supported Keiren's inspirational work for over 18 months now, helping him to secure funding and access training to keep Helping Kids Achieve sustainable.
"Keiren's award is a victory for inspirational community leaders everywhere, who - like Keiren - work so hard, in difficult circumstances to help local young people to thrive."

Keiren was one of 15 regional winners shortlisted for the overall Unsung Hero award. Several others were supported by Coalition organisations, including:
South-West England: Tony Gorniak from Street Factory CIC in Plymouth, which is supported by Sported South West.
Northern Ireland: Leanne Evans from Fit Moms and Kids, which is supported by Sported Northern Ireland.
West of England: Georgina Moore who founded Gem Boccia Club, which is supported by Access Sport.
London: Marcia Gurney-Champion from Spencer Lynx Hockey, which is supported by Sported London.
Made By Sport CEO Sophie Mason thanked the charities involved for promoting the award and helping to encourage nominations from the sector.
She said: "We are delighted that over a third of the regional BBC Sports Personality of the Year Unsung Hero winners were associated with Coalition organisations and charities. Thank you for nominating those volunteers who make such a difference and allowing them to be showcased on the national stage.
"The award is a great opportunity for the Sport for Development sector to be in the limelight."
Find out more about Made By Sport.
Pic credits: BBC Sport, Nottingham Post.
12 December 2019