Sport can be 'secret weapon' against Covid inequalities - Chair
The Chair of a charity which provides sporting competition to young people says sport can be the "secret weapon" in the battle to help them recover from some of the most negative impacts of the Covid-19 pandemic.
Mickela Hall-Ramsay (pictured above) was speaking after it was revealed that London Youth Games' virtual activities recorded a remarkable 80,000 entries during the third lockdown. This was during a period when:
- Over a quarter of children and young people said worries about Coronavirus prevented them from being active (according to research by Sport England).
- Almost twice as many disabled people said the pandemic greatly reduced their ability to do sport or physical activity compared to non-disabled people (27% vs 13%) (Activity Alliance).
- 60% of adults and young people reported their mental health got worse during lockdowns (Mind).
- 41% of teenage girls have lost confidence in their sporting ability because of the pandemic (Women in Sport / Comic Relief).
Next week the LYG Virtual Inclusive Games, which helps young disabled people stay active and engaged, and the LYG Virtual Dance project reach their climax, with the charity thereafter transitioning back to in-person programmes as allowed by Government restrictions, alongside continuing some online schemes. Other online projects have included School Games Fitness Challenges and a Virtual Cross-Country event.
Mickela said: "The Virtual Games have played a hugely important role in keeping young people active, engaged, confident and resilient during this incredibly confusing and difficult period in their lives.
"We know they have helped to reduce feelings of isolation and frustration, and prevented young people from potentially 'dropping out' of sport and physical activity. As restrictions are relaxed and the vaccine programme rolled out, it's so important that we keep working hard to keep young Londoners involved in sport and physical activity so that it can play its part in tackling a wide range of social issues.
"From helping to reduce unemployment and anti-social behaviour, to increasing mental wellbeing and educational attainment, sport really can be the secret weapon to help get our communities back on an even keel."
ACTIVITY
London Youth Games has been working with London Sport to deliver these inclusive virtual offers through Sport England's Tackling Inequalities Fund, which has been created to help reduce the negative impact of Covid-19 and the widening inequalities in sport and physical activity.
The Games operate across 33 London boroughs, including some of the capital's most deprived areas, and Mickela says the charity – which aims to use the power of competitive sport to provide life-changing opportunities for all young Londoners – is playing a vital role in tackling some of the inequalities which the pandemic has exposed.
Research shows that the poorest areas have had Covid-19 mortality rates more than twice as high as the wealthiest areas, and have also seen Universal Credit claimant numbers increase by 8% compared with a 5.1% increase in the most affluent areas (Health Foundation).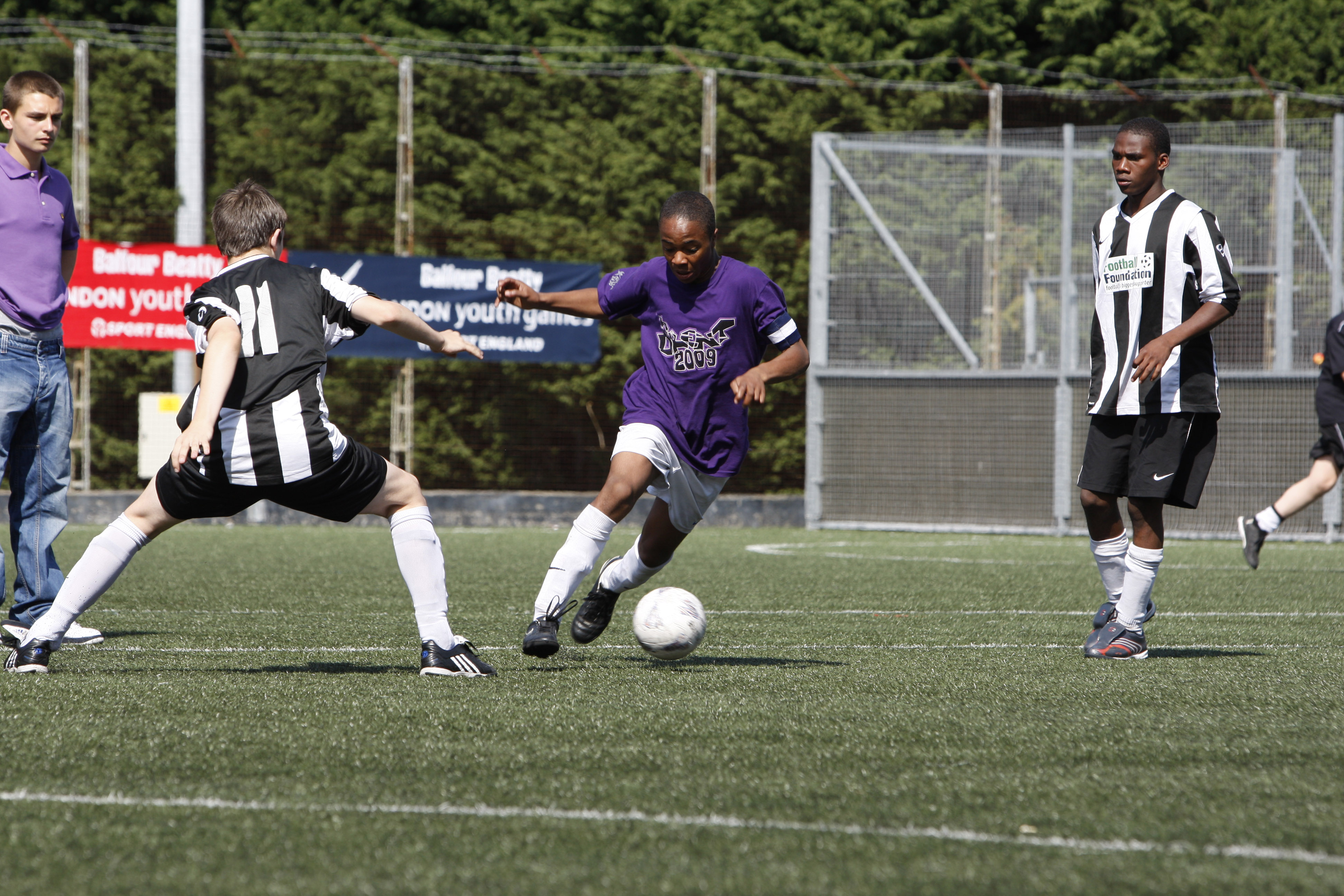 As a former participant herself Mickela, who recently became the youngest ever Chair of the Games at the age of 34 and its first from an ethnically diverse background, has personally experienced the benefits of being involved in the cross-city competition which has also seen the likes of Raheem Sterling (pictured above competing for Brent in 2009), Mo Farah and Dina Asher-Smith compete over the years.
She added: "Everything I have achieved today is owing in some part to my experiences with the London Youth Games. Growing up in London, sport played a massive role in my life. It kept me active, it kept me safe, it widened my social circle and it helped build my confidence.
"With all the changes that are taking place and young people having been isolated, London Youth Games has a very exciting opportunity to bring young people back together, back to sport, and back into an environment where they're able to use sport to help them mentally and physically to become themselves again. Having adapted and gone online during the pandemic, London Youth Games has been able to extend its reach and now can use this momentum to draw in as many young people as possible."
ACHIEVEMENTS
Next week sees the conclusion of the following competitions:
LYG Virtual Inclusive Games – an eight-week virtual challenge series which that puts young disabled Londoners at the heart of the competition. Three challenges per week are set by young disabled people to raise awareness of the importance of disabled people remaining active and to celebrate their achievements.
LYG Virtual Dance – run over six weeks in partnership with Step Change Studios. A Virtual Dance event giving all young Londoners the opportunity to stay active, represent their borough and express themselves through dance during the pandemic. LYG Virtual Dance has been delivered with the support of Nike, and the final week will feature a special dance challenge in collaboration with Nando's.
The release of the charity's 2021-2025 strategy 'Every Young Londoner's Games' sets out the vision to create the world's largest and most inclusive city-focused Youth Games.
Read more at londonyouthgames.org.
01 April 2021