Sheffield project earns praise for providing positive pathways
Councillors and police in Sheffield have hailed the impact of a project developed by local people in one of the most deprived wards in the city.
'Big Brother Burngreave' is part of the Active Burngreave project supported by Yorkshire Sport Foundation, and led by Community Development Worker and local mother of five, Safiya Saeed.
Through the scheme, Safiya supports local young people to become leaders of the programme, so they can encourage and inspire their peers to also become role models in the community.
Councillor Abtisam Mohamed, Cabinet Member for Education and Skills at Sheffield City Council, said: "I can never get over the fact that we have got young people from Burngreave that are there just to inspire younger people and show them something positive, instead of always focusing on the negatives in the area."
Speaking in a short film about the project created by Sheffield-based film-maker Ibrahim Ahmed, she added: "There's a lot to learn from how successful this project has been, and I think there's a lot for other providers to say 'well if it's worked in this area, then what can we do in our areas as well?'
"I would hope that the vision for the organisation is that it can expand and be replicated, without losing sight of the young people that it is there to help."
Superintendent Lee Berry, from South Yorkshire Police's Violence Reduction Unit, believes it is important for local authorities to support and trust projects which are created by, and embedded within local communities.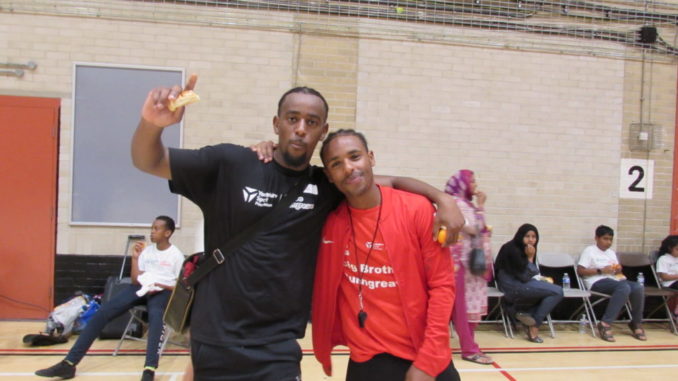 "We had heard of Reach Up Big Brother in Burngreave already doing some fantastic work and it's really important from the Violence Reduction Unit that we recognise existing work in communities that is happening already, and that we can support that work to make sure we are engaged with communities.
"The initiative struck with us straight away in the Violence Reduction Unit. We are looking at young male adults and the key thing is that positive role model, so somebody in the community that people of a similar age can look up to. They can see that they can go down a different path and that mentor getting people into education or training – that is the path that we need to be on."
He added: "We are here to support so we can push that work along, and bring as many people into that as we can. We have got the same aim and the same goals.
"By working together I am sure that we can reduce violence across Sheffield, and in particular Burngreave where this work is happening."
Related news: Active Burngreave – Working at the Speed of Trust.
14 July 2020