Satellite Club: Young footballers make 'right choices'
ConnectSport has been working with London Sport to produce a series of short films focused on projects supported by Sport England's 'Satellite Club' funding, which aims to get young people active. Here we focus on a football programme supporting young people in Croydon.
Place a young person in a positive environment and surround them with inspiring coaches, and they are much more unlikely to make the kind of costly decisions which are marring the lives of other young south Londoners.
That's the logic being used by the Reaching Higher Football Academy, based in and around Croydon, which uses football as a tool to help turn young people into "well-rounded people".
The Academy sessions, which are made possible thanks to funding from Sport England's Satellite Club programme, are delivered in conjunction with local schools.
They take place on weekday evenings and weekends, seeking to capitalise on the coach's position of influence with the young people they are coaching.
The secret of the Academy's success, according to head coach Bryan Nzinga, is that it favours attitude and attendance over ability on the pitch and focuses on five key transferable skills.
Bryan explained: "I came up with five transferable skills: responding to authority, awareness of your decisions, communicating effectively, dealing with high-pressure scenarios, and working in a team.
CONVERSATIONS
"With those five skills, if you have them as a person normally day-to-day, you will be a good person. But if you have them on the pitch also, you will be a fantastic player.
"Through the football academy, through working with these people on Saturdays, Monday evenings and in the schools, it's the perfect opportunity to get to know them one-to-one and have conversations."
Sadie Cooper-Abbott (below) is just one participant who enjoys Reaching Higher's approach.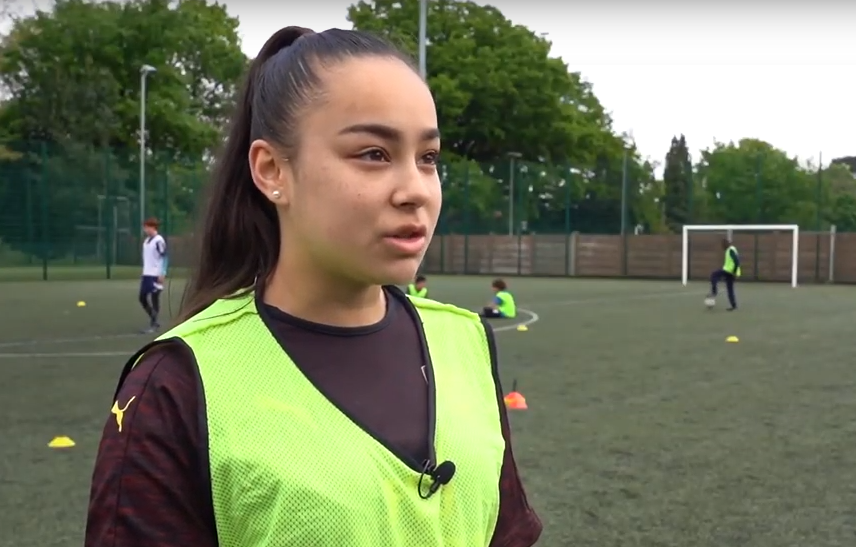 "They say stuff that applies on the pitch but it also applies outside the pitch as well," she said.
"For them, it's not about how good a player you are; it's about attendance, punctuality and your attitude on the pitch. So as much as you could be a really good player, if your attitude or punctuality isn't that good, you won't get played as much as the people who are here all of the time."
Bryan knows he faces huge challenges but uses football to bring young people together and offer them an alternative to gang culture and serious youth violence.
OPTIONS
He added: "At Reaching Higher, we ran a project for six weeks which was based on getting kids who were involved in that gang culture and just using football to bring them together.
"I remember growing up when I was a kid from Brixton and Tulse Hill, and I remember what that was like, so I can clearly relate.
"But here's an example of what good options look like, here's an example of what good choices look like, because life is all about choices really."
If you want to help inactive teenagers to change their physical activity habits for the better, or would like further information on this funding, visit the London Sport website or get in touch with the team.
14 November 2019