Satellite Club: Goals4Girls delivers 'journey of change'
ConnectSport has been working with London Sport to produce a series of short films focused on projects supported Sport England's 'Satellite Club' funding, which aims to get young people active. Here we focus on a football programme for teenage girls across East London.
A football programme designed especially for teenage girls is helping them to become mentally and physically prepared for the challenges that lie ahead of them as young adults.
Goals4Girls is an award-winning education and empowerment programme that uses football to engage with more than 400 girls in six schools across East London.
It is supported by Sport England's Satellite Club funding which is distributed by London Sport, and commissioned by London Youth.
Participant Rebecca Hunt says the programme has benefited her enormously: "The environment that we play in is really good for communicating, and I have learned how to communicate more.
"I used to be really shy, and now I am not. My confidence has improved massively.
"In school, I feel as though I have become more confident to put my hand up and answer questions.
"At home I have been more respectful and I have learned that the way I put myself out affects other people."
Fellow player Daniella Awobona says Goals4Girls has helped her understand how to behave in different environments and amongst different groups of people.
PRESSURE
She recently spoke on behalf of the organisation at an event in central London, and believes playing sport can help girls relieve some of the pressure they face on a daily basis.
She said: "You can just play football for something to do, something to get away from social media, which has a big impact on your social life.
"Just coming here and socialising with people, it helps you massively at home and at school. It makes it easier to communicate.
"It's nice because you have to socialise, and when you're older you have to socialise in jobs. It gets you mentally and physically prepared for when you actually grow up, and will have to work with people."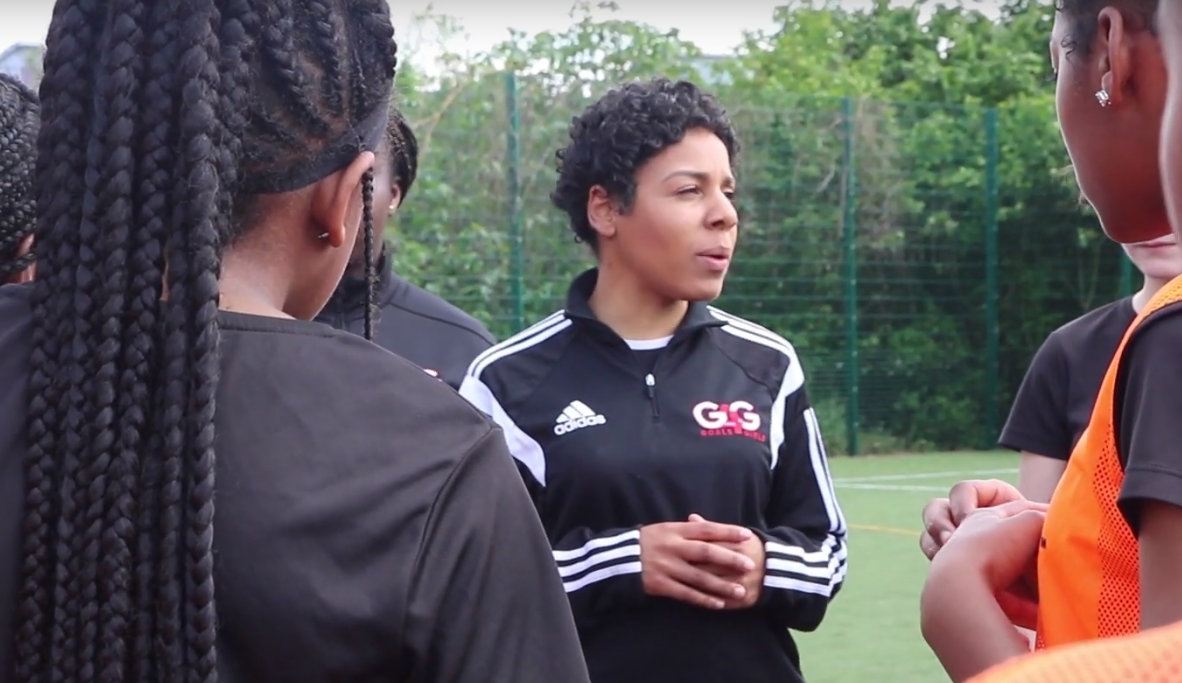 It's hearing these girls speak with such confidence and clarity which demonstrates exactly why Goals4Girls founder Francesca Brown felt compelled to set up the charity.
"One of the main things that we pride ourselves on is ensuring that every young woman who comes on the programme has a journey of change," she says.
"Not only do we deliver these leadership skills – aspiration, motivation and confidence – on the football pitch, we do it off the football pitch as well.
"We always pride ourselves in saying that the programme is for the girls, and is by the girls."
CONFIDENT
Francesca, originally from Manchester, also revealed that sport's role in her own personal journey through tough times, including spells of depression and anxiety, inspired her to dedicate her life to helping young women.
"I found growing up that sport helped me through those periods in my life. When I stopped playing sport, I fell into a massive black hole of depression," she added.
"Although I didn't know it at the time, sport kept me afloat. It kept me focused and I gained so many skills from there. It has made me into the businesswoman that I am, and how confident I am.
"I was compelled to set up Goals4Girls because a lot of young people don't get the opportunity to make their voices heard – and I was one of those young people when I was growing up.
"I feel I can create a platform for these young women and girls too."
If you want to help inactive teenagers to change their physical activity habits for the better, or would like further information on this funding, visit the London Sport website or get in touch with the team.
01 November 2019