Quins connect police and young people
Harlequins Foundation have teamed up with the Metropolitan Police Service (MPS) to encourage young people to interact with local police through a rugby project.
Quins and the Met are utilising the 'Project Rugby' programme which aims to increase participation among those not normally exposed to the sport, while at the same time encouraging positive engagement with local police.
The four-week project, which has been organised by four officers from the Met's TSG unit in partnership with the Foundation and Old Alleynians Rugby Club, has delivered been delivered to 140 young people at secondary schools across Southwark and Lambeth, with a further 1,200 spoken to during assembly question and answer sessions (Q&As).
By the end of the month, 200 young people will have had the project delivered to them and more than 2,000 will have been spoken to during school assemblies.
ENVIRONMENT
Police Sergeant Chris Bright, one of the Met's co-ordinators for Project Rugby and a rugby coach in his spare time, said: "We are steadily encouraging more and more children to come and take part in Project Rugby, get fit and active and also engage with police officers – our latest session saw nearly 40 children join us. There is a tremendous amount of talent out there.
"Rugby isn't just about the game, it's about people and being part of a community. Better people in the right environment make better players.
"We hope that more and more children will hear about the opportunities that Project Rugby has to offer and will come and join us in the next round of training sessions. It is important that as well as children taking up the game, our key messages about interaction with the police and reducing knife crime are getting across.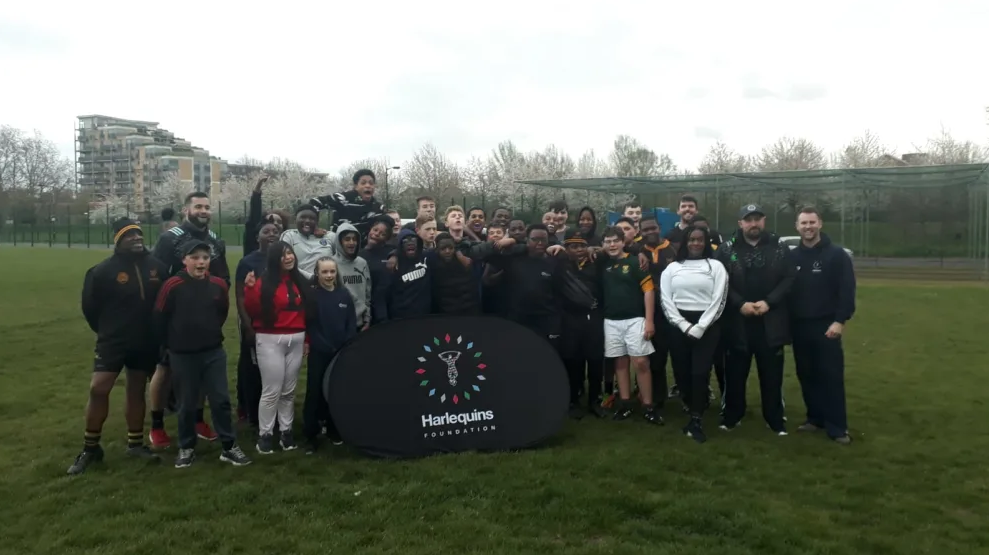 "Our stance on knife crime is really quite simple – knives change lives. It's your life; make the right choice."
Session one of the project starts by breaking down barriers between young people and police during classroom-based Q&As, giving teenagers the chance to talk to police in a relaxed environment and be listened to on topics that are important to them.
The session continues by delivering a police personal training programme including basic public order tactics in police kit to introduce teamwork. The conclusion of the session is an introduction to the basic skills of rugby.
In the second session, the students are asked to deal with several stop-and-search scenarios with them acting as police officers. By doing this, they are able to understand the difficulties in making the right decisions based on the information put in front of them.
DISCIPLINE
The students are then given further rugby training and introduced to its core values, with teamwork, respect, enjoyment, discipline and sportsmanship at the forefront. They also learn how the sport can benefit them before playing non-contact games to give them a basic understanding of the rules.
Session three is about the impact on victims. The students are educated on the impact to the victim and those around them, including their family.
At the end of programme, the students and parents are invited by Harlequins to attend a final gathering to demonstrate what they have learned and to get more information on how to keep them involved.
30 May 2019