Police hail impact of Community Cohesion Cup
The second Western Bay Community Cohesion Cup has been hailed as a "great success" in breaking down barriers between Police and diverse community groups in South Wales.
The aim of the inclusive football competition in Swansea was firstly to increase respect, trust, equality and engagement between community groups and the Police. It also plays a key part of the Police Force's representative workforce programme, using football as a vehicle not only to foster stronger relationships, but ultimately encourage more applications to join the Force from BAME candidates.
The competition featured a robin-robin group stage featuring four teams: the Kush Stars (refugees from mainly African backgrounds), the Swansea Stars (players mostly from the Bangladeshi community), the Swansea Panthers (the 2017 champions) and the Swansea University Veterans. As group-stage winner, Kush Stars went into the final and beat South Wales Police at Swansea City's Liberty Stadium.
Ex-Swansea City striker Lee Trundle presented the prizes and local primary-school children designed posters signifying what community cohesion meant to them. Pupils from the winning school attended the final as mascots and ball boys/girls.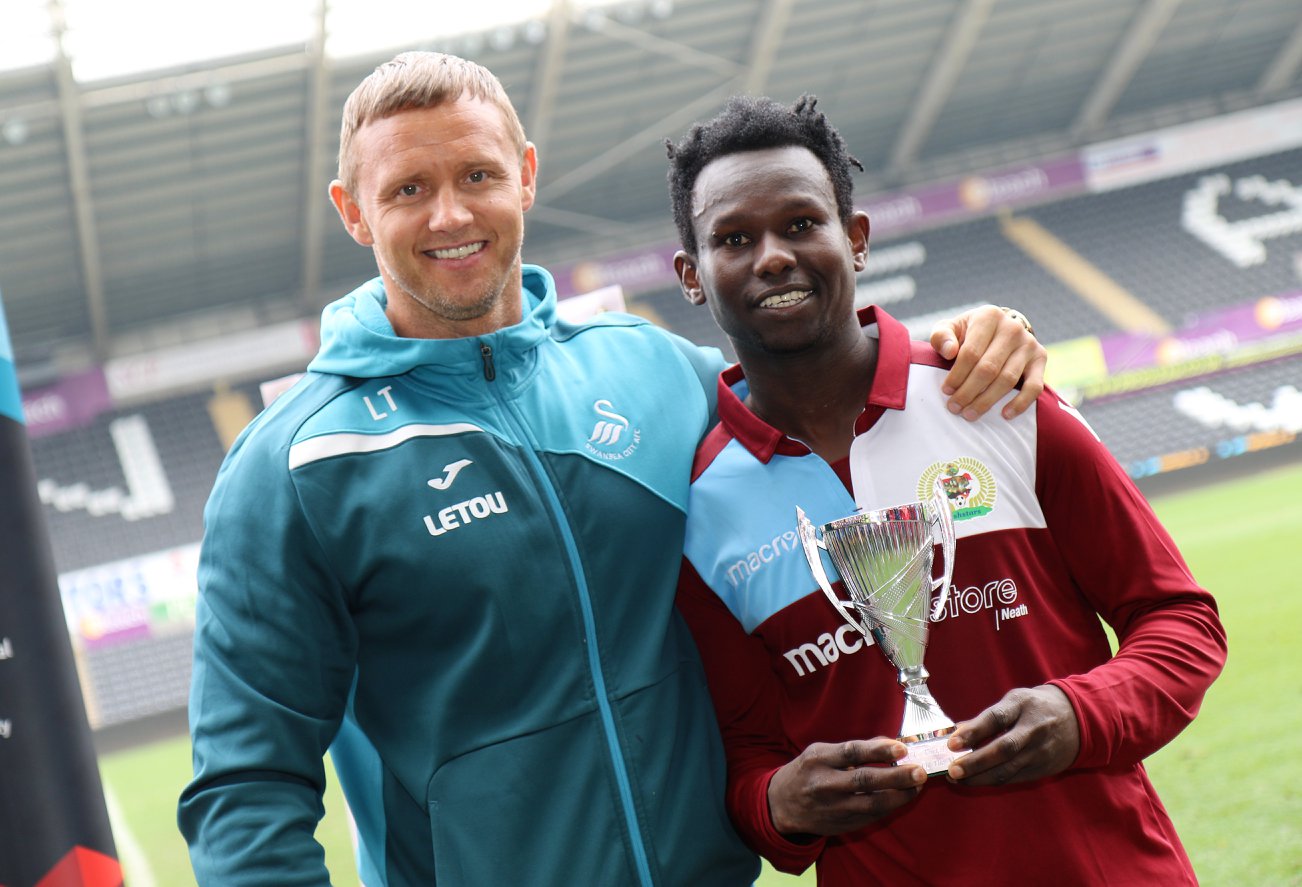 The event was jointly organised by Mathew Lewis, Chief Inspector – Operation at South Wales Police, BME Sport Cymru Project Officer Mohammed Basit and Stephanie Callender, acting in her former role as PCSO Hate Crime Engagement Officer for South Wales Police.
Chief Inspector Lewis told ConnectSport: "The competition shows the BAME population in South Wales that there's a human side to policing and a personality behind the uniform.
"The feedback from the players is that it has given them a better understanding of our role and we've already had a number of referrals into our representative workforce programme from people applying to join. It has been a really big success because people may never have thought of the Police as a career before.
"Our ambition is having a better understanding and responding to the needs of the community. To reflect that, we need to be truly representative of the community itself. These sorts of events definitely lead to an increase in trust and confidence, and if you're more confident in the Police, you're more likely to join them. Football is the driver for that."
Fellow organiser Stephanie Callender, who is now Community Coordinator for Counter-Extremism at Swansea Council, added: "The Community Cohesion Cup has positively influenced the relationship between the police and the community in a big way.

"It has built relationships off the pitch and in the communities, which would have been difficult to build in any other way. It has broken down those stereotypes of Police and community.
"It proves that sport is an excellent tool for engagement. It gives people the opportunity to be part of a team, feel included and have a good sense of belonging. It allows them to find a positive place in society.
"Sport can also act as the building blocks to resilience; providing positive relationships and positive role models, learning to manage behaviours and emotions, overcoming hardships and feeling involved and connected."
15 June 2018