Olympian Amy backs Made By Sport's local approach
One of Britain's most successful Olympic gymnasts has returned to her native North-East England to give her backing for Made By Sport's partnership with the Great North Run.
The campaign, which is working in partnership with the Sport for Development Coalition, has joined up with this year's Great North Run on September 13th to raise money for grassroots and community sports clubs in the region.
As part of her visit, Amy joined in sessions with the two clubs she was visiting in Hartlepool, Mavericks Dodgeball Club and Stott Community Running Club.
Growing up in neighbouring Durham, Amy's passion for grassroots sport stems from her own experience of what sport and physical activity can do for young people from all backgrounds. Speaking with participants at the clubs, Amy outlined how sport teaches important skills and values that benefit young people in a range of different ways – from giving them confidence at school and forming friendships through teamwork and respect.
The European, World and Olympic medallist said: "Sport has done so much for me in my life, so I'm here today to give back and help support those that need it. Being able to do so in the North-East – the place that I'm from and I love – is even more special.
"For people that want to help clubs and grassroots sports to thrive, more support is needed. Made by Sport is an incredible campaign that, through its partnership with the Great North Run, is looking to do just that by raising money to support local sports clubs and organisations just like these, so young people across the North-East can gain access to the amazing benefits sport has to offer."
Amy is Britain's second most successful female gymnast. Her new role as an ambassador with Made By Sport follows her retirement from the sport, which she announced last month.
Made By Sport was launched last summer by Prince Harry, Duke of Sussex along with boxers Anthony Joshua and Nicola Adams. The four-year charitable campaign is an official partner for this year's landmark 40th Great North Run and is also being supported by Sport England.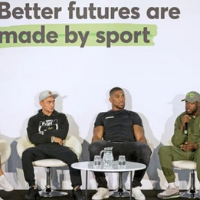 Money raised by people running the iconic half-marathon for Made By Sport will go directly to support grassroots and community sport organisations across the North-East which work specifically with young people.
Helen Johnson, Campaign Manager for Made By Sport in the North-East, revealed: "Running for Made By Sport at this year's Great North Run is such a great way to support sports clubs and projects like these and help increase the positive impact it has on young people across the region.
"We're encouraging people who have been successful in the ballot for the Great North Run to run for us, but also those who haven't been successful to get in touch with our team to find out how you can apply for one of our nominated charity places to run in this year's race."
To find out how you can sign up to support Made by Sport at this year's Great North Run visit madebysport.com/great-north-run or follow @madebysport on Twitter.
26 February 2020