Minister: Rugby programme builds 'character and resilience'
Minister for Sport Tracey Crouch has praised the "long-standing example" of Premiership Rugby's HITZ programme as it celebrated its 10-year anniversary this week.
The award-winning education and employability programme, which is delivered by Premiership Rugby's 13-member rugby clubs with the help of its funders Land Rover, Wooden Spoon and Comic Relief, works with more than 2,000 young people aged 14 to 18 across England every year.
Using rugby's core values of teamwork, respect, enjoyment, discipline and sportsmanship, HITZ increases young people's resilience, self-reliance and confidence and gives them the necessary personal, life and employability skills to get back into education, training, apprenticeships and employment.
More than 80% of participants find work or return to education after the scheme and more than 75% report improved confidence and resilience.
Tracey Crouch, Minister for Sport & Civil Society, said: "I applaud all the shortlisted candidates in this year's HITZ awards and the clubs and coaches who have worked so hard to help them succeed.
"HITZ is an excellent, long-standing example of how sport can play a role in building character and resilience among young people who are at risk of failing at school or in society. I hope the project continues its long success."
The 2018 HITZ Awards ceremony at the BT Centre this week was attended by World Cup winner Maggie Alphonsi, as well as past and present Gallagher Premiership Rugby stars Ellis Genge and Ed Jackson.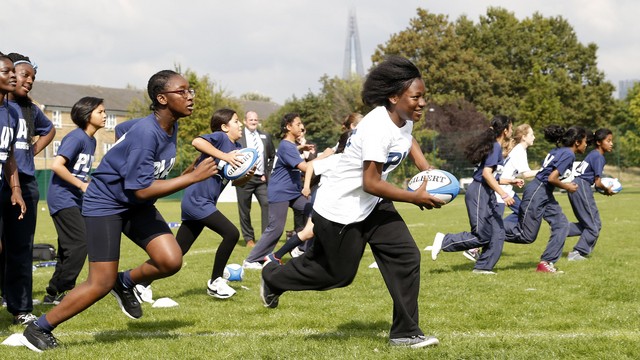 Alphonsi, who presented the Rugby Ambassador Award to Bath Rugby's Jade Whale, said: "I have seen first hand the positive impact the HITZ programme can, and has had on young people's lives. Rugby is a powerful catalyst for good and offers these young people the skills and confidence that can put their lives back on track."
Jade was one of four winners with Aidan Seal (Exeter Chiefs), Ross Ferguson (London Irish) and Carter Moran (Wasps) also picking up awards.
HITZ passed a major milestone when its 13,000th participant completed the project last summer, with the milestone making the scheme one of the longest running and most successful 'NEET' focused sports project in England.
Wayne Morris, Community and CSR director at Premiership Rugby, said: "HITZ is proof of the power of rugby to improve character, resilience and achievement in the classroom and the workplace.
"It is also an example of how headteachers and school governors could use sport strategically to support pupils at risk of disengaging with education and could build partnerships with the professional sports sector and enhance their PSHE provision.
"We have an ambitious goal to use our brands, players and assets to make a major contribution to improve the lives of disadvantaged people in our communities. That vision is called 'A Plan to Improve A Million Lives'. We look forward to working with Government, charities and the private sector to help make that dream come true.
"Next year's Rugby World Cup can be a huge boost to the sport and we are ready to maximise its impact."
The four HITZ winners were:
- Rugby Ambassador Award, supported by Land Rover: Jade Whale (Bath Rugby)
- Academic Achiever Award, supported by Premiership Rugby: Aidan Seal (Exeter Chiefs)
- Champion Award, supported by Comic Relief: Ross Ferguson (London Irish)
- Young Achiever Award, supported by Wooden Spoon: Carter Moran (Wasps)
19 October 2018