Made By Sport seeks Chief Executive
Made By Sport, the four-year charitable campaign which is working in partnership with the Sport for Development Coalition, is seeking to appoint a Chief Executive. For more details, click here.
Boxer Anthony Joshua and The Duke of Sussex speak passionately about how they believe sport can provide purpose in the lives of young people in a new short film released by Made By Sport.
The four-year campaign was launched in London earlier this summer, and will work in harness with the Sport for Development Coalition, a growing group of 60 charities and organisations using sport to generate positive social outcomes.
The launch was attended by boxers Nicola Adams and Joshua, as well as The Duke of Sussex and a group of coaches working at charities across the UK.
The compelling video features Joshua and The Duke of Sussex listening intently, and discussing the issues facing young people in under-served communities, such as gangs and crime, with Chance to Shine coach Tanayah Sam and two participants from programmes, Reahana Gordon and Dantaye Weir Williams.
"A gang is not just a negative thing," says Joshua in the film. "With boxing, that that was where I found my gang.
"Sport to me is more than competing. It is about the discipline and regiment it teaches you. The lifestyle of an athlete can be taken into any walk of life.
"It's about how you can improve yourself as an individual through the power of sport."
Tanayah turned away from gangs and crime to use his experiences in helping young people escape such pitfalls.
In the film, he says: "Sport is the one thing you can always engage in with young people and that's a form of communication. I just went with sport, to be fair, I love it."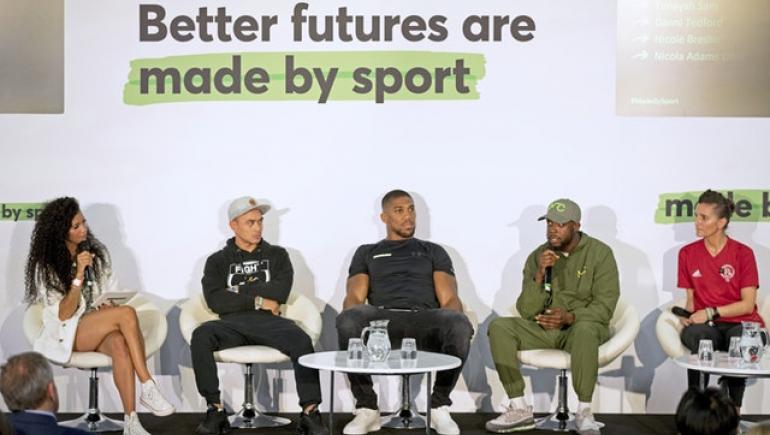 The Duke of Sussex adds: "I've seen life not just changed but saved through sport. The whole campaign is about trying to explain the benefits that this has on every single person, no matter who you are.
"In so many communities now, sport is being used as a hook. You get them in and before you know it, after a week or maybe a month, their whole character is changed for the better, and I don't think you can put a price to that.
"This is about creating a different community, having a purpose and that human connection which too many people nowadays are lacking."
Made By Sport aims to raise £40million in vital funds for community sport over the next four years. To find out more, visit madebysport.com.
10 August 2019