Invest in an active nation, Tanni tells Party leaders
Baroness Tanni Grey-Thompson has called on the Government to "invest in the optimism" of the physical activity sector and maximise its impact in addressing societal challenges.
The former Paralympic champion, speaking in her role as Chair of ukactive at its National Summit in Westminster this week, called on political party leaders to commit to improving nation's health in their manifestos for the forthcoming General Election – and by doing so, target a range of issues from deadly health conditions to anti-social behaviour, social isolation and workplace wellbeing.
The Baroness has written to the leaders of the main political parties, asking them all to address four policy calls in their election pledges:
- Regenerating the high street through physical activity.
- Opening schools as community hubs to support children and families.
- Improving accessibility to active travel and wider activity opportunities for the nation's workforce.
- Supporting older adults to access the health benefits of physical activity.
She said: "I have written to the leaders of the main political parties in Westminster requesting a number of commitments within their General Election manifestos. These requests will establish a new relationship with our sector in a new political environment.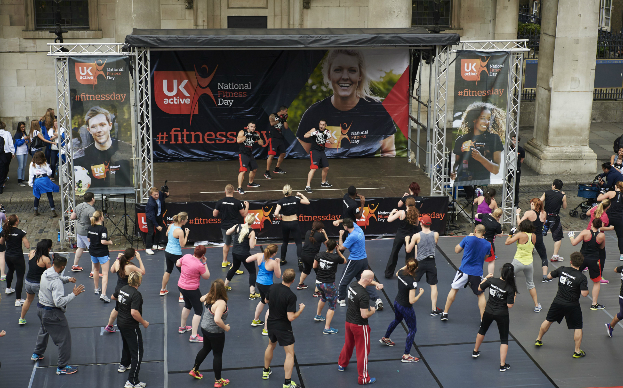 "What do we want modern Britain to look like? If our sector is going to flourish and thrive – if its optimism is going to be realised – it needs an environment that supports it and provides people with the opportunities to be physically active."
Focusing on the issues of urban renewal and high streets, she added: "We urge the main political parties to commit to addressing high rates of retail vacancy on the high street by changing the restrictive aspects of the 'use class system' – encouraging fitness and leisure operators to open on the high street and across town developments on a greater scale."
Baroness Grey-Thompson was joined at the QEII Centre in Westminster by speakers including Health Secretary Matt Hancock, Olympic gold medallist Dame Jess Ennis-Hill, former Cabinet Secretary Lord Gus O'Donnell and Chair of the Royal College of GPs, Professor Helen Stokes-Lampard.
Addressing more than 600 leaders and policymakers from across the health, fitness, sport, leisure, business, retail and construction sectors, the speakers discussed the opportunities for physical activity to transform health and social outcomes in the UK.
Sport England led a dedicated session throughout the day focused on how its Active Environments strategy is making an impact across the country, while other breakouts explored the role of physical activity in the NHS Long Term Plan; combatting youth violence through physical activity; delivering the ambitions of the Prevention Green Paper; and the future of the working environment.
To find out more, visit the ukactive page on the ConnectSport directory. To add your organisation for FREE, contact hello@connectsport.co.uk.
31 October 2019