Gunners partner with charity to give girls life-skills
The Arsenal Foundation has partnered with Save the Children to develop a programme called 'Coaching for Life' aimed at providing important life-skills for girls and young women in Jakarta, Indonesia.
Delivered exclusively through on-pitch sessions, the programme incorporates Save the Children's expertise in child protection and resilience-building.
It builds courage and inner strength through innovative coaching modules to help young women stand up for their rights and combat the challenges they face, such as having to work from a young age to provide for their families, the risks of child marriage and early pregnancy, and even violence and poverty.
Coaches from the Premier League club are brought in to train their local counterparts and conduct some sessions with them. Together with the young people, they explore topics such as emotions, communicating and decision-making. The programme, which is also supported by the UEFA Foundation for Children, is also helping to renovate seven football pitches to give the young people a safe place to play.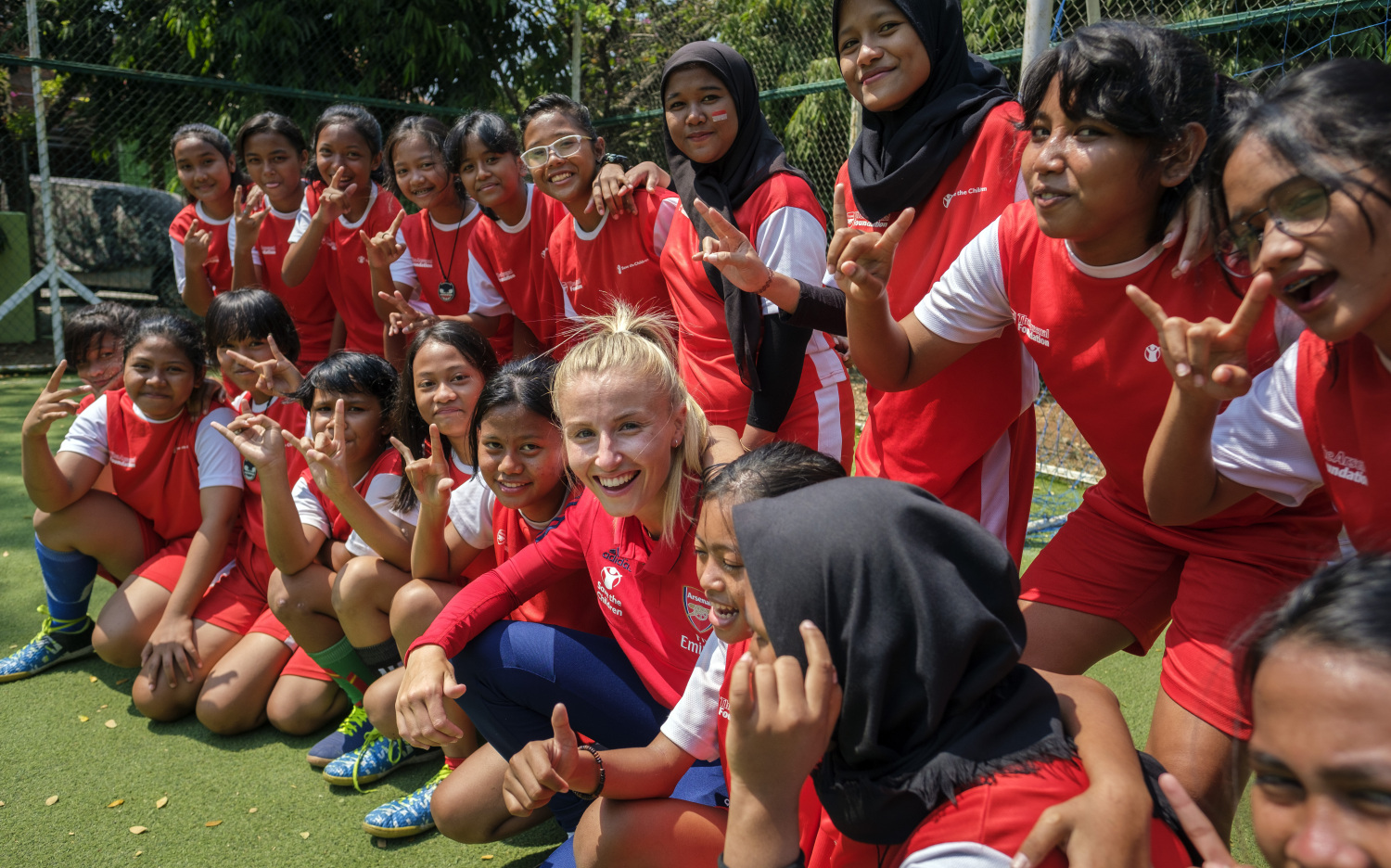 Arsenal's coaches will train 35 coaches in Jakarta, and around 1,500 parents and caregivers will also participate in the programme, enhancing their ability to support the children's wellbeing.
Arsenal and England defender Leah Williamson visited programme last year to provide some training, and said: "The young girls in Jakarta inspired me and have made me incredibly proud to be a woman and a role model to young girls.
"I have been at Arsenal since I was nine and have always known about our place and role in our community. It's in our DNA. We all understand it's a privilege to use the power of the club to do good. When you apply it in a really special way, it can be used to achieve brilliant things – develop confidence, resilience and essential skills for life.
"Whether you're growing up in London, Jordan or Jakarta, football has the power to bring people together and offer a lifeline. It was amazing to see how Coaching for Life has been built in partnership with Save the Children to create something so special to inspire the girls I met."
To find out more about the Arsenal Foundation, visit its page on the ConnectSport directory. To add your page for free, contact hello@connectsport.co.uk.
02 June 2020