Funders helped us adapt, says Youth Sport Trust CEO
The Chief Executive of the Youth Sport Trust has praised funders for their understanding during the pandemic which enabled the national charity to "reposition" its offer and create record engagement in its online resources.
Ali Oliver was speaking as the Trust published its 2020 Impact Report which shows that the first National School Sport Week 'at home' reached more than two million people last June. The online activities were downloaded 42,000 times, with over 3,500 schools signed up.
The Impact Report provides an overview of the second full year of the charity's 2018-2022 strategy 'Believing in Every Child's Future'. The charity celebrated its 25th anniversary during 2020.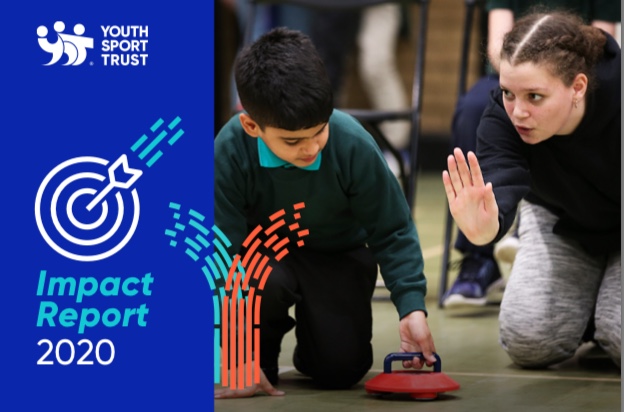 In the report's introduction, Ali said: "When we launched our Believing in Every Child's Future strategy in 2018, we warned of a crisis in young people's wellbeing. Rising health and wellbeing issues among young people had come at the end of a decade characterised by cuts to Physical Education, the growth of social media and increasingly sedentary lifestyles.
"These challenges became even more pressing during the global pandemic which had such a profound effect on young people's education and development."
She added: "We owe huge thanks to the many funders who, when the first lockdown hit last March, allowed us to reposition our offer online, and develop new ways to help young people. This led to record numbers of downloads of free resources from our website and huge attendance at our online training, all culminating in the first National School Sport Week 'at home' which reached over two million people."
The report shows:
309,115 young people were given the opportunity to enjoy the benefits of sport and play through the charity's programmes

99,706 young people received training from athlete mentors, coaches and networks

20,650 teachers, coaches and practitioners were trained to lead inclusive sport and Physical Education

500,000 downloads of free activity resources, created as part of the Trust's response to the challenges of Covid-19

2million reached through National School Sport Week at Home, as the Trust teamed up with Sky Sports on the UK-wide campaign
This week the CEO welcomed the Government's announcement that schools were to re-open and that there would be a staged return to organised sport and physical activity.
She said: "We believe that now, more than ever, it is time for a long-term, joined-up national strategy to enable our young people to be the happiest and most active in the world. Daily physical activity and sport should be a universal entitlement in a post-pandemic world where nothing is more important than young people's recovery, wellbeing, education and development."
Read more at youthsporttrust.org
01 March 2021