Foundation manager leads football & Mosques workshop
The employability and coach education manager at West Ham United Foundation led a workshop on setting up mosque-based football clubs at the Muslim Council's recent #OurYouthOurFuture event in Leicester.
Rashid Abba join 500 mosque leaders, young Muslims and other figures from the world of football – including Leicester City midfielder Hamza Choudhury and the Football Association's coach mentor officer Steve Smithies – at Leicester City's King Power Stadium.
Discussions and interactive workshops were held, focused on working out 'how mosques can better engage with an increasingly disenfranchised youth through football and other initiatives'.
PRIVILEGED
Rashid Abba said: "I am privileged and proud to be able to present at the Muslim Council of Britain.
"The Foundation does incredible work across the community, including facilitating multi-faith tournaments, offering qualifications to local coaches, and then by continuing to support them in setting up their own provisions.
"It is an honour to be able to showcase our values and be a positive influence for others so that we can continue to unite our community and inspire better futures."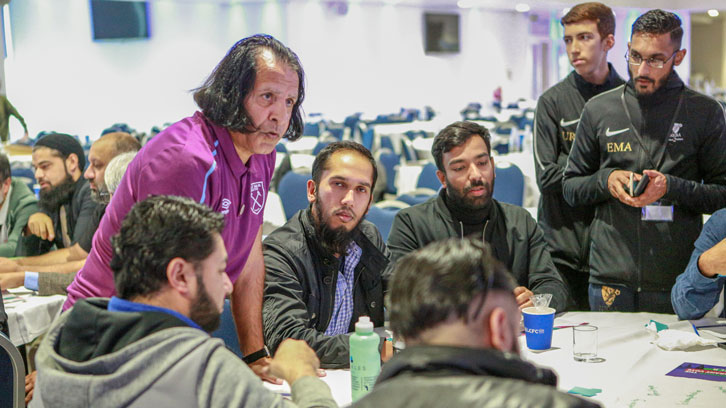 With young Muslims among those who sometimes struggle to integrate with other community groups and participate in sport outside of their schools or after-school Madressa religious instruction sessions, the #OurYouthOurFuture event was held to help them access sport and social activities.
It is hoped that, by hosting sports provision at their mosques, young Muslims can make new friends with similar individuals and take part in important physical activity.
Abba and his fellow delegates discussed the need to educate young Muslims on how important it is to take part in sport regularly to improve both physical and mental health.
UNIQUE
He also educated attendees on how important it is for all children to exercise, and to help them plan exercise into their lifestyles long term as well as becoming more engaged themselves.
The Football Association's equality & diversity manager Kevin Coleman told West Ham's official website: "Sport and especially football offers a unique opportunity not only to bring communities of different faiths and backgrounds together, but also to inspire and engage young people.
"Mosques and all places of worship can be the focus of all sections of local communities and the drivers and partners of projects that engage young people in this way."
To find out more, visit the West Ham United Foundation page on the ConnectSport directory. To add your organisation for FREE, contact hello@connectsport.co.uk.
01 November 2019