'Football Unites' brings players closer to communities
Crystal Palace, West Ham United and Arsenal are collaborating on 'Football Unites' - a pilot project designed to aid the personal development of academy players and give them the opportunity to make a difference in their local communities.
The project launched at Selhurst Park Stadium on October 21, with youth team players from each of the London clubs in attendance, along with Palace chairman Steve Parish, England and Eagles winger Andros Townsend, former West Ham midfielder Zavon Hines and representatives from the Mayor of London's office, which is match-funding the initiative.
EMPOWER
Football Unites is the brainchild of Player Voice, a community interest company established to empower young people and allow their ideas regarding their education and sporting development to be heard. Player Voice will manage the year-long initiative in partnership with Crystal Palace and West Ham, with Arsenal acting as a learning partner.
The programme will see over 40 academy players working to identify issues in their local communities before awarding grants to community partners and co-delivering projects. By directly involving players in the projects, the initiative hopes to help them develop key life skills while positively engaging with communities.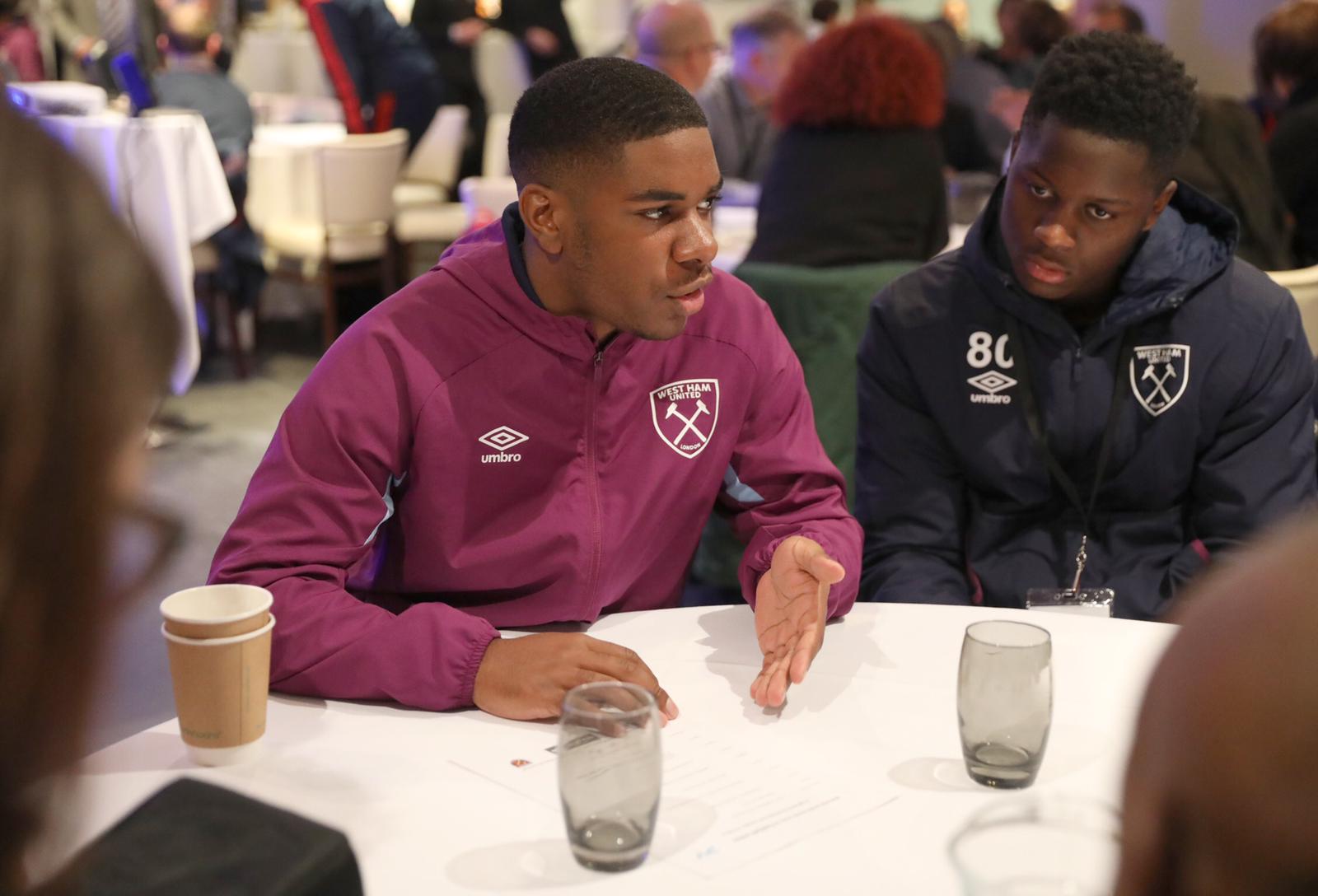 Founder and CEO of Player Voice, Bev Amaechi, is ideally placed to understand the challenges facing young players coming through academies having seen her son, Xavier, progress through the Arsenal set-up before joining German club Hamburg this summer.
It is this first-hand experience, coupled with 25 years working in youth services, that led her to establish Player Voice and she believes that its Football Unites project will help prepare players for the future, regardless of whether they become professional footballers.
BLUEPRINT
Speaking at the launch, Bev said: "Football Unites is about equipping young players for this journey (through the academy) and for the future.
"Working with players, we've devised a participation programme which considers how we do this in a good way, a balanced way, not overloading the players, but still giving them really important experience, and an enjoyable experience."
Bev (pictured below) feels that, if successful, Football Unites can serve as a blueprint for other youth-focused football projects.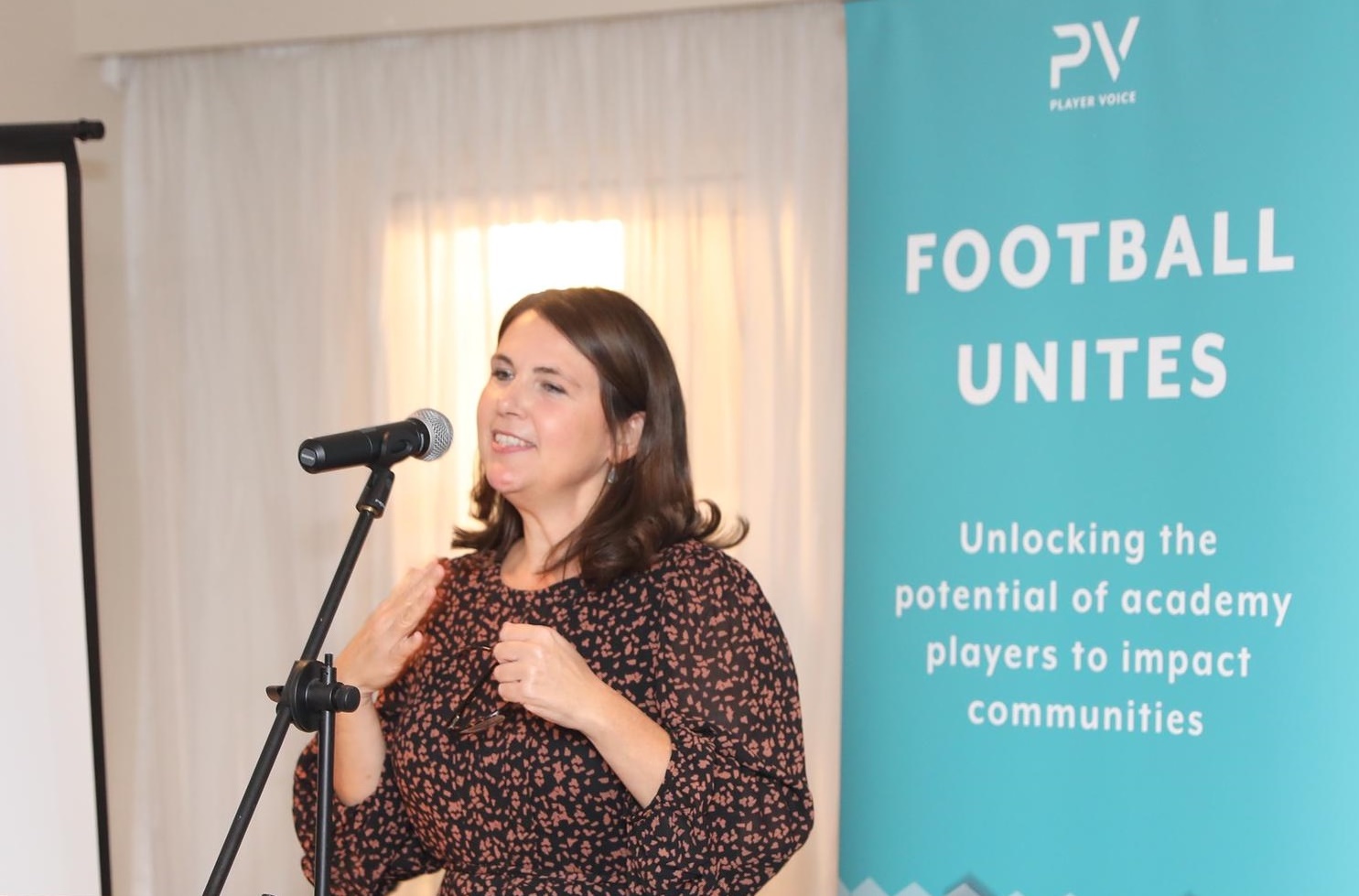 "We believe we can develop a proven framework for academy players' engagement in community programmes," she said.
"We can then promote and disseminate this to other academies, other levels of football, girls' football, women's football, across the Premier League, across different ability sectors, to everyone.
"I believe the time is right for this project. It's a cultural shift in the football world – it's already happening and we're not the only ones doing this, but there's a momentum to this agenda.
PREPARED
"Wherever our footballers and male and female sportspeople end up in life, I believe this programme will help them be more prepared for that next stage."
Hilary Lissenden (below), head of the Mayor of London's Community Sport team, commended the collaborative effort of all parties involved saying: "We have several clubs involved and the Premier League and agencies, who are all distinct, successful, stand-alone businesses, with their own strategic priorities.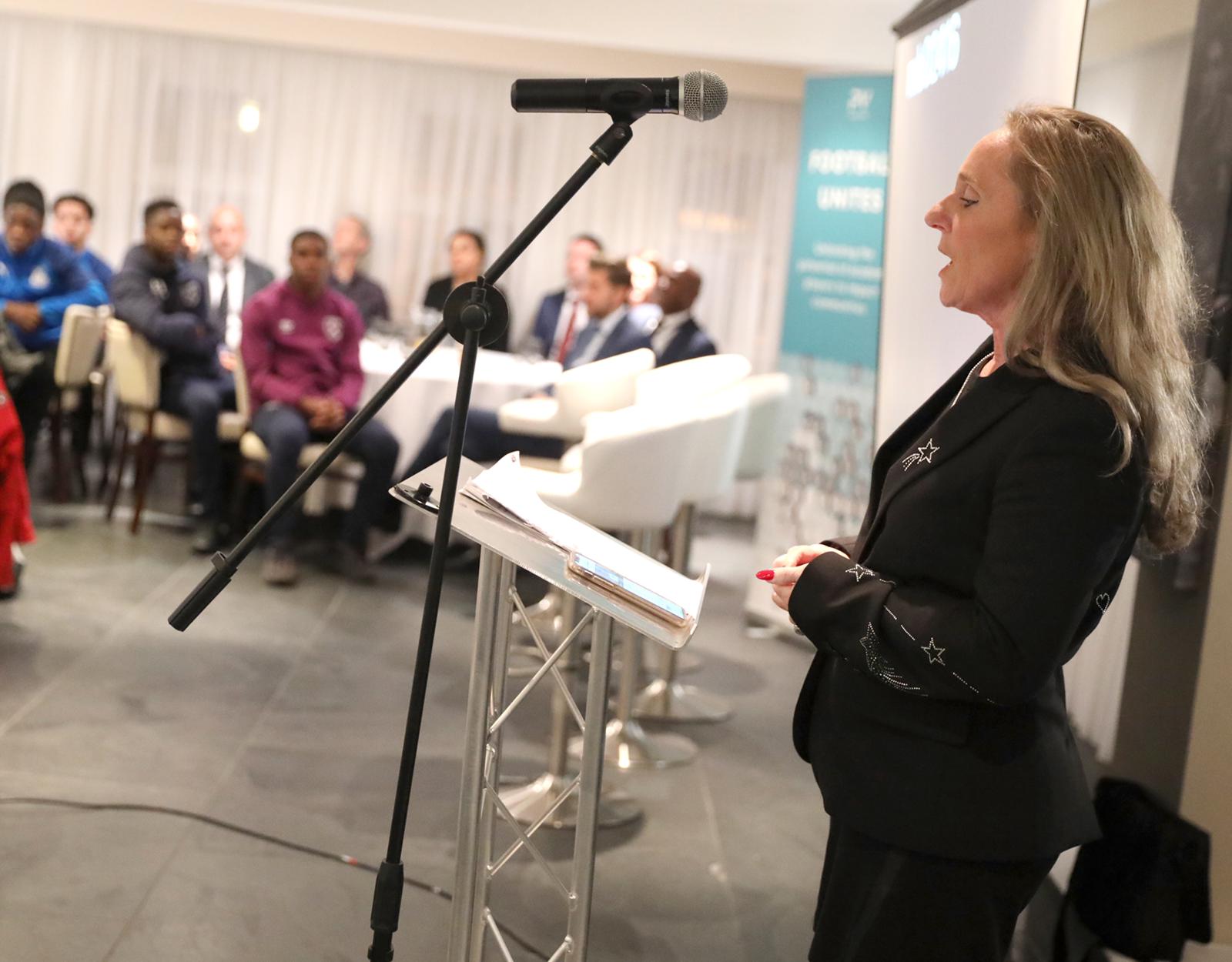 "But here they are under one roof, being really open to learning from each other's strengths and challenge areas and that's something we really need to acknowledge."
Hilary went on to highlight the role she believes the project can play in tackling social issues including racism and bullying in both the short and long term.
"There are lots of aspects to this project," she said.
COMMUNITIES
"There's the young players; what difference the project might make to them in having a voice and expressing themselves in their clubs and academies and also in their local communities? Then there are the communities themselves; the projects that the young players are going to work with are going to really make a difference to how people view the clubs within their communities.
"Through Football Unites, young players can help heal some of the divisions that exist in society as role models, as people that are looked up to by their friends and peers, they can set an example. This programme is designed to do just that.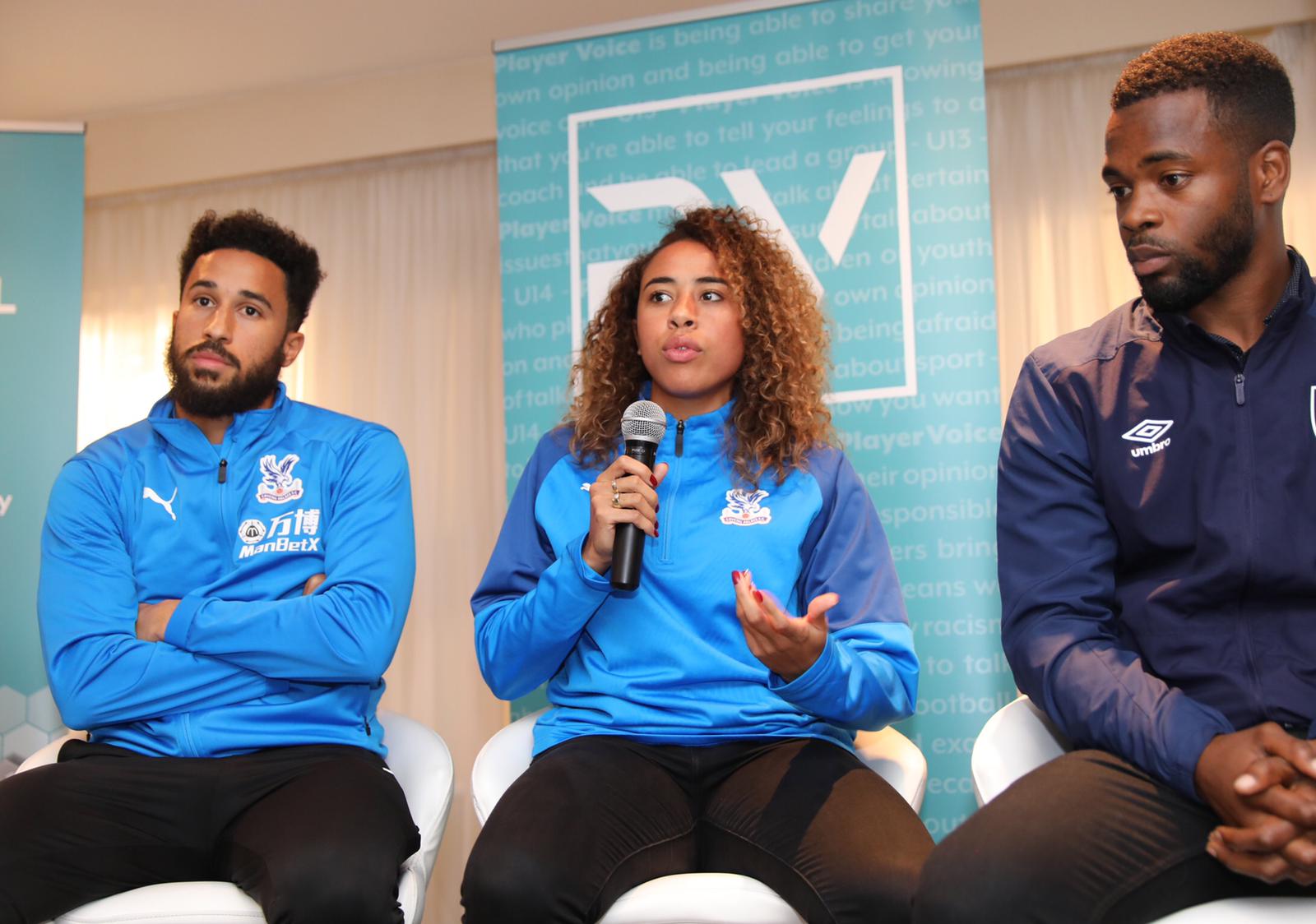 "This is about empowering the young players – giving them the funding and backing that they need to affect positive change in their communities.
"What we really want is to develop a model, a framework, of what we might do in the future. Not just for football clubs, but for all major sporting clubs in the capital, and hopefully beyond, to support them in supporting their young talent and helping those players become great leaders."
WELL-ROUNDED
Crystal Palace chairman Steve Parish (below) is delighted his club are spearheading the project with West Ham and feels that getting young players involved in their local communities will create well-rounded footballers that can go on to make a positive impact on society.
"What we see in the Premier League is that kids are coming through younger and younger," he commented.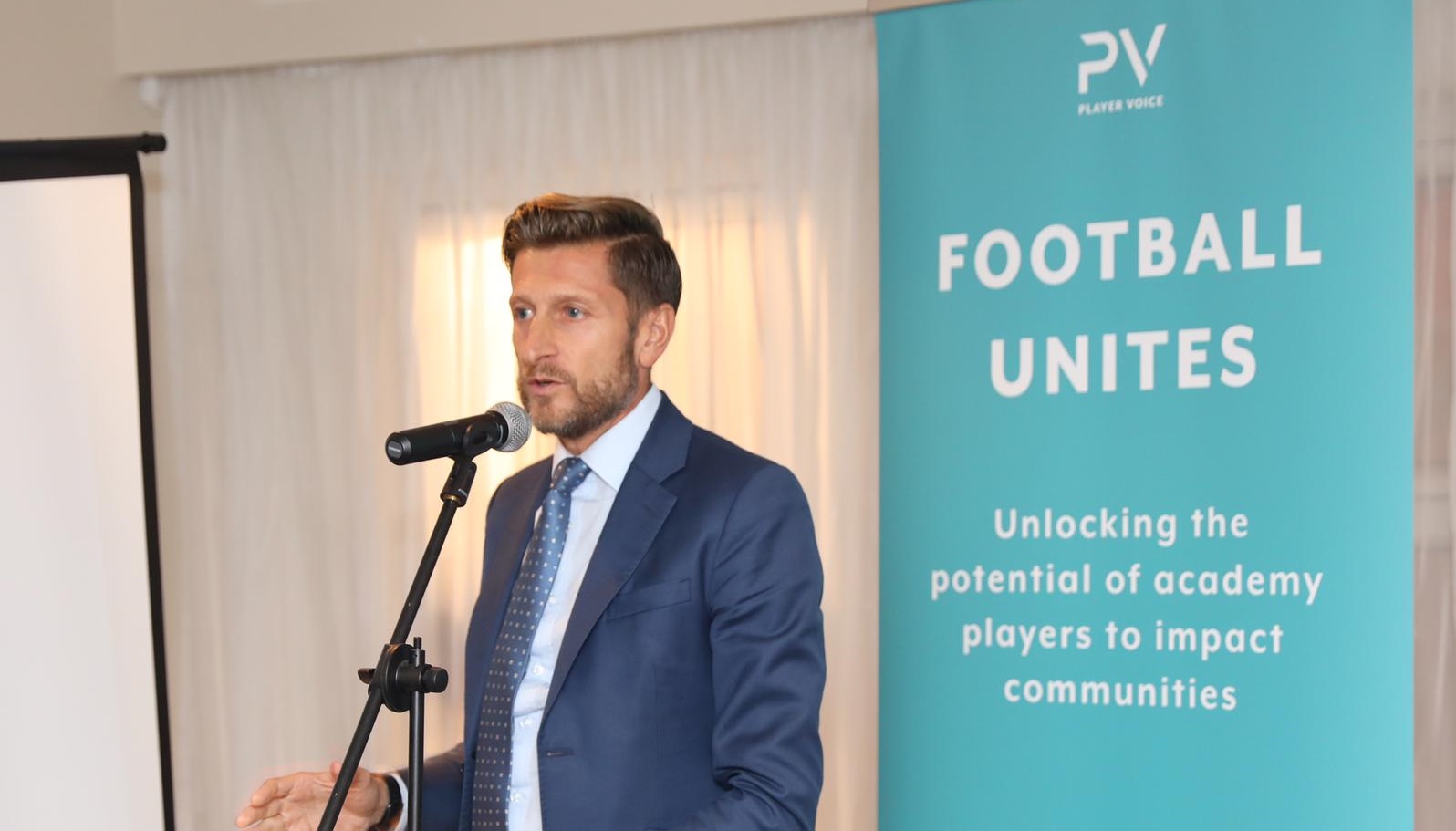 "Their football talent is there but are they really ready to be exposed to all the things that are expected of them?
"We talk about them being role models, but how can you just become a role model unless somehow you understand the struggles that people are going through?
"For that reason, I think this is an amazing project, something we are ever so proud to be in the pilot of and to get behind. I hope it's a huge success for everybody."
To find out more, visit the Player Voice page on the ConnectSport directory. To add your organisation for FREE, contact hello@connectsport.co.uk.
30 October 2019