FA commences Asian community consultations
The Football Association's Asian community consultation forums kicked off this week in West London.
During October and November, eight forums are taking place in eight areas of the country most heavily populated by Asian communities.
The roadshow visits Vallance Community Sports Association in East London next Monday before touring the country.
It follows the end of The FA's first plan, 'Bringing Opportunities to Communities', aimed at addressing the lack of Asian inclusion in the grassroots game, launched in 2015.
The FA's Equality & Diversity Manager, Kevin Coleman, told ConnectSport: "The FA is the only body which has an Asian inclusion plan; it was a three-year plan which has just come to an end this summer.
"We are repeating the eight community consultation forums which we delivered four years ago, in the same places and with a lot of the same people, so we can get a flavour of whether they think things have changed.
DISCUSSIONS
"We are presenting back to those people on what has happened over the last four years, and asking if they think their experience of football has changed for them. Whether it's better or worse, and getting their thoughts on what they want to do in the future."
Each forum consists of presentations, themed discussions on club and coach development, Talent ID and women's and girls football and a panel Q&A session. The charity Sporting Equals are running a separate, independent focus group to obtain views on Asian inclusion in football.
The first forum took place at Middlesex County FA headquarters in West London last Monday, and Kevin was encouraged by the initial feedback.
"It was a mixture of some of the people we have had before, and new people," he explained. "A lot of the issues were similar to before, but it felt like football and society has moved on a bit.
"People weren't talking about the same problems as before, and it feels like people are more connected now – the make-up of your average club seems to have changed, with a more professional approach and more of the capacity or ability to set up an organisation.
"The one constant is probably too much of a focus on the pro game, when obviously we are talking about the grassroots game – so people are always talking about the number of Asian players in the Premier League, for example. That's not the area we are working with but it's a shop window and everyone talks about it."
COMMUNITY
"We are doing eight forums in eight weeks, in the eight most populous Asian areas. There's one week, and next week is at Vallance FC, which is a big community club in East London, and we'll be rolling out exactly the same format, so we can compare and contrast all of the feedback."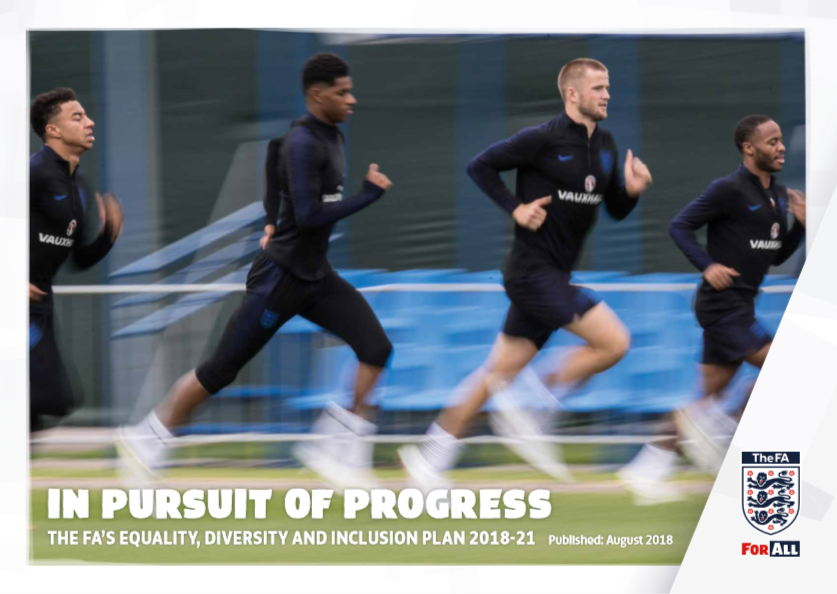 The FA's plan is to 'mainstream' the process and encourage much higher levels of participation.
"The previous plan was described as 'positive action' where we were working with a small group of clubs and people, so we were impacting a few hundred to a couple of thousand people.
"Now we want to mainstream it, so for example looking at FA player registration – in the next year or two, we will have about two million individual players registered and we will be looking at the level of Asian inclusion within that bigger picture and across all of the FA's participation programmes, looking at what is and isn't doing well, and putting in interventions accordingly.
"This is something which is happening across The FA. Before we used to have an equality department, but now instead we are trying to embed it across everything. Managers right across The FA have got a remit for inclusion, whether it's small-sided (football), or women and girls – everyone has to have inclusion within their PDR (Performance and Development Review), and that's to evidence how they are working on it.
"My role is to get those people to think about the Asian community specifically."
INCLUSION
It's creating this 'golden thread' of inclusion throughout the organisation which Kevin admits is "the ideal, but probably the most difficult thing to implement.
"If you look at the new FA inclusion plan, released recently, one of the pillars within that is to try to have a more inclusive culture at The FA, so everyone understands why it is part of their job and part of the process in their thinking."
Football also plays an interesting role when it comes to getting Asian communities active, a key part of current DCMS and Sport England strategies.
Kevin said: "In one of the sections in the forum, I give some key statistics and Asian females are the least active group in society.
"Generally Asian communities are less likely to participate in sport, but they are as likely to play football. So Asian participation is the same as the average, and Pakistani is higher than average for football. With faith groups, Sikh groups are the most likely to play football.
"So in terms of football, Asian people are as likely or more likely to participate, but that doesn't translate into affiliated football. That's where the big disconnect is."
Find an event:
West London - Monday 1 October 6.30-9pm (Middlesex County FA, Northolt UB5 6AU)
East London - Monday 8 October 6.30-9pm (Vallance Community Sports Association, SHA Community Centre,117 Vallance Road, London E1 5BW)
Luton - Monday 15 October 6.30-9pm (Luton Town Football Club, Kenilworth Road Stadium, 1 Maple Road, Luton, Bedfordshire LU4 8AW)
Birmingham - Monday 5 November 6.30-9pm (Walsall FC, The Banks's Stadium, Bescot Crescent, Walsall West Midlands WS1 4SA)
Leicester - Tuesday 6 November 6.30-9pm (GNG Football Club Leicester, Riverside Football Ground, Braunstone Lane, East Leicester LE3 2FW)
Sheffield - Monday 12 November 6.30-9pm (Sheffield United FC, Cherry St, Sheffield S2 4SU)
Bradford - Monday 19 November 6.30-9pm (Bradford City FC, Valley Parade, Bradford, West Yorkshire BD8 7DY)
Burnley - Monday 26 November 6.30-9pm (Burnley FC, Turf Moor, 52-56 Harry Potts Way, Burnley BB10 4BX)
04 October 2018