Developing your organisation: Products and services
ConnectSport has launched a 'Directory of Suppliers' to help community sport organisations find products and services which will support their growth.
Providers who specialise in services to the community sport sector are now being encouraged to register on the new directory. It costs just £250 to sign up for 12 months, with all profits going back into sustaining the ConnectSport platform. Each supplier gets its own page which can host images and video if required.
ConnectSport is managed by a small team of former national media executives and journalists dedicated to raising awareness of, and increasing investment in the Sport for Development sector.
A wide range of suppliers have already signed up to the Directory of Suppliers, with services ranging from business development and fundraising, to marketing and communications and M&E (monitoring and evaluation).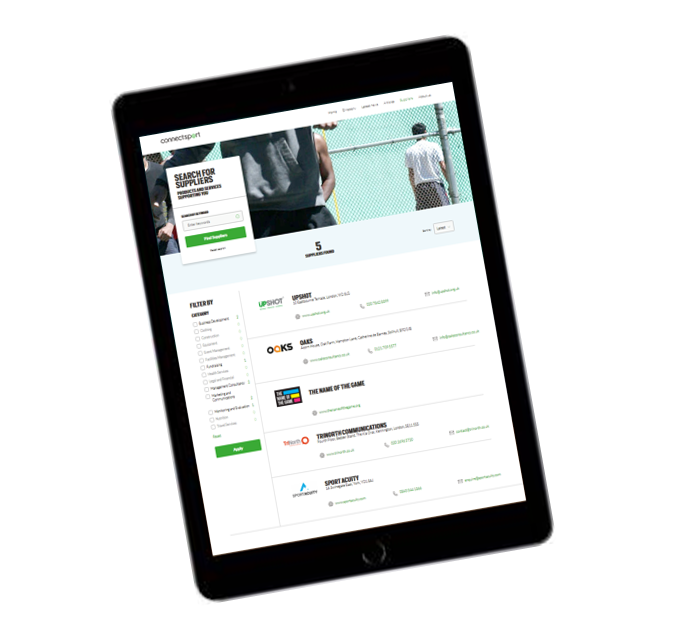 As the new directory grows, community sport organisations will be able to filter it by other categories such as kit and equipment, or legal and financial.
Graham Newman, Head of Data & Insight for ConnectSport, said: "We are delighted to launch the new Directory of Suppliers.
"This is the first of a number of income streams which will enable ConnectSport to keep championing the Sport for Development sector in the UK, without any cost to our audience.
"All profits will go back into growing our free-to-join directory of community sport organisations, our media channels and other exciting functions which will come online soon such as jobs, events and ConnectSport TV.
"We're also committed to providing even more in-depth content in a variety of formats, and would encourage sponsors and advertisers to get in touch if they would like to be a part of some innovative ideas and solutions.
"Ultimately our aim is to provide an exciting and attractive shop window for Sport for Development which brings new funding into the sector, and enables investors to easily find the right community sport organisation for them."
To add your company to the Directory of Suppliers, or for further sponsorship and advertising opportunities, contact hello@connectsport.co.uk.
01 January 2019