Cup tie kit supports key mental health message
Plymouth Argyle Football Club's shirt will bear the important mental health message 'It's okay not to be okay' when they take on Premier League opposition in the FA Cup fourth round this weekend.
Sports culture retailer 'The Terrace' had previously sponsored the club's kit but, because of concerns over the growing mental health crisis during the Covid-19 pandemic, have decided to donate their sleeve space to local social enterprise Livewell Southwest for the match at Sheffield United.
Livewell provides award-winning integrated health and social care services to people across Plymouth and parts of Devon, and the message will be seen alongside its 24/7 crisis support telephone number.
AWARENESS
"We felt as a brand there were some things more important right now than us showing off our logo on a sleeve again," said The Terrace director Carl Sewell.
"It is with great pleasure that we can hand the limelight to an organisation who are doing remarkable things for mental health in Plymouth.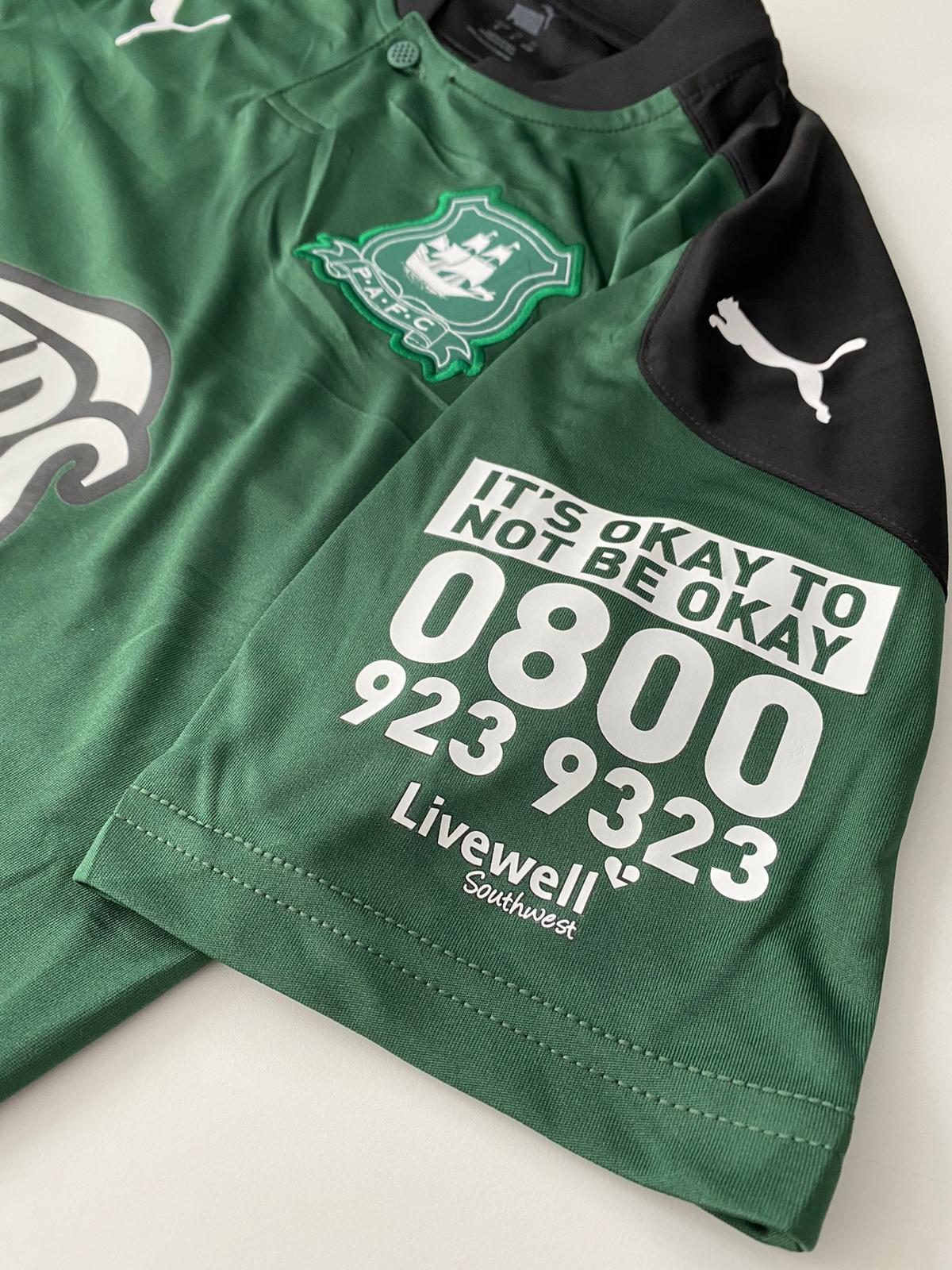 "By shining the spotlight on Livewell Southwest, we can hopefully help raise awareness to any Argyle fans struggling, and remind them that it really is okay to not be okay and there is an organisation waiting to help."

Livewell Southwest provides mental health services in Plymouth for children, young people and adults, including mental health inpatient units, specialist services, and 24/7 crisis telephone lines.
Dawn Slater, Director of People and Professionalism at Livewell Southwest, said: "Anyone can struggle with their mental health, particularly during times of uncertainty as we're experiencing now with the Covid-19 pandemic.
"We know how much of a lifeline football is to some people and we're incredibly grateful that The Terrace and Plymouth Argyle have given us this opportunity to help raise awareness of our services.
"We want the Green Army, their families and friends to know that it's okay to not be okay. Help is at hand if you or someone you know is struggling with their mental health.
"We can support you before things reach breaking point with our Plymouth Options Service, but if you are really struggling and you need help now please call us free on 0800 923 9323 to speak to a member of our First Response Service.
IMPORTANT
"Our First Response Service is a free, confidential service, available 24/7 if you're experiencing a mental health crisis. Please don't suffer in silence, we're here for you."
The club's Partnerships Development Manager, James Voisey, said: "We are very proud to be able to support this crucial mental health messaging, which will hopefully shine a light on an important topic for Argyle fans.
"It would not have been possible without the extreme generosity of our partners at The Terrace, and we are extremely grateful to Carl and his team for their willingness to support such a worthy cause.
"The work that Livewell Southwest does has never been more important than now, and we are delighted to be able to use the Argyle platform to carry such an important message."
To find out more about Livewell Southwest, click here.
21 January 2021