Coronavirus: Sport 4 Life launches five-point plan
Sport 4 Life UK has launched a five-point plan to support young people in need during the Coronavirus pandemic, the after-effects of which the charity's Chief Executive fears will "reverberate down the years".
Founded in 2006, the West Midlands-based charity has an impressive track record in helping young people aged 11 to 29 move into sustained education, training and employment through sports-themed development, and recently announced it was expanding across the region.
Sport 4 Life's services are designed to bring out the best in young people by providing them with high-quality mentoring and guidance.
STRUCTURED
However like many other charities, the pandemic has forced Sport 4 Life to radically re-think its offer to young people, especially with an economic downturn forecast to follow the lockdown.
CEO Tom Clarke-Forrest said: "We know that young people fare worse in downturn – the impact of this reverberates down the years.
"It's even more important now that we provide quality and quick structured activities and services for young people.
"At Sport 4 Life we are delighted to launch five key new activities and services that support them more remotely, digitally and online. These include online mentoring, schools mentoring, remote accredited qualifications with bursaries, online workshops and social media challenges, including physical activity sessions that promote wellbeing.
"We really want to help; we can help and we will help."
Head of Business Development Rob Wells describes how the charity – which has not furloughed any staff – moved mentoring online to make sure young people remained connected to their Sport 4 Life mentors.
ACCESSIBLE
"We know that young people will fare worse in this situation so it is more important than ever now that organisations like ourselves and the services we are providing are accessible for our young people.
"We used to deliver around 14 sports sessions a week. Obviously we are unable to do that so we have moved to an online service either through Google hang-outs, on the phone or through Zoom. We are trying to carry on that mentoring support with our current beneficiaries, which is working really well.
"The mentors are still doing a caseload each week with young people and working on the areas they were already working on, with a particular emphasis on wellbeing during this social isolation."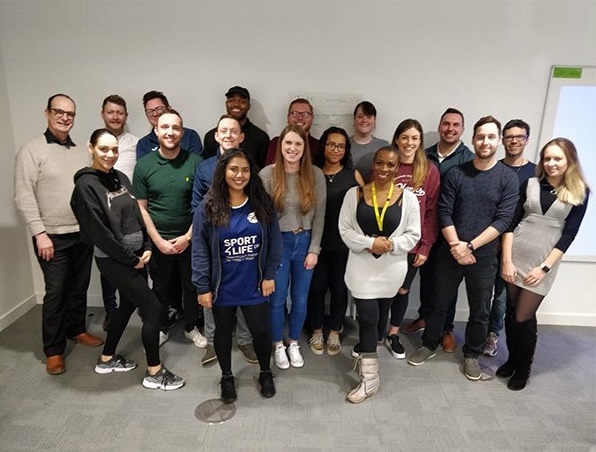 Before the lockdown, Sport 4 Life mentors would often go into schools so the charity has been offering its online mentoring services to those schools for free. The programme provides one-to-one support and structure to pupils aged 11-plus, to increase self-confidence and improve physical and mental wellbeing.
This offer has resulted in a number of new referrals, as well as new schools getting in touch to ask for support.
Rob told ConnectSport: "We have reached out to more schools within the region to see if we can help with their learning, and help the most vulnerable children within their schools and give them some support.
WELLBEING
"We have done that through phone calls or online mentoring, just to check in and help their future planning and their confidence and physical and mental wellbeing."
The charity is also continuing to offer online qualifications with free bursaries in courses like car mechanic training, office admin and reception skills, accountancy and digital marketing.
To find out more about Sport 4 Life UK, visit its page on the ConnectSport directory. To add your organisation for free, email hello@connectsport.co.uk.
By Hamish Percy.
14 May 2020