Community stalwarts earn BEDSA awards
Two long-standing servants of community sport in the West Midlands have been recognised at the 2020 British Ethnic Diversity Sports Awards (BEDSA).
The Birmingham-based Khalsa Football Federation was named 'Sport England Community Sports Project of the Year' for its role in increasing BAME participation in sport, and Gian Singh Cheema was rewarded in the 'City Livery Unsung Champion' category for his near 50-year involvement with Warley Weightlifting Club.
The annual BEDSA awards are co-ordinated by Sporting Equals - whose Chief Executive Arun Kang is pictured above - and broadcast by Sky Sports.
Khalsa Football Federation's network of clubs have been providing grassroots sporting opportunities to the local Punjabi community for over 55 years. Over the last three years, it has doubled youth football to more than 60 teams thanks in part to a merger with Panjab FA – including the introduction of multiple girls' teams.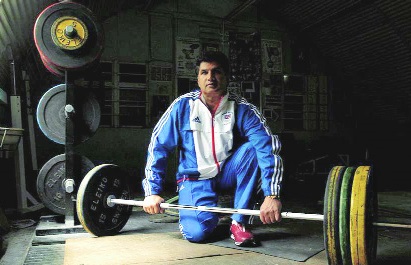 For the last 35 years, Gian Singh Cheema (pictured right) has volunteered at the Warley Weightlifting Club in Smethwick, which he has supported since 1970 as an athlete, qualified referee and coach.
Despite having a very successful career in weightlifting himself, Gian continued to volunteer with the club – he sees it as a way of helping to keep young people off the streets and providing them with discipline, safety and healthier living.​
Pro Touch SA (CIC) was named LTA Community Tennis Project of the Year at the glittering awards ceremony in London. The London-based social enterprise has engaged more than 1000 young people in the LTA's 'SERVES' tennis programme across housing estates, youth clubs and holiday programmes. Over 75% of participants are from BAME backgrounds, with a large proportion coming from deprived communities.
Paula Dunn MBE, who is Head Coach for British Athletics' Paralympic Programme, was named 'England Athletics Coach of the Year'. The award recognises the achievements of a coach working with athletes at the highest level of performance in sport.
Young hockey star Rohan Bhuhi was unveiled as 'Youth Sport Trust Young Sports Person of the Year'. During 2019, Rohan won the gold medal with Great Britain's under-21 team at the Sultan Johor Cup in Malaysia. He is also studying for a degree in computer science and has been described as an 'excellent role model' for young BAME people.
On the elite side, England cricket star Jofra Archer was named 'Sporting Equals Sportsman of the Year' and athlete Dina Asher-Smith – the fastest British woman in history – was awarded 'British Army Sportswoman'.
Jofra said: "I'm so honoured to have been awarded Sporting Equals Sportsman of the Year, with the World Cup victory in cricket I feel equality and diversity in sport is the only way forward.
"The work Sporting Equals has done and continues to do for diversity and equality is truly amazing, a great organisation and I'm really grateful to be part of that legacy."
Find out more about Sporting Equals. To add your organisation to the ConnectSport directory for free, contact hello@connectsport.co.uk.
Picture credit: Sporting Equals, The Indian Express.
15 March 2020