City recognised for children's wellbeing project
York City Football Club Foundation have been awarded 'Best Project for Children' in the National League Trust Community Club Awards 2019 for their 'Where's Your Head At' initiative.
The project's aim was to deliver a free schools outreach programme across North Yorkshire, working with up to 2,000 young people aged eight to 11 to challenge an unmet need in local Primary Schools by tackling young people's mental health.
In turn, the children who participated in the 'class challenges' in the project delivered over 2,500 random acts of kindness across their communities as well as the overall winning school Riccall Primary joining the Foundation for a York City home game.
After winning the award, Foundation Manager Paula Stainton said: "The initiative was designed to raise awareness of mental health and wellbeing amongst Key Stage 2 children in the school setting, and provide them with the skills, coping strategies and resilience to prevent poor mental health.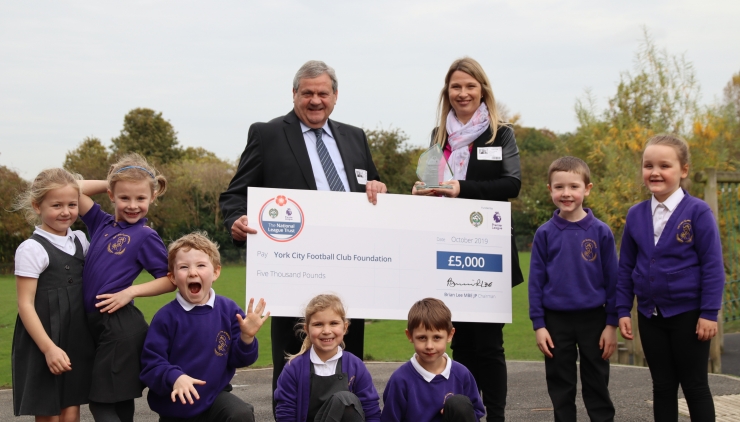 "We aimed to help young people recognise their emotions and feel confident enough to speak out and discuss them.
"Modern life is increasingly stressful and can impact on mental health, especially with SATs and the transition to secondary school, this can be a life-changing time for a young person."
As part of the award, the Foundation received a £5,000 prize presented by Dennis Leman of the National League Trust and PFA. The money will go towards supporting the club's move to the new Community Stadium and another schools project to commemorate the stadium it is leaving, Bootham Crescent.
The award-winning project was backed by Benenden Health, and CSR & Engagement Co-ordinator, Emma Keef, added: "We provide health information relevant to all stages throughout your life, covering health from birth to old age, therefore this outreach programme is a great way of sharing the message with children. The YCFC Foundation deliver excellent sessions that will inspire them to get active and keep fit."
Picture credit: York City Community Foundation.
01 January 2019