Alzheimer's Society announced as FA charity partner
Alzheimer's Society has been confirmed as the official charity partner of England's Football Association for the next two football seasons, following a competitive application process.
The partnership will use the sport's popularity and reach to increase support and generate significant funds and awareness of dementia.
The partnership will be launched at the FA Community Shield between Leicester City and Manchester City on Saturday at Wembley Stadium (pictured below). It will also ensure the FA and local football clubs up and down the nation can refer employees, players, former players, and fans to the charity for dedicated dementia support.
CRUCIAL
A network of dementia-friendly facilities will be created and Alzheimer's Society will also advise the FA and provide research expertise to further understand the cause of dementia and its risk factors.
There are currently 850,000 people living with dementia in the UK. The announcement comes at a crucial time, with the pandemic having hit people with dementia hard - they face a long road to recovery, with many experiencing isolation, missing activities, and losing routines that are crucial to maintaining independence.
Alzheimer's Society ambassador Sir Geoff Hurst, who scored a hat-trick in England's World Cup final win over West Germany in 1966, said: "This partnership has the potential to change the landscape of dementia in football on a massive scale.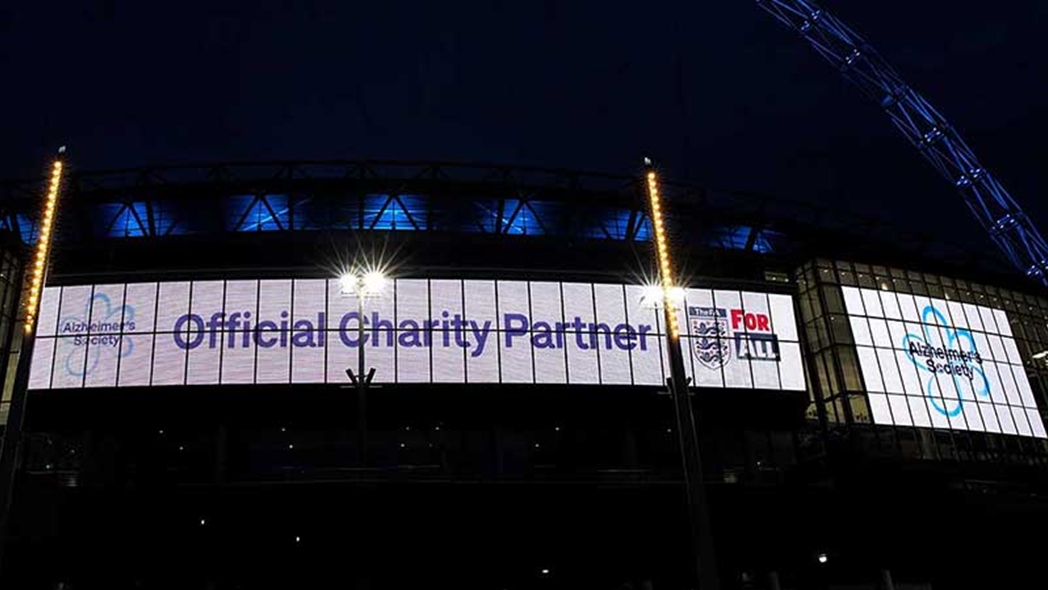 "I will never forget the memory of us all doing a lap of honour at Wembley and walking up to the Royal Box to face the Queen, trophy in hand. But the reality is that Wembley could be filled 10 times over with people living with dementia in the UK, with millions more lives affected.
"Throughout the pandemic, demand has increased for Alzheimer's Society's services, such as its Dementia Connect support line, but there are so many more who desperately need help and don't know where to turn.
"By working with the FA, the charity can raise much-needed funds and ensure that the millions of football followers and their families know they don't have to face dementia alone."
OPPORTUNITY
Kate Lee, Chief Executive at Alzheimer's Society, said: "Following a catastrophic time for people with dementia, this is a massive opportunity to help support those who have never needed it more.
"Together, we can help ensure that the millions of football supporters and their families know our services are here, change how fans and players receive support and create a dementia inclusive industry, so people with dementia can continue to remain part of the game.
"Together, we can showcase the power of football to change lives for the better."
FUTURE
The charity partnership will work alongside the pioneering Sport United Against Dementia campaign, which is uniting all sports for the first time to change the landscape of dementia.
Involving governing bodies and leading figures across football, rugby and cricket, as well as major broadcasters, Sport United Against Dementia seeks to provide hope for future generations by funding critical research and transforming the way sport supports past and present players and fans affected by dementia.
Read more at alzheimers.org.uk
Pic credit: Alzheimer's Society, The FA
05 August 2021