Activity Alliance CEO warns of 'irreversible' inequalities
The Chief Executive of Activity Alliance has warned that the long-term damage caused by the inequalities being faced by disabled people during the Covid-19 pandemic will become "irreversible" if more preventative action is not taken soon.
Barry Horne was speaking as the national charity released its annual disability and activity survey this week. The research shows that twice as many disabled people felt that Coronavirus greatly reduced their ability to do sport or physical activity compared to non-disabled people.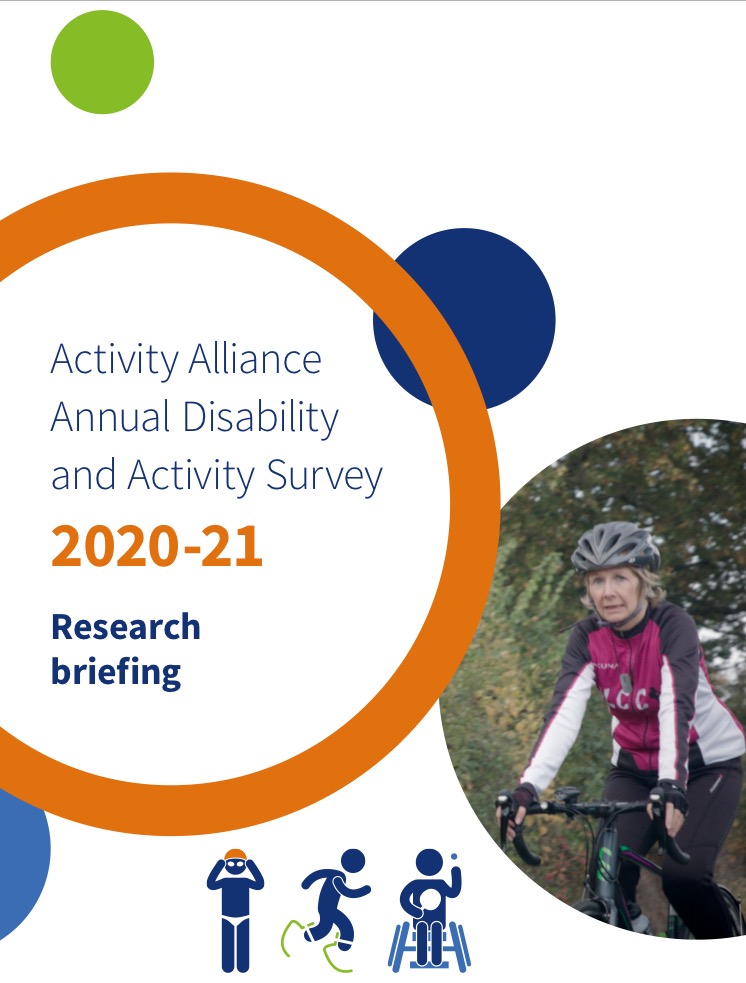 Prior to the pandemic, the gap between disabled and non-disabled people's activity levels were being closed thanks to collective action, with more disabled people recorded being active than ever before. Nonetheless disabled people are still twice as likely as non-disabled people to be inactive.
BARRIERS
This year's survey results show how the pandemic is not only widening existing inequalities for disabled people but creating new ones too. Key findings include:
- Disabled people felt that they do not have the opportunity to be as active as they want to, compared to non-disabled people (29% vs 44%).
- Almost a quarter stated that they had not received enough information about how to be active during the pandemic (23% vs 13%).
Respondents said the lack of activity has led to both their physical and mental health being harder to manage. Feelings of loneliness and social isolation were frequently voiced.
A fear of contracting the virus, the impact on their health, a lack of space and support to be able to exercise safely at home, have become significant barriers for disabled people.
BENEFITS
Activity Alliance CEO Barry Horne said: "The benefits of being active are clear. It matters for everyone's physical and mental health and has enormous impact on our daily lives. So, it is never acceptable that disabled people should not reap these benefits too.
"We appreciate we have a national crisis on our hands and leaders need to make tough decisions in sport and leisure. But we have not heard near enough about the impact on disabled people's lives during the pandemic. No disabled person should ever feel forgotten or overlooked in the communities we all serve.
"That's why this insight is so important. We have listened to disabled people and urge decision-makers to do the same, and act swiftly upon the findings. If we do not act now, we will witness inequalities widen even further, or unthinkably they may become irreversible. Prioritising disabled people is the only way to prevent this from happening. Every plan, every action and every penny spent must be tested against its impact on disabled people's activity."
CHALLENGES
The survey follows Sport England launching their 10-year strategy 'Uniting the Movement' which highlights its ambition to tackle inequalities, especially for inactive people. It pinpoints the need to invest in those who need it the most, with fairness and equity at the heart.
Tim Hollingsworth, Chief Executive at Sport England, said: "This past year has highlighted the challenges we face in making sure sport and physical activity is a normal part of life – for everyone.
"We take our responsibility in tackling these inequalities and supporting organisations like Activity Alliance extremely seriously and working to remove barriers and make activity more accessible for disabled people underpins our new strategy.
"It is important that everyone is able to feel the benefits of being active, which can help unlock the door to a happier, healthier and more fulfilled life."
03 February 2021